Andrew WK with a Cat
by Jon Behm · Published · Updated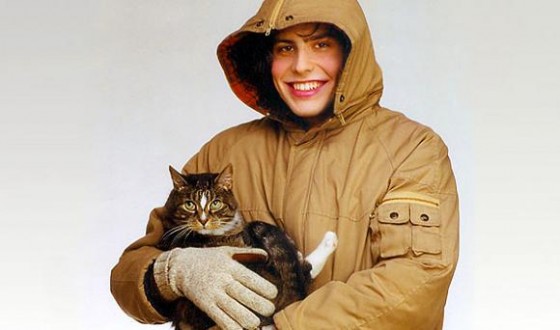 More Music Legends with Cats:
Light not lost but reflected in a beautiful universe; Distinguished South African artist enters the 'deep time' of the cosmos and produces a fascinating, broad canvas.(News)
The Sunday Independent (South Africa) April 29, 2007 'Karel Nel is elusive," writes Peter de la Porte in the catalogue to the exhibition, Lost Light. "Despite his personal accessibility, his devotion to the public cause of teaching and curating, and his work with scientific teams, he remains slightly unknown; or perhaps simply someone who has never allowed himself to seem bigger than the tasks he has undertaken." Nel is a distinguished South African artist, a former Fulbright scholar and now an associate professor of art at Wits. His work is represented in the Smithsonian's National Museum of African Art in Washington DC and the Metropolitan Museum of Art in New York. Most recently, on the strength of his 2002 exhibition, Status of Dust, in New York, he was approached by Nick Scoville, an astronomer, to become the artist in residence of the Cosmological Evolutionary Survey (Cosmos) Project, in which a team of 30 astronomers set out to map two square degrees of the universe.
This might seem like an odd environment for an artist, but Nel has always been interested in the relationship between science and art. He is interested "in deep time", he says, and in human perception. He repeatedly refers to the complexity of the human brain, the mechanisms of perception and recognition and the projection of those perceptions on to our environment.
For example, a universal human motif is a grid pattern. This has been projected on to our planet in latitude and longitude, it is found in rock art, in the streets of our cities, and it is projected out into space in the mapping of the two degrees of the universe. It is projected into some of Nel's work, in which pieces from his earlier exhibitions, Status of Dust and In the Presence of Leaves, are on show along with Lost Light. this web site art in the streets
Nel's interest in time is reflected in the media he uses: carboniferous dust from Gondwanaland (dug up here in South Africa), ochres, salts, earth from Ground Zero in New York, recycled 18th-century long-fibre paper, green glass from Piton de la Fournaise, the Reunion volcano. Leaves deliberately pinned with staples, reflecting man's need to capture and pin down nature – and in the process irrevocably changing its essence.
But first, downstairs, there is an exhibition of Micronesian objects, unusual to see in South Africa; Nel is a collector and has spent a great deal of time in the Pacific. Here are intriguing fragments of various island cultures: kava bowls, currency stones, palaeolithic implements, a traditional ladder carved as an alligator.
In particular, carved splashboards and prow decorations from canoes reveal the organic style of Micronesian art. Nel points out the mixture of symmetry and asymmetry: these were people clearly influenced by wind and water, he says.
They were also great celestial navigators. The Hawaiian kings sent their young navigators up Mauna Kea, the 4 200m volcano on what is now Big Island, to study the stars. This brings the celestial theme full circle, because Nel, too, spent time on Mauna Kea – where there is now the high-tech Subaru telescope – with the Cosmos project. He says that the dark lower layer in the work Red Shift represents the rim of the volcano with the dazzling night sky beyond it. artinthestreetsnow.net art in the streets
The primary strength of Lost Light, the visual power that encapsulates the viewer on mounting the stairs and entering the space, is a series of large folding screens, book-shaped, not flat, which give the work an additional dimension.
They are taller than the viewer and the images on them are stark and strong in form and colour, so that one stands surrounded. Here, Nel uses the black carboniferous Gondwana dust to create the blackness of the universe itself, and salt crystals and silicates to denote light. He doesn't illustrate, he points out. He interprets.
Nel trained as a sculptor but, forbidden by his teachers to make two-dimensional images, he rebelled and began making them in secret. This might explain why his work is more than two-dimensional; not only is some of it presented on screens, but all the media are real and introduce the dimension of time, a sense of mankind's history stretching from the very ancient use of ochre to the conflagration in 2001.
Nel talks of the dark matter of the universe, something that scientists don't yet fully understand. "It seems to be more dense in places," he says, adding that, although it was once believed that the progress of light through space was uniform, it is no longer the case. Light bends. Dark matter can obstruct or deflect it. The carboniferous dust is a sort of dark matter in itself, and carries within it a geological snapshot of a very ancient past on Earth.
One particular work is a study in shades of black, but with a light positioned carefully above it to throw a precipitous shadow down one panel, dividing the black into yet more shades of itself. This light and shadow are an integral part of the work – real light rather than salt; real shadow rather than a depiction.
As the Cosmos project's mapping moves deeper towards the centre of the universe, Nel says, they are discovering that there isn't very much there. The Big Bang was like an exploding orange: the matter was flung outwards, leaving the centre empty.
And so the work Darkness Manifest is like a gash in the sky, allowing us a glimpse of the infinite darkness beyond the stars.
"Much of Karel Nel's most recent work has been informed by vast, faint emanations from deep space," Emile Maurice writes in the catalogue, "transient images of light, infrared, radio or x-ray that left their sources millions of years ago. Telescopes capture these emanations as they approach Earth, which become lost forever to our gaze once they pass the planet." This is indeed a broad canvas; nevertheless, Lost Light reflects, rather than reduces, the mystery and immensity of space. Its different darknesses are mysterious rather than sinister, part of the integral beauty of the universe as a whole. Something quite natural.
l Lost Light is on at the Standard Bank Gallery in Johannesburg