J. Mascis With A Dog
by Jon Behm · Published · Updated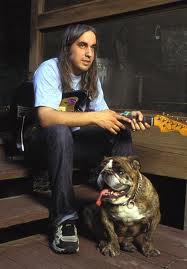 MORE MUSIC LEGENDS WITH DOGS
.
.
SECRETARY OF THE INTERIOR DIRK KEMPTHORNE TO ADDRESS GREAT SMOKY MOUNTAINS SUSTAINABLE TOURISM SUMMIT
US Fed News Service, Including US State News April 22, 2008 The Tennessee Department of Tourist Development issued the following news release:
U.S. Secretary of the Interior Dirk Kempthorne will present the keynote luncheon address at the Great Smoky Mountains Sustainable Tourism Summit on Monday, April 28, 2008 at the Knoxville Convention Center in Knoxville, Tenn. The Summit, designed to honor the 75th Anniversary of the Great Smoky Mountains National Park, will be held April 28 – 29. Secretary Kempthorne will address the conference on the topic, "Preserve and Protect: How to Keep a Region's Sense of Place for Future Generations." Secretary Kempthorne joins the distinguished list of confirmed speakers at the two-day Summit including Gov. Phil Bredesen of Tennessee; Sen. Lamar Alexander of Tennessee; Dr. Suzanne Cook, senior vice president of research for the Travel Industry Association of America and Keith Bellows, editor-in-chief of National Geographic Traveler. Experts participating in the Summit will show community leaders how maintaining a community's historical, cultural and environmental authenticity will stimulate and support their region's economic growth in tourism. web site great smoky mountains go to website great smoky mountains
Secretary Kempthorne was confirmed as the 49th Secretary of the U.S. Department of the Interior on May 26, 2006, by the U.S. Senate and took the oath of office on the same day.
Prior to his confirmation as Secretary, Kempthorne served nearly two terms as Governor of Idaho, elected first in 1998 and reelected in 2002. As Governor, Kempthorne worked to develop consensus on management of Idaho's and the West's natural resources. He worked with his colleagues in Oregon, Washington and Montana to develop an historic bipartisan agreement on a state-based solution for returning salmon runs in the region.