Reviler Four Favorite Songs from the Local Scene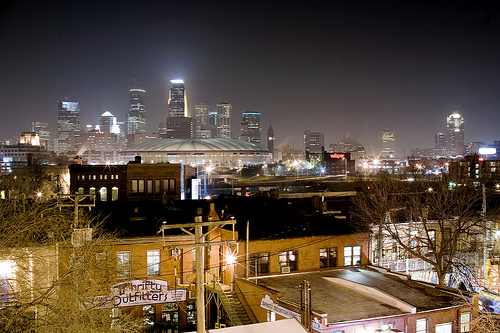 The Current is making a push to recognize local music with their new Local Stream internet station (or, looking at it more cynically,  finding a way to push local music off the airwaves so they squeeze in more Kings of Leon and Mumford and Sons tracks).  In addition, last month during SXSW they picked four songs to represent our local music scene in a trade with a station in Texas.  We saw their picks and thought to ourselves, "hmm, those aren't the tracks we would pick to represent our great scene."  So we reached out to people who have written for us in the past and posed the simple question,"What four songs would you pick to someone who couldn't pick Minneapolis out on a map, let alone know about our great scene."  Below are the choices, and the wide range of bands and songs go to highlight, again, how amazing our local scene is currently and how lucky we are to have so many great bands at our fingertips.

Jon Behm
Brute Heart – Scritch Scratch
I have a feeling this band could take Austin by storm (not to mention the rest of the world).
Blind Shake/Michael Yonkers – Cold Town
Would prefer to send something from their forthcoming record but if not, this classic jam will do.
Daughters of The Sun – Moontan
DotS would fit right in with the "keep Austin weird" crowd. That scene could also benefit from a band that isn't just weird in a self concious, postering sort of way.
Something from Moon Glyph
Food Pyramid, Tender Meat, Velvet Davenport, whomever – have to mention at least one of the bands from our scene's most exciting stable of new talent.
(also: Gay Beast, Dark Dark Dark, Aby Wolf, Sims)

Matt Linden
1. CLAPS – "Fold"
As far as Kraftwerk/Depech Mode-leaning-new wave-electro bands are concerned these guys (and girl) are the tops. No real reason behind choosing this song over others,     this one is just my favorite, and the catchiest.
2. Solid Gold – "Just Like Everyone Else"
Though the guys don't have much to show recently as their latest release was 2010's Synchronize EP, they are still one of my favorite local bands of the last few years.  Also,  if more people saw and heard Solid Gold, they would probably better understand where Gayngs' soft-rock throwback sound is coming from.
3. Velvet Davenport – "Mystery Michael"
There are many reasons why you see the psych-garage outfit Velvet Davenport popping up everywhere – this is mostly thanks to last year's terrific Warmy Girls LP. And         it's also no wonder that his cassette tape esthetic has led him to rub shoulders with the likes of Ariel Pink. This dude is poised for big things.
4. Red Pens – "Blue Lighters"
A while back I almost got beat up for not knowing who Red Pens were – I would've deserved it. These two crush it.
Honorable mention:
Haunted House – "Chandeliers" (Holy fuck, man. I don't know how many times I've listened to this jam.)
Tom Loftus (Modern Radio)
Low – When I Go Deaf – Low is one of the real musical gems of Minnesota and it's hard picking just one song but this one is just beautiful both lyrically and musically. I can't even count how many mixes I have put this on for friends or to listen to in the car.
Vampire Hands – Safe Word – This song has a cool T. Rex / psyche influenced vibe along with all of the great things you want in an excellent pop song.
Daughters of the Sun – Ghost With Chains – The final song on their newest record on Not Not Fun is a long drone-y song that just invites you in to hang out for awhile. One of the best jams of a growing psych / drone music scene.
STNNNG – Two Sick Friends – Chris Besinger knows how to tell a story with his lyrics. The mood of the music matches with the lyrics perfectly. Another band that you could make an argument for 5-10 songs for one of the best songs. It's a song that is aggressive but not overly macho. This can be said for a lot of louder bands. The music is loud but the message is a bit more thoughtful.

Jon Jon
From the punk-rock glare of Phantom Tails to the intricate rhymes of new school rookie Mally, to the riot-girl righteousness to the emo observations of Doomtree's Sims, Minneapolis  music can go toe to toes with any city in the United States.
Phantom Tails -Street Sweeper
Mally – Heir Time
Pink Mink -Black Door
Sims – In My Sleep

Ali
Oddjobs "Shore"
Even though they have broken up, this is still one of those songs that is simply timeless amongst the stalwarts that get named in MPLS Hip Hop.
Mally "The Passion"
One of the newest faces wanted to prove he was worthy of all the blog praise he received out of state to his local folks.  Over a soulful and apocalyptic backdrop, Mally drops jab after unforgettable jab of lyrics that are reminiscent age of rap when it was about skill.
Musab "Midwest Biz"
One of the initial founders of Rhymesayers, he name drops and checks every scene and landmark imaginable about Minneapolis.
Big Quarters "Painkillers"
The dark, anthemic and ominous backdrop provided by Benzilla provides the brothers Baagason with ample ammo to talk about the ills of society and the cost of their surroundings.  Definitely a proper representation of the times of MPLS.

Josh (Reviler)
Dante and the Lobster "Wake Up"
A song that best explimfiies to me the burgening garage/pyschedlica sound prevalent in our current scene.
Crescent Moon is in Big Trouble "Hunting Season"
I could have picked lots of stuff Crescent Moon (Kill the Vultures) has done, but this song never ceases to floor me.
Retribution Gospel Choir "Working Hard"
It was a tough call between a bunch of RGC and Low songs, but this song is just a classic example of the simple but powerful songwriting that makes Sparhawk one of our best exports.
Food Pyramid "Cloudscape"
There were many bands from both the Totally Gross Nationally Product and Moon Glyph labels (where Food Pyramid recide), but I chose Food Pyramid