Reviler Mid Year Best of: Songs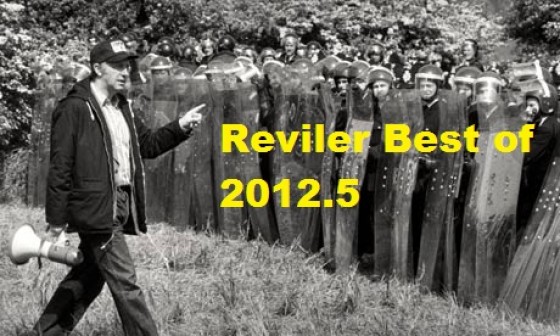 Because we know everyone is anxiously waiting to see itemized lists of what we have liked so far this year, here is our take on the best songs that have been released so far in 2012.  If we missed your favorite tracks from the first six months of the year, leave them in the comment section.  Come back tomorrow for our favorite local releases of the year.

Josh (Reviler)
If someone had told me Jan 1st that a Frank Ocean song would be one of my favorite tracks released halfway through the year, I would have called them a liar.  This song is just too many levels of sultry soul-funk that is almost 10 minutes long and somehow feels like it is too short.
2. Julia Holter "In The Same Room"     (Album Review)
The whole album is good, but this song captures the off kilter, ethereal songwriter at her very best. Hauntingly beautiful.
3. Lower Dens "Brains"   (Live Photos)
It was the first taste of the new sound Lower Dens debuted, and it was a great song that made me think "I wish this is what the new Beach House sounded like."
4. LA Vampires/Octo Octa "Freedom 2K"
A chilly, detached song that somehow leaches onto your soul.  Proof that electronic music can have as much life to it as any other type of music.
5. Chromatics "Kill for Love"  (Album Review)
A standout on an album that is solid top to bottom.  Really challels the groups smooth electro R&B sound.
6. Mark Lanegan "Gravediggers Song"  (Live Review)
The opening track on a pretty solid record.  The pummeling bass line and Lanegan's growl are as powerful as anything the singer has done in years.
7. Ketamines "1 yr"
Hazy garage rock that sounds like a psychedelic prism filtered through a smoky, black and white lens.
8. Outer Minds "Until You're Dead"  (Album Review / Live Photos)
Showcasing this Chicago bands fuzz jangle that made their self-titled release such a resounding success.
9. Black Dice "The Jacker" (Live Photos)
A weird, throbbing track that is actually somewhat restrained for Black Dice.  An instrumental freakshow that keeps the beat moving but doesn't succumb to any easy formula.
10. Plants and Animals "Lightshow"
I'm still waiting for Plants and Animals to do something as singularly amazing as Parc Avenue, but until than standalone songs like "Lightshow" will have to do.
Jon (Reviler)
1. Grimes – "Oblivion"  (Album Review)
I wasn't quite as enamored with the entire album all the way through but I love love love this single
2. Killer Mike – "Reagan"  (Album Review)
Tough to choose a "best" track out of so many great ones but this one wins simply for alerting me to the fact that there are six letters in each of Ronald Wilson Reagan's names (666)
3. Darq E Freaker Feat. Danny Brown – "Bluberry (Pills & Cocaine)" (Live Photos)
This song is crazy
4. Julia Holter – "Goddess Eyes" (Album Review)
Again, real tough to choose a favorite here especially since this isn't really a "singles" record
5. Ty Segall & White Fence – "Time"  (Album Review / Live Photos)
This song was somehow channeled in directly from 1970 and it rules

Ali Elabbady (Background Noise Crew, Egypto Knuckles)
1.  Schoolboy Q & A$AP Rocky "Hands On The Wheel" (Album Review / Live Photos)
2.  Lana Del Ray "Born To Die"
4.  Georgia Anne Muldrow "Seeds"
6.  Death Grips "Hustle Bones" (Album Review)
7.  Big K.R.I.T. "Me & My Old School"  (Download Mixtape)
8.  Kanye West "Mercy (Feat. 2 Chainz, Big Sean & Pusha T)"
9.  Michael Kiwakuna "Tell Me A Tale"
10.  Kendrick Lamar & Dr. Dre "The Recipe"
Kyle (@Solace)