One Song for Six Hours (What We Would Choose)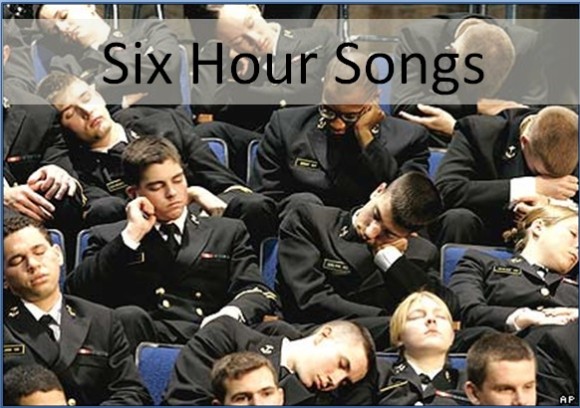 You may have seen recently both the National and Jay-Z did six hour versions of songs from their new albums, because apparently doing something for six hours in a row is now considered "art." We decided to ask friends of Reviler what songs that they would like to hear if they had to curated a six hour song event, and you can see their choices below. What song would you choose?

Erica Krumm (Oaks / Wunky Zine)
"Autumn Sweater" Yo La Tengo
Hours and hours of this beautiful song would be a magical, jam out session. Ideally the song would be performed into the late hours of the night outside in a big field, out in the country in North Dakota. The audience would arrive as the band was finishing setting up. Encircling the band as they played, each audience member would light the performance with handheld lights and candles. This version would include extra band members for the evening to add a huge wall of percussive sound including extra drums, tambourines, chimes, and maracas. After a few extra verses written for this occasion, spread throughout hours of the performance, the song would end with everyone singing together in a trance like state of peace and wistful longing. Only a few people will have fallen asleep, but their dreams would be really cool.

Steve Skavnak (@steveskavnak)
We've all been there. A nice, relaxing evening watching your sport of choice at your watering hole of choice ruined by some jackhole hell-bent on playing Akon or Pitbull or Katy Perry continuously on the mobile TouchTunes digital jukebox. There's a simple solution, though, and her name is "Spiders (Kidsmoke)," the prodding, driving, screeching, blistering 10:41 behemoth of a track off of Wilco's sensational 2004 effort, A Ghost is Born. See, when some ill-informed 15-year old keeps dropping dollar after dollar of easily-earned allowance into the juke, there's only one way to stop it. Pop in your own $10, go to the 'Super Search' function (cause they sure as hell won't have "Spiders" as a selectable option on the regular catalog) and select 'Play It Now' 5 times in a row. There…I just saved you nearly an hour of pain and gave you a back-to-back-to-back-to-back-to-back earworm that likely only you and some mysterious, bearded gentleman at the bar will truly appreciate.
But what of 6 straight hours of "Spiders?" The song is an abstract masterpiece, and a distinct reminder of the era when Wilco made a gigantic leap in not only their technical approach to records, but also how those songs transferred to a live setting. When Wilco plays it live these days, they tend to stretch it out into an easy 15-minute onslaught, and I would have every ounce of confidence that, if given the opportunity to dabble in this marketing platform du jour, they would not even bother to play "Spiders" over and over again, but would rather create a spectacle that would have an insane amount of Nels Cline's hypnotic guitar solos, breaking up John Stirratt's pulsing bass and Jeff Tweedy's poetic take on the English language, resulting in a single 6-hour version of the song that would surely get you kicked out of a bar if you ever attempted to recreate it on the juke.
So simply put, sign me up.

Tim (Vernon Wayne)
I would like to see Wolf Lords – Permission for six hours for a plethora of reasons. The first is that I don't think I could get sick of Aby Wolf's soaring echos and that distinguished smoky sexiness probably only gets better with exhaustion. Another reason is the hope that after the first three hours of head-bobbing in a ghilly suit, Grant Cutler would instinctively devolve back into the indie-punk roots and give us some Passions-esque support vocals (Passions was a band of Grant's, several iterations ago). The world needs more indie-punk Cutler.

Kyle Tran Myhre (Guante)
This one is easy. It's "Tank!," written by Yoko Kanno and performed by the Seatbelts. It's famous because it's played during the opening credits of the TV show Cowboy Bebop. Aside from just being the most bad-ass piece of music ever written, its structure lends itself to a six-hour performance; there's an endless amount of crescendos, breakdowns, bridges, fake-out endings, and other dynamic stuff you can do with this song. It'd be absolutely exhausting, like six hours of sex or something, but it'd never get old.

Chad Reider (Photos)
"Dondante" by My Morning Jacket
When listening to a song for six hours, there are a few things I need. First of all, the band must be able to power through without slowing down or crying like Justin Bieber. My Morning Jacket has enough power to raise the roof when necessary, yet they also possess extreme patience and finesse — so they won't burn themselves out in the first hour. Secondly, I need an interesting song with varying pieces to it. "Dondante", from the band's 2005 masterpiece Z, is not only a slow dynamic-building beast, but it rocks so hard across the bridge that it would be hard to get bored. The song finally ends with guitarist Carl Broemel picking up the saxophone and taking the song out as the dynamics die to nearly nothing. I could see Jim James filling these spaces beautifully with his unique and soulful voice, and there is more than enough room for the band's signature guitars and big drums. It would be awesome.
"No One Loves Me & Neither Do I" by Them Crooked Vultures
The power trio of John Paul Jones, Dave Grohl, and Josh Homme that makes up Them Crooked Vultures is each rock-n-roll royalty in their own right. That alone would make it worth sitting though a six hour song. Any song off of their 2009 self-titled album would do for me, but I chose the opening track "No One Loves Me & Neither Do I" because I would love to see Grohl hammer the drums for hours on that straight up heavy rock beat that ends the song. Homme's guitar and vocals, and Jones' bass would be icing on the cake. Them Crooked Vultures have enough strength to pound out a six hour song, then come back for a two hour long encore, while barely breaking a sweat. I would be overjoyed.

Josh (Reviler)
When thinking of a song that I could enjoy for six hours, I wanted a few things. Minimal moving parts. A deep groove. A melody that was strong, but wouldn't give me gut rot. Once I narrowed down what I wanted, it became clear that "Amen," a song from my favorite Spacemen 3 album (Taking Drugs To Make Music to Take Drug To). Sliding effortlessly from E to A, with Jason Spacemen singing his haunted prayer over the fuzz, it is a song that you can seamlessly fall into, a track that when it is done you are unsure if you have been listening to for four minutes or four hours. It would be a hypnotic, otherworldly six hours.

Jon Jon Scott(Sound Verite)
James Blake – "Life Round Here"
Blake 's captures the essence of love, heartbreak, attempted recovery
and pain of it's inevitable loss.
Marvin Gaye- "Whats Going On"
Gaye's emotional cry during the civil rights era could be the
soundtrack to the current toxic feelings.
Kanye West – "New Slaves"
West going all Yeezus.