Live Thoughts: Panda Bear at Fine Line Music Cafe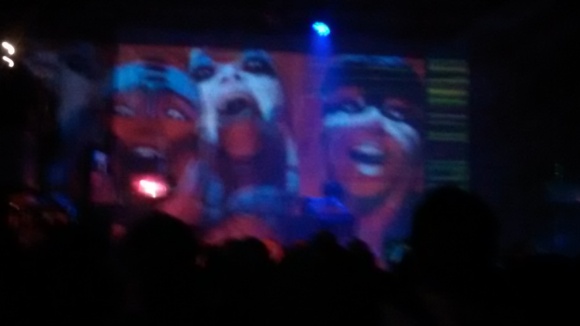 Despite what naysayers of the genre may say, there are many forms and fashions of electronic music, and three distinct versions were on display Tuesday Night at the Fine Line.
Starting with the dusty, organic instrumentals of Blues Control, the night got off to the hypnotic start. With simple projections dancing behind the duo, they explored the hidden valleys of sound, wandering and expanding a curious and confident ambient bliss through the growing crowd. Following the dup was LA-based YACHT, who were joining Blues Control and Panda Bear for only this show in Minneapolis. Their kitschy, ironic electro-pop seemed out-of-place at first, but the crowd warmed up to their gigantic melodies and infectious rhythms. It never quite felt like a good match to me, sandwiched between two deadly serious bands, but they got a solid chunk of the crowd dancing along with them throughout their 40 minute set. Singer Claire L. Evans was wildly over-the-top, but she seemed earnest and her Devo-esqe moves helped to break the ice to warm ip the crowd.
After the two spectrums, Panda Bear quietly jumped on stage behind two giant strobe lights and a similar projection setup as Blues Control. Playing mostly new material, probably from his forthcoming Panda Bear vs the Grim Reaper, he had the mostly full venue wrapped around his fingers. With strobe lights flashing so bright that you could sense them burning your retinas even with your eyes closed, Noah Lennox (aka Panda Bear) was his usual low-key self, letting his music speak for itself. There were a few older songs, with "You Can Count on Me" being an early set highlight, but the new music was what really stood out. It featured his usual dance-beats-on-ambien, meshing with cascading melodies and haunted, effect-laden vocals. While still as beautiful and confounding as ever, there was a sense of loss and dread throughout the new tracks. One song midway through his set featured Lennox's vocals, cutting through the massive wall of sound, repeating "You can't come back. You won'tcome back. You can't come back. You won't come back to me." While he never will be the most exciting performer in the world, he clearly has the music to make up for it. Not as detached as Blues Control, and not as exuberant and cheeky as YACHT, Panda Bear proved why he holds such a respected place in the electronic world and made a couple hundred people a whole lot more excited for his forthcoming LP.