Rock the Garden 2015 Lineup (Our Guesses and Wishes)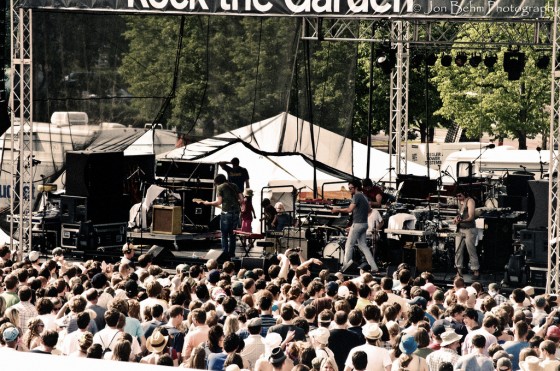 It's Rock the Garden time everybody! Time for wall to wall media coverage, local music 'personalities," and lots and lots of Grain Belt Premiums! Oh yeah, and there will probably be some music as well! Though the fact that the local festival seems to sell out of tickets prior to any bands being announced implies otherwise, we firmly believe that people do in fact care which bands are playing. So in our annual RTG prediction post, we attempt to read the bones, divine the spirits, and test the winds; all in an effort to tease out just who will be playing this year. Will it be the long-awaited local Replacements reunion show? Or perhaps some fresh new indie rock band who wasn't already playing the Firefly Festival in Delaware? Only the great masters at 89.3 the Current can truly know. But here are our best guesses anyhow for the now two-day music fest. This is our sixth edition of this post, which is either impressive or sad. Maybe both.

Jon
Best guesses:

Something for every (target) demographic:
1. Band popular in the 80's or 90's that will get the upper class white folks who stopped caring about music during those decades (because music was all down hill after that).
2. "Fun" bridge band that both upwardly mobile young whites and established middle aged whites can all "vibe" to together. i.e. "I am really excited to see (band #1) – I haven't really followed them since I moved to Chaska and had kids. Oh yeah and Future Islands/Cold War Kids/Lucius should be really fun as well – I saw them on Late Night!"
3. Newer young band/artist to appeal to the the monied hip white kids who are on the cutting edge the Next Big Thing (i.e. "I just LOVE putting on Courtney Barnett in the background while I cruise pinterest and tweet incomplete thoughts.")
4. Band that seems like it would have a more diverse following because of its genre (i.e. hip hop, soul) but is pretty exclusively listened to by economically comfortable white people.
5. The folk-y or alt-country rock-y boogie band that every white person can relate to i.e. "I just can't wait to see The My Morning Avette Mumford Beard-Playing-a-Banjo Band"
6. Local band that is fun and won't ruin everyone's time with drone music.
Dream Lineup:

1. Janelle Monae (C'mon Current, she would be way better than whoever you have planned!)
2. Swans. (Not sure which demographic requirement this would fill other than my own)
3. Angel Olsen (she's like Courtney Barnett except way more talented) or FKA Twigs.
4. Run the Jewels – Here's your diversity requirement! Or actually if you actually want to see some diversity in the audience, how about Pitbull?
5. Sleaford Mods: Add this band to RTG 2015 and I GUARANTEE something interesting will happen.
6. Omar Souleyman, or Seun Kuti (How about some actual FUN?)
Local: Blind Shake, breakaway, Dead Gurus, Roniia, Rabbit Holes, Gay Witch Abortion, White Boyfriend, plus all the other bands the other guys mentioned
Josh
Best guesses:
1. Modest Mouse – Straddling the old "popular yet cool" divide, this way they can hold off their eventual march towards becoming a soft rock station with a festival headlined by the Counting Crows for at least one more year.
2. Beck – I heard he won a Nobel peace prize or something? Also, he also fits the above equation.
(I would say Father John Misty or Alabama Shakes, because they seem destined to be this generation's wildly popular acts for those tangentially interested in music — "have you heard of this indie band?!", a la Beck and Modest Mouse – but they are playing some other thing here this summer)
3. Some hot garbage from a folk-y, "indie" band that I probably don't know. The big-moneyed radio overlords seem to have found that our market are suckers for the Mumford and Sons of the world, and have gone bananas making sure that every vanilla band with an acoustic guitar and Jackson Brown songbook gets their 8 spins a day. I'd rather listen to the dentist drill out my molars, but whatever.
4. Some rap act, or heaven-forbid a EDM musician, to show they aren't "out of touch." I'll give them credit that having De La Soul last year was cool, so maybe lightening can strike twice?
5. Hippo Campus – Local band who sign to a major label is a combination of cat nip and crack for locals, and these young popsters check all the boxes to be the "local headliner" of the bill. (Also, if he hasn't already eclipsed this spot, Allan Kingdom makes sense, and would actually be an outstanding choice)
6. Other local acts – I'd be happy with an obvious choice like the Blind Shake, but the Current seems to have a choice few (4 on the Floor, Jeremey Messersmith, Lizzo, etc) who they can't seem to think beyond, which is a shame. They have a gigantic bullhorn…why not use it in a better way?
Dream Lineup

1. Run the Jewels — Because, well, Run the Jewels. 10,000 people partying to the revolutionary raps of El-P and Killer Mike would be just what the doctor ordered for our city.
2. Talking Heads – I'll bring back my yearly request to somehow get David Byrne back on a stage outside of the Walker. (Side note: I'd also take Television)
3. Chance the Rapper/Kendrick Lamar/Shabazz Palaces/Cannibal Ox – Ensuring that Run the Jewels weren't the only hip hop, there are countless great acts to choose from. I'd also take MFDoom, The Roots, Jay Electronica, Earl Sweatshirt, Bishop Nehru, Freddie Gibbs, etc. Just not Macklemore, please.
4. Viet Cong – Because dark, chugging post-punk would sound so good on a bright sunny day. (If not them, some fuzzy garage chaos from Ty Segall or Thee Oh Sees would be great as well)
5. Chromatics – Here is one that I actually think would work on both the "best guesses" and "dream" list. The best purveyors of synth pop in the game right now, I think they'd knock the socks off the crowd, even though I am guessing the Current ignores them.
6. Local acts – We know they like 3-4 groups, but let's push beyond the first layer, shall we? A short list for consideration: Dead Gurus, Allan Kingdom, Food Pyramid, Zuluzulu, Hollow Boys, Greg Grease, Orchard Thief, Toki Wright, Daughters of the Sun, Animal Lover, Dreamweapon, Miami Dolphins, Mally, Breakaway, Mute Swan, B.O.Y.F, etc
Adam
Best Guesses:
1. Modest Mouse – Appropriately nostalgic with a new album out
2. alt-J – Sure.
3. Courtney Barnett – Hasn't been to town since last summer and sold out the Varsity
4. Babes In Toyland – No local date for them yet
5. St. Paul and the Broken Bones – Sounds like a thing
6. Hippo Campus – Young locals just signed to a label. For sure.
7. Allan Kingdom – Hot local rapper, get in while you can.
8. Howler doing a 4onthefloor cover set (Repeat from last 2 years. Dare someone to make it happen)
Dream Lineup:
1. Iggy Pop – I've listed the Stooges as one of my usual picks but I'll mix it up for this year. Bonus
points for doing Lust For Life top to bottom.
2. Sleater-Kinney – Because I missed them here.
3. Destruction Unit – Never been here and would like to see this madness happen here
4. GOAT – Add some Swedish psych
5. Cannibal Ox – Back together with a new record
6. Thou – Let's get some soul crushing doom on this too
7-8. Some local options: The Blind Shake, France Camp, Uranium Club, CLAPS, Animal Lover