Review: Swami John Reis & Blind Shake 'Modern Surf Classics'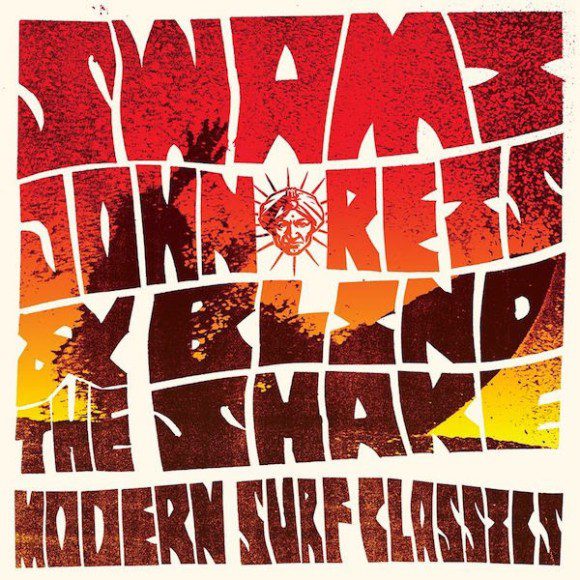 Surf Music, especially in its traditional instrumental form, isn't a genre too many bands are tripping over themselves to recreate. In the grand scheme of things, this is probably OK for multiple reasons. But when national and local garage/punk heroes come together and dedicate their considerable talents to this underutilized sound, it is as awesome as one would expect. Modern Surf Classics finds Swami John Reis (Rockets from the Crypt, Hot Snakes, Drive Like Jehu) and his locally sourced, hand-picked backing band The Blind Shake crafting 13 brand new instrumental tracks that burn through the speakers with the intensity you would expect for this pairing.
There isn't a ton of wiggle room with this genre, but these four stretch it for all it is worth on this LP. From the demented, amped up rockers like album opener "Sea Saw" and "Beach Leach" to the reverb soaked, last-surf chill-outs of "The Lonely Sea Sweeper" and "Brown Room," every nook and cranny of surf music is explored on MSC. They weave in some gurgling sax on tracks like "Hang 11," and craft what sounds like the soundtrack to a car chase along the oceanfront in a spy movie on "Dry Suit." It is a varied album that, even at 13 tracks, never feels sluggish or overtly repetitive. In a result that will not be surprising at all to fans of either Reis or the Blind Shake, the riffs are sharp and the grooves are muscular, creating an album that hits like you a ton of bricks.
While I have no desire for a surge in surf music, if any groups were going to give this sound a run for its money, it was these two. This is a collection of songs that doesn't try to stretch beyond its means, and has a resounding power in its fortified minimalism. Especially in the midst of a brutal cold snap here in Minnesota, Modern Surf Classics sounds like a wonderful escape to a mythical punk rock beach that you and I probably aren't cool enough to be invited to. At least we have the soundtrack.
Buy the record HERE or:
See Swami John Reis and The Blind Shake Thursday, Feb 19th at the Turf with The Bombay Sweets and Pink Mink, with special guest DJS.