Seventh Street Entry
Website
(612) 338-8388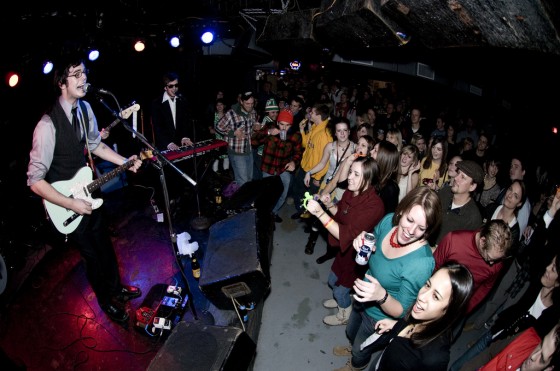 Venue: The Entry is part of First Avenue, the most popular rock club in Minneapolis.  It is a smaller attached room that features its own smaller stage and lineups.
Booking: Books quite a few popular touring bands who aren't quite big enough to play the mainroom, or the Cities' mid-sized clubs.  They feature all different genres of music, though rock generally dominates.  This is a popular stop for bands who are on their way to becoming big, and it isn't rare for a band to play the Entry one year and the mainroom the next.
Concert Experience: The Entry generally has decent sound and lighting.  The small space can get quite crowded, but with a well-designed layout and good sightlines the experience is generally still acceptable.  It can get scorching hot in the Summer though.  Stage is low and intimately close.
Drinks: Same drinks as the mainroom (and same bullshit credit card "convenience charge").  PBR tall boys are $2.75 until 11pm, and are generally the only budget minded drinks.
Staff: Same staff as the mainroom but a little more easy-going.  Still, you would not be advised to start any funny business because they will put you in your place.
Parking: Bad
Inside Scoop: Go to the bathroom before you go out – the Entry has one single stall unisex bathroom that almost constantly has a long line.