Audio Perm: Audio Perm in Full Effect Review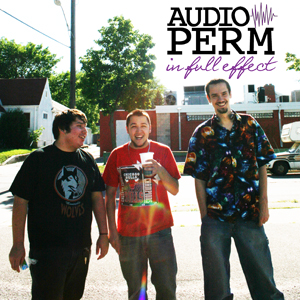 83/100
The narrative surrounding Audio Perm with their debut album Audio Perm Beat Tapewas that these were some youngins making really solid instrumental hip hop.  I thought that sold them short, as relying on age is prone to do, as the album was solid start to finish and would have been impressive whether it was made by someone 19, 77 or 5.  The group (composed of Cory Grindberg, Julian Fairbanks and Taylor Madrigal) have had been part of some solid local hip hop records, but their sound collage beat tapes have been what has most impressed me.  They are back with their sophomore effort, titled Audio Perm in Full Effect, and they continue their winning streak with another really solid album.
Starting off with a horn laden group track featuring shout outs from some of the kingpins of the local hip hop scene, Audioperm in Full Effect is 32 tracks spread out over 64 minutes of soulful, hard charging hip hop beats.  The three dudes behind the group take turns over the album, with each laying down complex but easy to enjoy beats that would seem as at home in your headphones chilling out as they would sound tracking your next bash. 
While I don't think it is relevant in determining their value as far as artists, it shouldn't be ignored that these are some young kids with bright futures.  In a scene that at its peak was one of the most influential in "indie" hip hop world, groups like Audio Perm show that the well of talent isn't going to dry up when the Rhymesayers crew start drawing social security checks.
     -Josh