Hastings 3000: A New Monster Review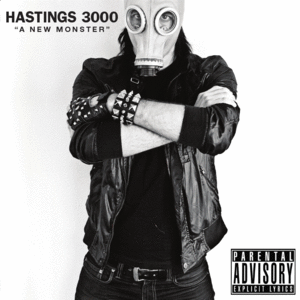 Hastings 3000, formerly of the critically lauded but underappreciated garage rockers Fuck Knights, set out recently on a one-man- band path.  The first fruits of this creation are the scattered yet focused, scuzzy yet catchy works of his debut album A New Monster, which will fittingly see its release tonight (Halloween) with a performance at Sauce in Uptown.
Starting out with the slashing riffs and pounding drums of "Modern Man," and continuing throughout the album's 12 song, 37 minute lifespan, A New Monter is focused take on scuzzy punk/garage rock and roll.   The sound is tight, with the aesthetic on the lo-fi end.  While the functionality of a one man band may be questionable, at least on record Hastings 3000 leaves little to be desired with his exciting, buzzsaw meets pop sound.  The tracks range from the poppy (former Radio K track of the day and cover of a French classic "Ca Plane Pour Moi") to more grinding, industrial sounding sludge rock ("I'm Your Biggest Fan") to more dreamy, fuzzed out folk ("The Southern Sun").  Lots of the songs remind me of Ty Segall, showing an artist who takes a blues/garage/pop sound and boils it down to the bare minimum (literally, as both create their soundscapes on their lonesome).
While one man bands often can seem like a gimmick, it doesn't take long for A New Monster to prove this is no laughing matter.  From the clear eyed pop of "Gold" to the demented noise of "Demunzi, The Wild Bull," Hastings 3000 finds no genre untouchable and doesn't allow the listener any chance to become comfortable with one style.  While the lack of distinguishable focus could be seen as a negative, Hastings 3000 shows the talent needed to walk the genre tightrope. There are a lot of narratives that could be painted around this album (spin off album from well known local group, one man band, etc), but in the end it is just a damn good album that mixes focus with fury and is a endless entertaining batch of songs, which is something that should outshine any storyline.
-Josh
Catch Hastings 3000 tonight for their record release show at Cause in Uptown.