Radio K Announces Five New Specialty Shows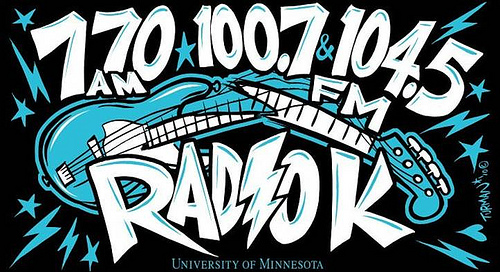 The University of Minnesota is back in session! And if you find that reality as depressing as I do – console yourself with the fact that the University's college radio statio, Radio K, has just announced five new specialty shows for the coming year.  Here they are:
(From Radio K)
By Any Means (Wednesday 8:00PM-10:00PM)
DJ Howard explores the sounds of R&B and the groove that has inspired today's musicians.
Catacombs (Monday 10:00PM-12:00AM)
Real Toxic Radio. Focusing on local and national metal, industrial, sludge, and noise.
Club K (Thursdays 8:00PM-9:00PM)
Prime dance tunes mixed into an hour of unwavering club music by Impeach.
Eighth Grade Dance Party (Tuesday 9:00PM-10:00PM)
A retrospective of yester-year, examining pivotal one-hit wonders.
New Horizons ( Thursday 9:00PM-11:00PM)
New millenium hip-hop hosted by Howard.
You can find the entire bill of Radio K programming here. Enjoy the semester!