Bird Sounds: "New EP" Review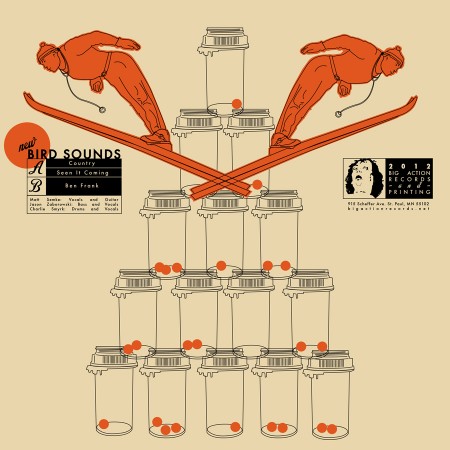 Local three-piece Bird Sounds' new EP New has been a long time in coming.  Though it is technically their second EP, the band, which consists of Matt Semke, Jason Zaborowski, and Charlie Smyrk, prefers that that this one be thought of as their "true debut." And considering the sound of New, that may be a wise decision.  While Bird Sounds aesthetic is historically hard and noisy, the four recordings on the EP are actually pretty tight and refined.  Not "square" in any sense of the word but full of an energy that knows how to color inside the lines.
For comparison's sake think of the Black Lips, with whom Bird Sounds share a few similarities.  Are they crazy? You bet. Are they punk?  Sure. Are they musically a spastic disaster? Only (occasionally) onstage.  For such a rowdy band, the Lips' recordings are actually fairly restrained.  The same kind of restraint shows through in Bird Sounds' new tunes, which were recorded under the guidance of Neil Weir at his Old Blackberry Way studio.  Though the reins seem to be loosened a bit for raucous closer "Fortune," for the most part New is wild without going off the rails (for the record "Fortune" goes off the rails in a very enjoyable way).
That's not to say the EP is by any means tame though.  Pounding punk/grunge jams "Country" and "Ben Frank" pulse with attitude.  Listening to them you can practically imagine the taut guitar chords and reverbed, menacing vocals whipping a mosh pit into a frenzy in some dank, dark, rock dive.   Touches of psychedelia added via distortion, effects, and tambourine, do a bit to blunt the sound's hard edges, though not by much.  Even though outlier "Seen it Coming" takes a slower, more ominous approach to songcraft, at half-speed the band is still no less fearsome.   New packs a pretty ferocious wallop, though at only four songs it's a short burst.  Hopefully Bird Sounds have a full length in the making, and every tune on it is as good as these four.
— Jon Behm
Bird Sounds next show will be on 5/31 at the Kitty Cat Klub.  Pick up the new EP there or here.