All You Need to Know About The Fucking Best Show Ever This Weekend in Minneapolis
Prior to the release of P.O.S's album, "We Don't Even Live Here," on October 19th, 2012, P.O.S took to YouTube to not only announce that his two-week tour in support of the album has been cancelled, but to also announce something unbeknownst to some; that he had to cancel the tour due to his deteriorating kidney. After a two-year bout of trying to find a donor, and many fans offering everything from money to their own kidneys to donate to P.O.S, he finally has now gotten the OK to go back to work. Not one to slouch, P.O.S, in conjunction with Greenroom Magazine and The Current, is returning in a major way. On Saturday, P.O.S has curated The Best Fucking Show Ever, a block party featuring numerous luminaries such as SZA, Busdriver, Open Mike Eagle, and countless others.
*BEFORE THE FUCKING BEST SHOW EVER:



*On Friday, September 12th (that's tonight if you're frantically checking your phones/calendars), Greenroom Magazine will be hosting a release party for their 3rd issue at CO Exhibitions, located at 1101 Stinson Blvd in Minneapolis. During the release party, DJ's Stefan Ponce and Slamdunkapher will be spinning, and Jeff Weiss along with Nocando will be doing a live edition of their Shots Fired! podcast, which will feature guests such as P.O.S, Open Mike Eagle & Dam-Funk.
A $10 donation is required prior to entry, so head here if you want to get tickets, and remember that space is LIMITED. Buy: http://greenroommagazine.com/lifestyle/issue-003-release-party/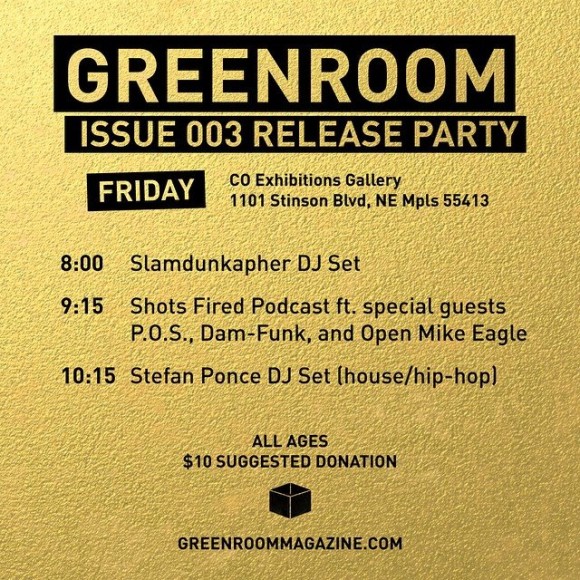 *To get yourself familiarized with some of the artists, check this Greenroom Magazine curated playlist below:
[soundcloud url="https://api.soundcloud.com/playlists/42437076″ params="color=ff5500&auto_play=false&hide_related=false&show_comments=true&show_user=true&show_reposts=false" width="100%" height="450″ iframe="true" /]
*THE FUCKING BEST SHOW EVER (9/13/2014)

P.O.S
With everything from We Don't Even Live Here already greatly engrained into everyone's psyche, especially the hypnotically enjoyable "Get Down," and his participation in Marijuana Deathsquads, you can be guaranteed that this set is going to be extra special.
SZA
The first lady of Top Dawg Entertainment, home to wunderkind such as Kendrick Lamar, ScHoolboy Q, and Ab-Soul, is sure to satisfy and satiate everyone's appetite with her spacey and atmospheric approach to R&B from her debut effort, Z.
Open Mike Eagle
Wowing audiences since Unapologetic Art Rap, and getting critical acclaim for his newest effort, Dark Comedy, Eagle is sure to wow everyone with his energetic set. Check out his recent interview with Jack Spencer of the City Pages here.
Busdriver
Busdriver has been a mainstay on the west coast underground for quite some time, and given his dope new album Perfect Hair, you can be sure that his lengthy catalog will leave everyone enjoying what he has to deliver. Plus it doesn't hurt that he's the head of Hellfyre Club along with Open Mike Eagle.
Le1f
With a mesmerizing performance delivered on David Letterman, along with his fresh debut album, Hey, Le1f is sure to get the audience bouncing with electric energy.
Allan Kingdom
After gracing issue 2 of Greenroom Magazine, leaving crowds clamoring for more at Soundset, and dropping his highly anticipated EP Future Memoirs, Kingdom is sure to shine and amaze every crowd imaginable.
ZULUZULUU

Fronted by Greg Grease, DJ Just Nine, and Alicia Steele, along with keyboardist Trey Johnson and MPC wizard Telly Mo are sure to leave crowdgoers in a daze with their deep space explorations in experimentation.
Poliça (DJ SET)
With their latest effort, Shulamith getting plenty of play all around, Channy's DJ set should give everyone a lot of further insight as to some of their influences and manage to deliver some eclectic variety.
DJ TIIIIIIIIIIP (DJ SET)
As a member and head honcho of the crew known as Audio Perm, TIIIIIIIIIP is set to deliver something that's not only going to hype up the audience, but should also provide for plenty of surprises, considering he just recently did the 7th installment of the Audio Perm Dance Party at the First Ave Mainroom.
*THE FUCKING BEST AFTER PARTY EVER

After the show, the party heads to the First Avenue Mainroom for the after party. What to expect?
Lazerbeak
The local God of the drum machine is sure to leave audiences wowed with his wizardry, dazing and amazing folks with renditions of beats he's provided, with maybe some special guests in tow? Maybe so.
DaM-FunK
To say that DaM-FunK has had the most prolific discography on Stones Throw is an understatement. The lord funkateer himself is set to kick things off energetically with his own inspired rendition of the funk.
Check the flyer below for details on The Fucking Best Show Ever & The Best Fucking After Party Ever. Buy tickets here: http://thefuckingbestshowever.com/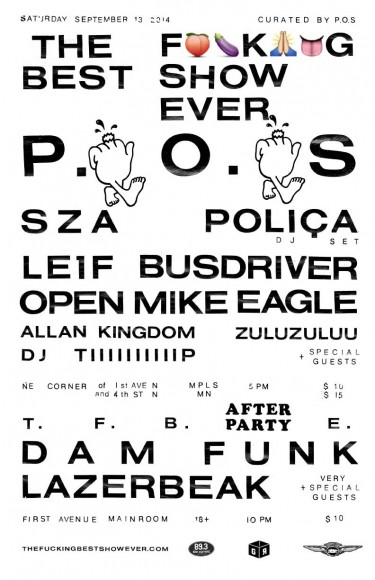 Compiled by Ali Elabbady @EgyptoKnuckles, CEO/Producer of Background Noise Crew