Best Albums/Songs of the Half-Decade (2010-2015)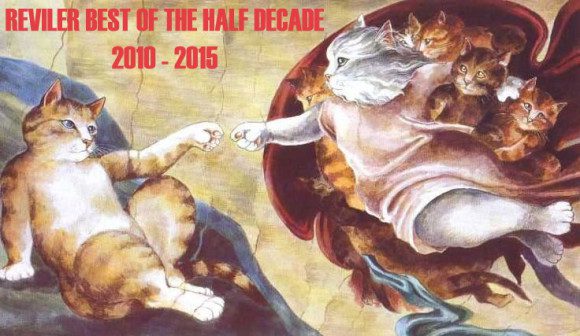 Halfway through this crazy decade, we thought we would gather our thoughts on what we've like so far. Below you will find Reviler contributors opining on their favorite albums and songs from the last five years. Want to add in your voice? Send us an email to be a Reviler contributor!

Jon Jon Scott, @soundverite1
1. Kanye West – My Beautiful Dark Twisted Fantasy
2. Beach House – Teen Dream
3. FKA twigs – LP1
4. PJ Harvey – Let England Shake
5. Kendrick Lamar – Good Kid, MADD City
6. Kamasi Washington – Epic
7. The Weeknd – House Of Balloons
8. D'Angelo – Black Messiah
9. Atoms For Peace – AMOK
10. Dean Blunt & Inga Copeland – Black Is Beautiful
Sam Gerard, @SRV_Hands and two time picked to click champion.
1. Pallbearer-Sorrow and Extinction
2. Kurt Vile Smoke Rings for My Halo
3.Royal Headache-S/T
4.Uncle Acid and The Deadbeats-Mind Control
5.Radioactivity-S/T
6.Mean Jeans-Life On Mars
7.Windhand-S/T
8.Wavves-King of the beach
9.Agalloch-Marrow of the Spirit
10.Panopticon-Roads to the North
11.Haim-Days are Gone
12.Yob-Clearing the Path to Ascend
13.Eddy Current Suppression Ring-Rush to Relax
14.Destroyer-Kaputt
15.Bill Callahan-Apocalypse
16.King Tuff-Black Moon Spell
17.Horrendous-Ecdysis
18.Wolves in the Throne Room-Celestial Lineage
19.Ty Segall-Manipulator
20.Fresh and Onlys-Play It Strange
Ali, @egyptoknuckles

1. Kanye West "My Beautiful Dark Twisted Fantasy" / "Yeezus" (tie)
2. Kendrick Lamar "good kid, mAAd city" / "To Pimp A Butterfly" / "Section.80" (three way tie)
3. Daft Punk "Random Access Memories"
4. Beach House "Teen Dream"
5. Dr. Dre "Compton"
6. Beyoncé "Beyoncé"
7. Killer Mike "R.A.P. Music"
8. Oddisee "People Hear What They See" / "Tangible Dream" (tie)
9. Vampire Weekend "Modern Vampires of the City"
10. Fiona Apple "The Idler Wheel…"
11. Frank Ocean "Channel Orange"
12. Chance The Rapper "Acid Rap"
13. A$AP Rocky "LiveLoveA$AP" / "Long.Live.A$AP" / "At.Long.Last.A$AP" (three way tie)
14. Andy Stott "Luxury Problems"
15. Disclosure "Settle"
16. Run The Jewels "Run The Jewels" / "Run The Jewels 2" (tie)
17. Danny Brown "XXX" / "Old" (tie)
18. Freddie Gibbs & Madlib "Piñata"
19. War On Drugs "Lost In The Dream"
20. Flying Lotus "You're Dead!" / "Cosmogramma" (tie)
Songs:
1. Kendrick Lamar "Sing About Me, I'm Dying of Thirst"
2. Kanye West "Blood on the Leaves"
3. Killer Mike "Reagan"
4. Frank Ocean "Sweet Life"
5. A$AP Rocky "Palace"
6. Daft Punk "Giorgio by Moroder"
7. Beyoncé "Drunk In Love"
8. Oddisee "Yeezus Was a Mortal Man"
9. Dr. Dre, Anderson .Paak & Kendrick Lamar "Deep Water"
10. Andy Stott "Sleepless"
11. Danny Brown "Red 2 Go"
12. Run The Jewels & Zack De La Rocha "Close Your Eyes (and Count to Fuck)"
13. Fiona Apple "Anything We Want"
14. Jessie Ware "Wildest Moments"
15. Vampire Weekend "Ya Hey"
16. Flying Lotus "Coronus, The Terminator"
17. Freddie Gibbs, Madlib & BJ The Chicago Kid "Shame"
18. Disclosure "When a Fire Starts To Burn"
19. Kanye West "Power"
20. Beach House "A Walk In The Park"
Jon, Reviler
1. Chad Van Gaalen – Shrink Dust
Most of the records on my list were slow growers – albums I didn't immediate love but found myself going back to again and again until I realized they had become favorites. This was an exception – I have loved this exceptional record since the first time I heard it.
2. Bill Callahan – Apocalypse
Callahan is one of my favorite all-time artists and I think this is the apex of his work (thus far).
3. Josephine Foster – Blood Rushing
Never thought this one would have made my list but I love love love this record. It's Foster's least weird music but it's still fairly weird – in the best way possible.
4. Janelle Monae – The ArchAndroid
I will ride hard for Janelle Monae until my last day. Amazing artist and performer. And this record rules hard.
5. Death Grips – Ex Military
Their debut was more bonkers intense than anything Death Grips has done since. And while the album got canned due to all the uncleared samples, it's pretty incredible.
6. Cate LeBon – Mug Museum
Been a long time fan of LeBon's and I was thrilled she finally made the record that I knew she would someday make.
7. Sonny & the Sunsets – Longtime Companion
Started out just liking this. a few years later and its worked its way onto my permanent playlist.
8. Julianna Barwick – Nepenthe
Julianna makes some of the most beautiful music ever
9. Swans – To Be Kind
Who would know that late into their career Swans would start making their best material?
10. (tie) Ty Segall – Melted
Segall's best and a frenzied, garage-rock staple
10. (tie) Caribou – Swim
This has probably fallen in stature for me a bit since it came out but once in awhile I will put it on and get blown away all over again.
10. (tie) Beach House – Teen Dream
This one is (in my opinion) Beach House's finest
10. Timber Timbre – Hot Dreams
I actually just heard this for the first time a few months ago. And I can't stop listening. Not sure if it will stand the test of time but for now I am really loving it.
Songs
1. Grimes – Oblivion
2. Ariel Pink – Fright Night
3. Kanye West – Power
4. Jenny Hval – The Seer
5. Frank Ocean – Thinkin Bout You
6. Bill Callahan – Riding For the Feeling
7. Caribou – Odessa
8. Low – Nothing But Heart
9. Ty Segall – Girlfiend
10. Foxygen – Cosmic Vibrations
Adam, Reviler
Albums:
1. Kanye West- My Beautiful Dark Twisted Fantasy
2. Kendrick Lamar – good kid, mAAD city
3. Sun City Girls – Funeral Mariachi
4. Wooden Wand – Death Seat
5. Daft Punk – Random Access Memories
6. Run The Jewels – RTJ2
7. Haim – Days Are Gone
8. King Tuff – King Tuff
9. War on Drugs – Lost In The Dream
10. Future Islands – Singles
Songs:
1. Daft Punk – Get Lucky
2. Ariel Pink – Round And Round
3. Solange – Losing You
4. Sky Ferreira – Everything Is Embarassing
5. Kendrick Lamar – Bitch, Don't Kill My Vibe
6. M83 – Midnight City
7. Grimes – Oblivion
8. Crystal Castles w/ Robert Smith – Not In Love
9. Tame Impala – Feels Like We Only Go Backwards
10. Kanye West – Power
Josh, Reviler

1. Kendrick Lamar – good kid, mAAd city + To Pimp a Butterfly
2. Royal Headache- Royal Headache
3. Shabazz Palace- Black Up & Lese Majesty
4. Oneohtrix Point Never- Replica + R Plus 7 (& Commissions 1 EP)
5. Sun Araw & M. Geddes Gengras meet The Congos – Icon Give Thank
6. Cave- Neverendless
7. Grouper – Ruins
8. Sun Kil Moon – Benji
9. Bill Callahan- Apocalypse
10.Ariel Pink Haunted Graffiti- Before Today
11.Peaking Lights- 936
12.Ty Segall- Goodbye Bread + Ty Rex + Twins + Slaughterhouse +Hair
13.Clams Casino- Instrumentals I, II and II + Rainforest
14.Wooden Shjips- West
15.Run DMT- Dreams
16.Blondes – Blondes
17.RUSTIE — Glass Swords
18.Kanye West – My Beautiful Dark Twisted Fantasy
19.Horse Lords – Hidden Cities
20.Deerhunter Halcyon Digest
Best Soundtrack: Drive
(Honorable Mention: Amen Dunes – Love, Tal National – Kaani)
Songs
1. Chance the Rapper — Sunday Candy + Cocoa Butter Kisses
2. Kendrick Lamar — Sing About Me, I'm Dying of Thirst
3. LCD Soundsystem – You Can't Hide (Shame on You)
4. Pulp – After You
5. Piano Movers – Girlfriend's Lover
6. Run the Jewels — Close Your Eyes (And Count to Fuck)
7. Caribou — Can't Do Without Your Love
8. Tame Impala – Feels Like We Only Go Backwards
9. Drake – Headlines
10. Kanye West — Power
11. Holy Ghost! — Wait and See
12. De La Soul's Plug 1 & Plug 2 present First Serve – We Made It
13. Games — Strawberry Skies
14. Marnie Stern –For Ash
15. Woods — Time Fading Lines
16. Holy Fuck — P.I.G.S
17. Kurt Vile — In My Time + Pretty Pimpin
18. Frank Ocean- Pyramids
19. Halasan Bazar- Everybody Dies
20. Four Tet — Angel Echoes (There Is Love in You)
HM: Real Estate — Out of Tune; Earl Sweatshirt- Chum; La Vampires/Octa Octa- Freedom 2K; Killer Mike- Reagan; Grinderman — Heathen Child; Fuzz – What's In My Head?; U.S. Girls – Overtime; Arcade Fire – Afterlife; Shit Robot- Do That Dance; Beirut — East Harlem; Daft Punk — Lose Yourself to Dance
Enjoy what songs are on Spotify from our best songs list: