Best of 2017.5: Albums and Songs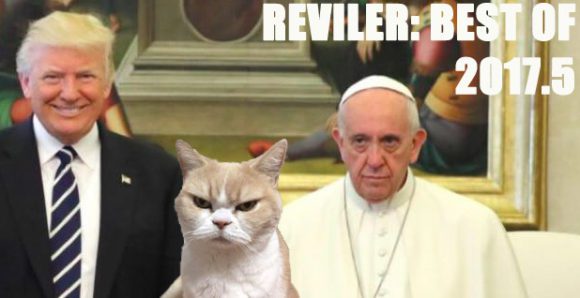 We celebrate making it halfway through this crazy year by compiling music things we like. Today we reflect back on the best Albums and Songs we've heard so far in 2017.
Jon, Reviler
1. Emel – Ensen
Probably my most listened-to record so far this year
2. Juana Molina – Halo
The best of Molina's already great discography
3. SURVIVE – RR7349
OK, this didn't come out in 2017. New to me this year though, fuck it.
4. Justin Walter- Unseen Forces
Walter mastered the EVI for this record – I am still not sure what that is but it sounds amazing.
5. Bargou 08 – Targ
The second of two Tunisian artists in my list this year (Emel being the other) this record is also fantastic
6. Big Thief – Capacity
Great songcraft from a native daughter
7. Priests – Bodies and Control and Money and Power
More pop than previous outings but it works
8. Ty Segall – Ty Segall
Segall's best record in at least a few weeks (kidding, its his best for at least a year or two)
9. Diet Cig – Swear I'm Good at This
Normally not drawn to the pop punk as much but these guys do it really well
10. Boogarins – Lá Vem a Morte
A very strong offering from Brazil's psychedelic praksters
Atom, @AtomRobinson
1. Prince, Purple Rain Deluxe Edition: Yeah. I'm that guy.
2. Eerie Gaits, Bridge Music
3. Kendrick Lamar, DAMN
4. Bill Orcutt, bill orcutt
5. SZA, CTRL
6. Como Mamas, Move Upstairs
7. Perfume Genius, No Shape
8. Miles Mosley, Uprising
9. Steve Earle & The Dukes, So You Wanna Be An Outlaw
10. Jay Z, 4:44
Erica Krumm, Oaks
Indulge-JONES
Most favorite new discovery. Awesome modern R&B with amazing hooks and beautiful vocals.
Nuclear Bomb- Cherry Glazerr
Love the kick in at the chorus and this pretty and mellow vibe kind of in the vain of Warpaint
Things Are Right With You-Cloud Nothings
New Cloud Nothings does not disappoint! Happy, inspired, energetic, pop punk.
Green Light-Lorde
Chillingly hot pop dance anthem probably of the year- but we'll see…
Cryptid- Harriet Brown
Craziness. Highly Prince influenced but inventive and jammin'
Backseat- Suzie
Best summer song!
Chris Besinger, @cbesinger
The Half B'lest of 2017: A List By A Person Who Despite Being Aggressively Less Engaged With Music Then He Has Been In North of 20 Years But Has Actually Listened To A Lot Of New Stuff Lately Go Figure Life Is Weird
Best Meticulously-Crafted-Adult-Bummer-Record-That-Has-A-Jesus-Lizard-Album-Title
The New Year Snow
Best Record-Ten-Years-In-The-Making-That-Roughly-A-Fifth-Of-The-People-Who-Should-Hear-It Actually-Will-End-Up-Hearing-Cause-I-Dunno-Some-Fucking-Reason
Oxbow Thin White Duke
Best Show-In-A-Teeny-Tiny-Storage-Room-That-Is-Somehow-Venue-That-Featured-A-Cement-Mixer-And-I-Was-Seriously-Concerned-My-Toes-Would-Get-Crushed-By-Chunks-Of-Conrete-And-Chains-And-Featured-(At Least)-Two-Dudes-Who-Were-Legit-Terrifying-In-Their-Focus & Intensity
Crazy Doberman in the Eagles Club "Game Room"
Best Free-Jazz-Cum-Kosmische Musik-Pedal Steel-Duo-Jam-That-Features-A-Trussed-Up-Dude-Getting His-Cock-Bit-By-A-Snake-On-The-Cover Brotzmann/Leigh Sex Tape
Best Record-That-Is-Most-Likely-To-Inspire-Strangers-To-Walk-Up-To-You-And-Say-"Actually,-Canned-Heat-Is-Pretty-Good"
Endless Boogie Vibe Killer
Best Reissue
World Spirituality Classics 1: The Ecstatic Music of Alice Coltrane Turiyasangitananda
Jon Jon, @Soundverite1
Kendrick Lamar -DAMN
Sampha -Process
Broken Social Scene – Hug of War
Thundercat- Drunk
Jay-Z 4:44
Thelonious Monk – Les Liaisons Dangereuses 1960
Shabazz Palaces – Qarzarz: Born on a Gangster Star
Vince Staples – Big Fish Theory
Washed Out- Mister Mellow
Shabaka & His Ancestors -Wisdom of Elders
Adam Johnson, Reviler
1. Kendrick Lamar – DAMN.
2. Grails – Chalice Hymnal
3. Ryuichi Sakamoto – Async
4. Erasure – World Be Gone
5. Algiers – The Underside of Power
6. Fuoco Fatuo – Backwater
7. The Feelies – In Between
8. Mastodon – Emperor of Sand
9. Young Pioneers – High Again
10. Spoon – Hot Thoughts
Josh, Reviler
Best Albums
1. J Hus – Common Sense
2. Kelly Lee Ownes – Kelly Lee Owens
3. Jlin – Black Origami
4. Mark McGuire – Ideas of Beginnings
5. Stormzy – Gang Signs & Prayers
6. Kendrick Lamar – DAMN
7. TALSounds – Love Sick
8. Alex G – Rocket
9. Various Artists – Mono No Aware
10. Juana Molina – Halo
11. Teengirl Fantasy – 8am
12. Les Amazones d'Afrique – Republique Amazone
13. Laurel Halo – Dust
14. World Sprituality Classics 1: The Ecstatic Music of Alice Coltrane Turiyasangitananda
15. Arthur Russell – Instrumentals
16. Omar Souleyman – To Syria, With Love
17. Chole x Halle – The Two of Us
18. Steve Lacy – Steve Lacy's Demo
Best Songs (not on one of the above albums, unranked)
Blanck Mass "Please"
Fujiya and Muagi "Solitaire"
Future "Mask Off" Remix (feat Kendrick Lamar)
Endless Boogie "Back in '74"
Oddisee "Like Really"
Kevin Morby "Come to Me Now"
Tonstartsbandht "Sorcerer"
Folkazoid w/ J Spaceman "Electric"
K'Valentine "Family"
Kamasi Washington "Truth"
Vince Staples "Big Fish"
Forest Swords "The Highest Flood"
Adam, Reviler
Albums
1. Uranium Club – All Of Them Naturals
2. Xetas – The Tower
3. Mozart's Sister – Field Of Love
4. Viagra Boys – Call Of the Wild
5. Idle Bloom – Little Deaths
6. TOPS – Sugar At The Gate
7. Lorde – Melodrama
8. Lydia Ainsworth – Darling Of The Afterglow
9. Sweet Spirit – St. Mojo
10. Adult Mom – Soft Spots
Songs
1. Viagra Boys – Upside Backwards
2. Party Nails – Blow Me Away
3. Mozart's Sister – Moment 2 Moment
4. Nightmen – Be My World
5. Kendrick Lamar – HUMBLE.
6. Idle Bloom – Dust
7. Chaz Bundick Meet The Mattson 2 – Star Stuff
8. Xetas – The Gaze
9. Guided By Voices – Dr Feelgood Falls Off The Ocean
10. Half Waif – Severed Logic