Upper Midwest B/W Music Photo Contest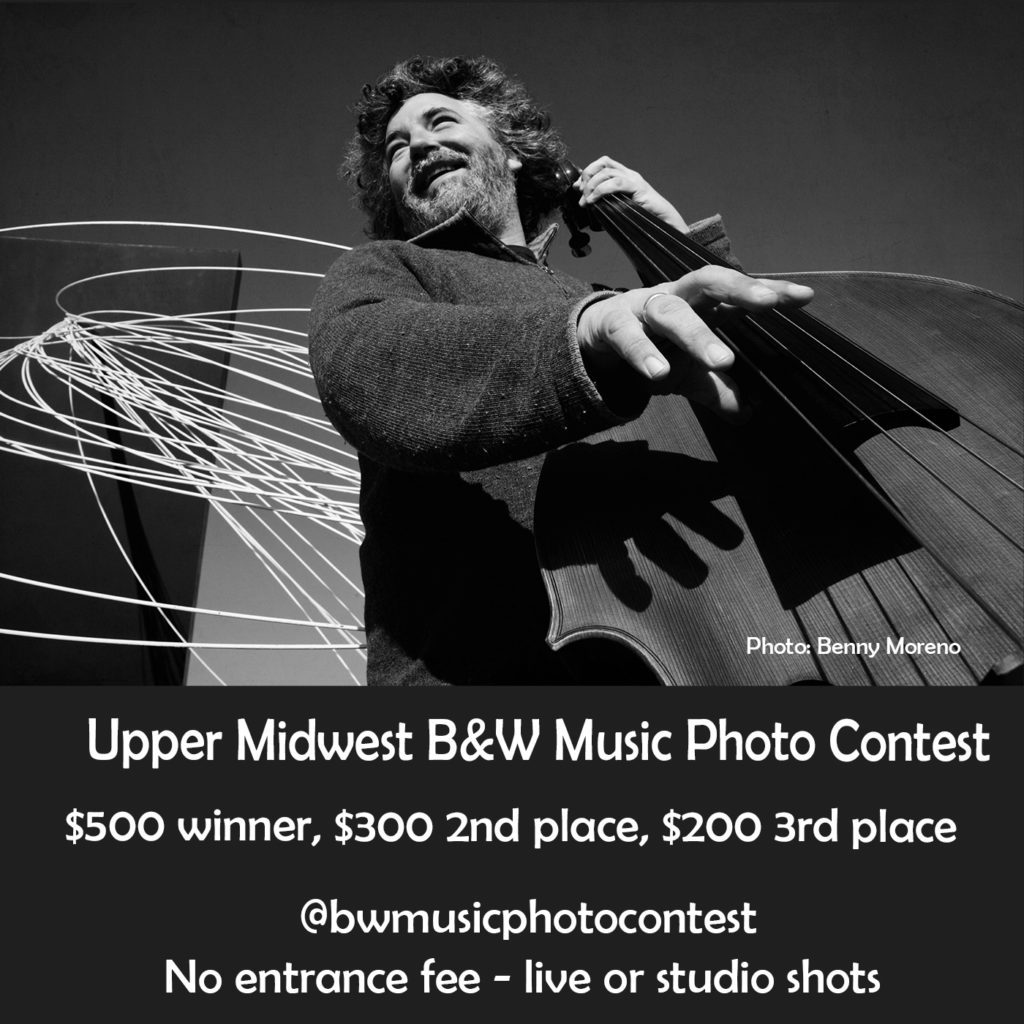 If you follow Reviler you know that we are huge fans of the art of music photography (an art we're all very keen to be able to start practicing again – get vaccinated people!)
We're excited to help promote the Upper Midwest B&W Music Photos Contest, an initiative close to our hearts (Local-focused music photography!) While many of us haven't done much concert shooting in the last year, there is no limit in terms of when the submissions were taken and no entrance fee! The main criteria are that the shot include someone from the region (more on that in the details below) and that it be black & white.
Submissions are currently open and will run through March 1st, 2022. At that point the judging will begin that will result in $500 for first place, $300 for second, and $200 for third!
Submissions can be sent to: [email protected]
See below for additional details:
Upper Midwest B/W Music Photo Contest
First round panel judges: photographers Andrea Canter, Jim Vasquez, John Botkin, Michael Ruth, Steven
Peterson and Tim McGuire with musicians Paul Cebar (Milwaukee – R&B artist with a 40-year
performance history) and Mary Louise Knutson (Minneapolis – jazz pianist with Doc Severinson, JazzMN
Orchestra, Mary Louise Knutson Trio).

Final winners are chosen by Public Ranked Choice Voting.

The project is a non-profit, cooperative effort of photo clubs, music venues, community radio stations
and musicians. Sponsors will have their names included in marketing.

States: Minnesota, Wisconsin, North & South Dakota

Theme: Black & white music photo of that includes Upper Midwestern musician(s) – any style/type
music, any professional level – backstage, informal shot/portrait, rehearsal, performance, formal
portrait, etc.

Eligibility: Open to all. Entry fee: None. Photographers must reside in MN, WI, ND or SD, and photos
must include residential musicians, captured at a Midwest venue, anytime.

Panel members are restricted to voting for no more than a single panel entry, and cannot vote
for their own. (I don't think we even want to mention this until the time of voting, if at all.) All
entrants' names will be hidden from their images during panel and public voting.
Prizes: $500 winner, $300 second place, $200 third place. Funds for winners are donated or crowd-
sourced.
The winning 3 images will be published in the Minneapolis StarTribune, Milwaukee Journal Sentinel,
Bismarck Tribune and MinnPost. Photo clubs and online media will link to an online gallery.
All accepted entries will be posted on cooperative websites, social media and:

Email – [email protected]

Purpose: The purpose of the contest is to support Midwest musicians and venues and celebrate the
upcoming 2021-2022 concert seasons.This summer, more music events will be outdoors, offering more opportunity than ever for
photographers to capture great images!

What is Ranked Choice Voting? – Give yourself a chance to try Ranked Choice Voting!Any public voter can select the winners of the photo contest and practice ranked choice voting.
Ranked choice voting (RCV) allows voters to rank candidates in order of preference: first favorite,
second favorite, third, etc.

Benefits of RCV include:
Reduces polarization because voters select more than one candidate. Candidates compete for
second, third or fourth choice votes instead of a single group of voters.
Provides more choices for voters.
Promotes majority support.
The photo contest uses a multi-winner voting method to arrive at 3 winners. Voters rank their choices,
and re-vote until the top 3 remain.