Live Blog: Totally Gross National Party 2023 at Icehouse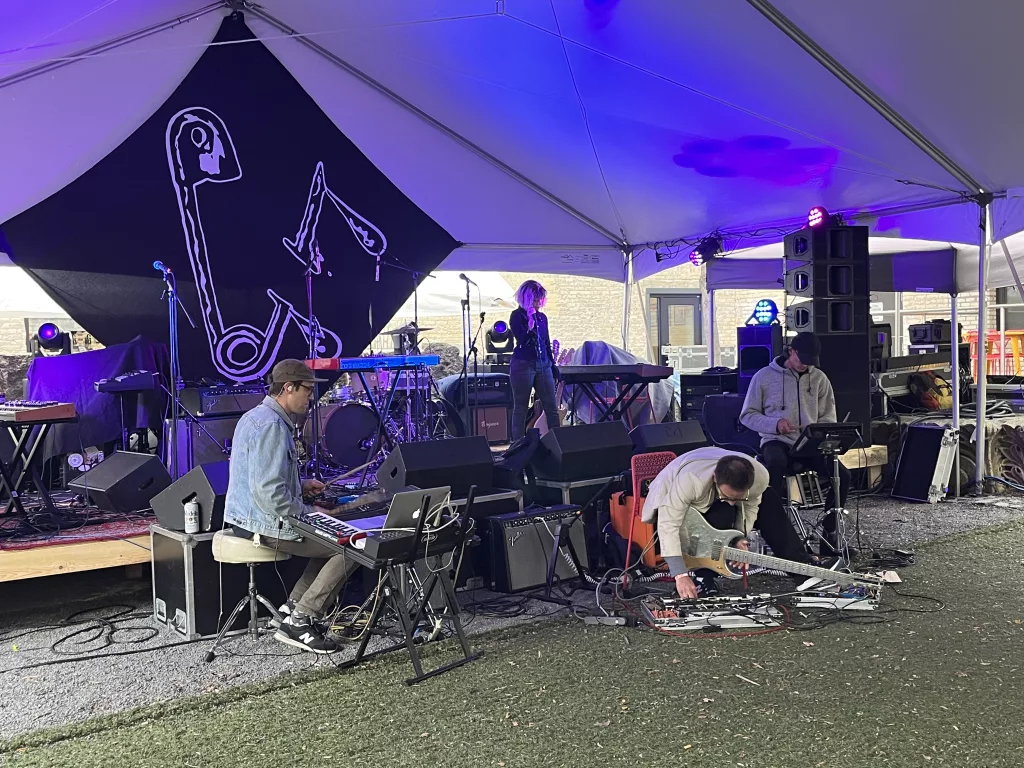 We're going to be checking in from the first Totally Gross National Party to happen in many years. If you're in the area, swing down to Icehouse for music from 3pm until bar close, both inside and outside.

4:02 – show up fashionably late (music was supposed to start at 3) to…no bands having started yet. Who says rock and roll is dead?
4:05 – unlike some of the previous years, a really nice tent is outside, so if you're reading this in real time, don't fear the rain.

4:09 – longtime local group and TGNP regulars Stolyette kicking things off. Dual drum machines flanking the usual bass/vocal duo. Welcome back TGNP!
4:16 – they also had a corner on enchanting, dark pop music, but there's a real springy new wave beat that's coming out of the songs today. Some people are even dancing!
4:30 – just the kind of eclectic, art-infused, dance-adjacent set this party deserved.
4:42 – running an hour late, so the next band is up and ready to go…just kidding.

4:51- Zach Khan is a whole band (keys, horns, guitar, drums) that seem to have an average age of 12. Feeling like I should get a senior discount on my next beer when comparing my sore back to these kids.
4:56- real glowed out funky pop that seems to be shooting for the radio. I'm a bad judge of what is popular but seems possible they this crew would have something down the line that breaks out.

5:12 – good crowd growing here. Also if you want some video evidence of the night, videos are on the ole Twitter.

5:42 – looooong break between set. Luckily seems like everyone knows each other and are enjoying some catching up. Seems like some issues with sound equipment?
5:46 – Xina now starting with a few holdovers from the last band. Real glossy pop music. Sounding good on a cloudy but nice summer afternoon.

5:53 – a great mix of warmth (vocals/horns) and mechanic (keys/drums) from Xina and band. And she is a totally captivating front person. Haven't heard her stuff before but will be checking out.
6:14 – are the fries worth the cost? A spirited debate happening now. Stay tuned for results is informal poll.
6:32 – Albert, who put out an under-appreciated LP on TGNP back in the day, spraying noisy synths now.
6:42 – now dancing in crowd while the chaotic noise continues. Doing his part to make a dance party start.
6:47 – if you wish Aphex Twin was a little more weird, this is your jam.
6:56 – quite the jarring transition from that to Lambchop, but here we are.
7:03 – transfixing set by Lambchop, with Broder on keys. Just spellbinding the crowd.
7:06- one long, haunting song. Just beautiful. Right as the rain starts.
7:12- now we're moving. Cole Pulice & Lynn Avery with some hypnotic sax/synth ambient. More beauty. Just great stuff.
7:32 – remembered food. Good decision.
7:43- they've made the switch to music both inside and out, which seems smart. Local MC is inside, while Yonatan Gat setting upon outside stage.
7:51 – some cinematic post rock from the crew. Kinda over the top but in the best way possible.
7:54 – another "blink and you'll miss it" set that could have gone on for an hour in my book. Just great stuff.
8:05 – another quick turnaround and Sid Srirham is on stage. Really deep, soulful R&B that sounds massive.

8:11 – wow. This is massive, stadium filling music happening in a parking lot in south Minneapolis. Just epic.

8:24 — well that was amazing.

8:33 – Godspeed to the understaffed bar staff. They're doing their best.
8:52 – excited to see Joe Rainefirst time. Love his album and collab with Broder.

8:56- yep, this rules. Two people creating a massive wave of sound around Rainey's powerful vocals.
9:08 – as good as the album is (and it's very good), the music takes another level life.

9:23- who I think is Greg Fox playing an ambient synth set inside. Whoever it is sounds great.
9:27 – was doing some awesome ambient synth stuff and he spun around and started *throttling* the drums. it's a one man Marijuana Deathsquads (who I think he's joining later. Whew
9:29 – rain coming down as huge crowd welcome Polica back. Good to see Chris back on stage.
9:35 – they sound sharp and the crowd is loving this. Good stuff. A little rain won't stop us.
9:52 – kudos to the people standing in the rain just outside the gates. I guess you win?
10:01 – really beautiful close to the outdoor set, now the fun moves inside. DJs playing, Marijuana Deathsquads setting up and Alan Sparhawk and Jeremy Ylvisaker ready to jam.
10:14- Ylvisaker and Sparhawk using feedback to create walls of sound with a DJ in tow.

10:23- ear splitting feedback and harmonics. Ear drums may bleed. Now they're wrestling.

10:31- they end in a wave of feedback, transitioning into a set from the DJ they were working with, Peder Mannerfelt.

10:46 – a dj set is happening. Many are dancing. Some good. Some mean well.
11:14 – the three drum cadence of Marijuana Deathsquads has begun. The electronic orchestra is taking flight. People are dancing.
11:43 – ears are ringing and drinks were spilled, but that was another wild MDS set
11:54 – more DJs, who seem quite good, and more dance (still questionable) but I'm old and my feet hurt and it's time to go home. Thanks for a fun day TGNP!

.