The Cedar Cultural Center
(612) 338-2674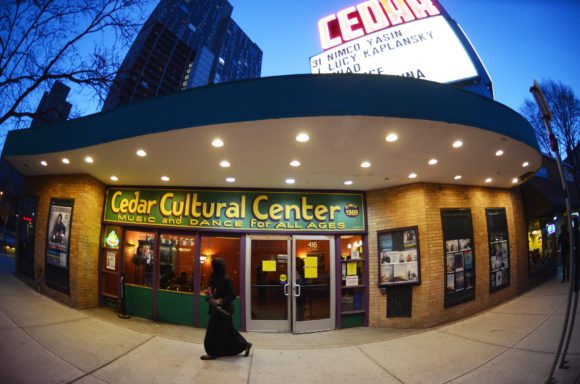 Venue: The Cedar is a West Bank institution housed in an old movie theater with old wooden floors and a retro feel.
Booking: The Cedar is known for booking diverse acts that draw heavily from international music and folk. Many bands play here who are too big for the smaller clubs, but not quite big enough to fill First Avenue.
Concert Experience: Much of the time the Cedar will be filled with chairs which concert-goers can sit on (unassigned seating). For more upbeat acts the chairs are removed. The sound and the lighting are generally good. The venue generally attracts a mixed crowd, with plenty of older folks mixing with the hipsters. Since the atmosphere is generally very serene and non-threatening, everyone generally enjoys shows in relative harmony.
Drinks: The drinks are a little on the expensive side and include wine and a decent selection of beers. If you are drinking beer, you may as well go for the good stuff since it is only slightly more expensive than the PBR. There is also a small selection of snacks for sale and credit cards are accepted.
Staff: The staff at the Cedar is mostly idealistic volunteers who are generally very kind and helpful.
Parking: As tough as anywhere on the West Bank
The Inside Scoop: Volunteer at the Cedar and get the chance to go to shows for free!