Five Takes On the Saddest Songs Ever Written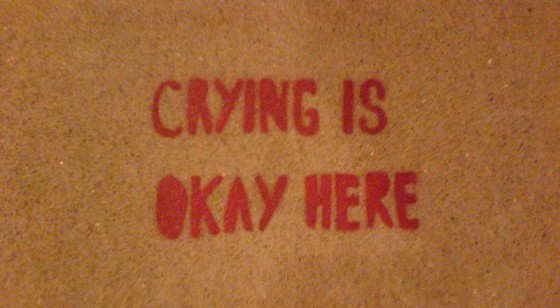 Certain songs affect certain people in certain ways.  A song that makes me laugh might be a song that makes you cry, and vice versa. While it may be impossible to find songs that consistently appeal in one way or another to absolutely everyone, we asked five people to name the top five saddest songs that are unique to them.

Kyle "Guante" Tran Myhre (Reviler, Guante)
The best sad songs creep right up to the edge of sappy and melodramatic, but don't cross it; this one is a great example of that, and it boasts one of the best closing lines ever.
Ani DiFranco: "School Night" and Erykah Badu: "Next Lifetime"
I might be cheating with these two, but they're both pretty brilliant songs about the same unconventional subject: fidelity in the face of what could be love for someone else; doing "the right thing" when the wrong thing might be just as good or better.
Woody Guthrie, Billy Bragg, Wilco and Natalie Merchant: "California Stars" and "Birds and Ships"
More cheating, but these are both such sublimely sad songs and they're on the same album.  Woody Guthrie's lyrics convey such a hopeless, tireless yearning in both of these tracks, and the various musicians and vocalists involved bring it to life perfectly.
Boyz II Men: It's So Hard to Say Goodbye to Yesterday
A lot of people tend to think of relationship songs when they think of sad songs, but I think the best sad songs work outside of that context—this cover isn't just about heartbreak; it's about the passage of time itself, our helplessness in the face of oblivion and that final acceptance that never really feels right.
Bing Crosby: I'll Be Home for Christmas
This is a sad song on its own, but when you consider the fact that it was released in 1943, the lyrics take on a lot more meaning.  "…if only in my dreams" might be one of the most heart-wrenching lyrics ever written.
Mike Watton (Haunted House)
Daniel Johnston – Some Things Last A Long Time
This one is just absurdly depressing.  Some might think it's too simple lyrically to be deep, but it cuts so viciously for that very reason.  The transition over the song from "some things last a long time:" to "some things last a lifetime"? Millions have tried to make love lyrics hit so hard, but they're trying to win the Tour de France on a stationary exercise bike.  Being able to convey sadness like Daniel Johnston can at his most depressing is something you're cursed with, not something you work towards.
Palace – The B-sides on the "Mountain" CD single: Gulf Shores/(End Of) Travelling/West Palm Beach
Will Oldham might be jovial and folksy and approachable now.  Don't buy into it.  In the 90's, he was a seriously sadistic son of a bitch.  Not so much lyrically, he just knew his way around a knife if he wanted to stab you dozens of times and possibly mutilate your body.  But, dear Lord, he did it beautifully.  And only on occasion, usually when he decided to record a 7″.  In this case, it was three songs for a CD single.  This is a special kind of sadness that 70's rock bands spent ten years trying to capture, but couldn't quite harness.  Yes, it's cheating to name three songs.  But three songs aren't usually so inseperable as they are on the "Mountain" CD single.  This may have been the single best thing Best Buy sold during the 90's.  They chose to ignore it in their advertising, but that isn't Will's fault.  And you can't blame them either.  This is an absolute direct ticket to drug treatment.
I really feel for whoever the girl is that he wrote this song about.  "So you want to marry me, well you've got my sympathy."  "So you want a baby, well it's got my sympathy."  Hopefully that worked out.
Pavement – Strings Of Nashville
Pavement was never great at conveying outright sadness, but when they did it, they hit it hard.  "Here" comes to mind, but it doesn't quite reach the level that this "Crooked Rain, Crooked Rain" b-side did.  That's mostly because "Strings Of Nashville" in no way relies on mopey lyrics to get its point across.  It's straight esoteric soul.  The lyrics just set the appropriate mood.
It would be easy to look to Leonard Cohen, or maybe Bob Dylan's "Lonesome Death Of Hattie Carroll," to round out a list like this.  But Mogwai deserve special recognition for making me think of this song that has no words.  They made a career out of this song's aesthetic, but nothing else they ever did quite measures up to this track.  It's colossally beautiful, affecting and pretty close to perfect.

Rhagav Mehta (MN Daily)
Elliott Smith "Everything Means Nothing to Me"
I wouldn't be so out of line incorporating the entire Elliott Smith catalog into this list, but there really isn't a single song in Smith's sprawling gallery of misery that rivals this operatic masterpiece.
Yeah, we all know all too well that Thom Yorke is a sad English bastard. But in "True Love Waits" Yorke sets aside all pretension, descending into complete and utter catatonic despair. It's a track that will forever be ingrained into my mind as the definitive "break-up song." Thanks high school relationships, thanks a lot.
The last song on Weezer's last great album is a kick-in-the-gut. Could the closing I'm sorrys possibly be pre-emptive apologies for River's latter-day musical sins? One can only wish since the answer is a definite no.
Summerteeth's halfway mark undoubtedly takes the cake for darkest opening line in indie rock history. It's a cryptic love song that epitomizes Tweedy's melodrama and erupts into something that sounds as noisy as it does lonely.
Cat Power "Color and the Kids"
If you listen carefully, you can almost hear Chan Marshall's heart break on this gut wrenching confessional.

Ali Elabbady (Background Noise Crew, Egypto Knuckles)
Johnny Cash "Hurt" (NIN Cover)
The last moments of Johnny's life, probably the most somber and sad of goodbyes in a way.  Yeah, its a Nine Inch Nails cover, but as Trent Reznor would tell you, after this rendition, the song isn't really his anymore.
Ben Harper "Please Bleed" (Acoustic)
You hear the strings he strums, and the way he sings the lyrics.  It pretty much makes you feel like a peasant, almost sorry for yourself.  Definitely one of Harper's best songs, but its very depressing.
Bob Dylan "If You See Her, Say Hello"
The album this tune arises from, "Blood on The Tracks," is sad, as it is largely from Dylan's relationship turmoil, a song out of solace and sadness.
De La Soul "Millie Pulled a Pistol on Santa"
De La tried to break themselves from the "hip-hop hippie" label.  And this was the moment that did it; Prince Paul's somber breaks help narrate the tale of Millie and her molestation, and ends with its violent aftermath.
Mary was going through some trials during this song, while she talks about the turmoil her relationship underwent.  But this is Mary in her most depressing, and in turn, her most triumphant.  The way she sings this will make you cry for forgiveness.

Jon Behm (Reviler)
Sufjan Stevens – Casimir Pulaski Day
Its a song about having a friend die of cancer.  And if that's not sad enough for you, Steven's heartrendingly sweet baritone really just makes you feel defenseless to the tears.
One of music's saddest stories as well as a writer of some of it's saddest songs.  For me this one has always encompassed the tragedy of Elliott Smith best.
Most of Cat Stevens' music I find pretty bland, but this one somehow hits me with the force of an emotional shotgun.  Its gut wrenching and bittersweet.  "Now won't you leave me in my misery" indeed.  Has also notably been covered by the  lovely Marissa Nadler.
Cap'n Jack – If I Never Touch You
Thought about including this one in our upcoming Best Love Songs Four Takes, but for me this tune has always been more sad than romantic.  It's about being lonely and loving from afar, and it is ancient and spooky.
Jesus, Chan Marshall has some sad tunes.  It was really hard to pick just one, but "Names," her chilling account of children's lost innocence is an incredibly difficult song to listen to.
.