A Sunny Day In Glasgow: Autumn, Again Review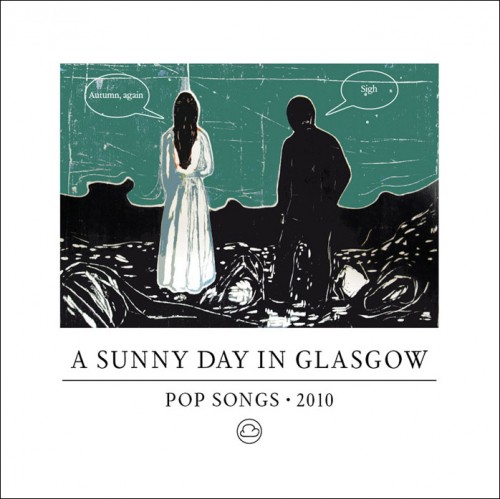 85/100
Philadelphia dream pop deconstructionists A Sunny Day in Glasgow have been very busy over the past year.  Not only have they basically had their entire staff re-shuffled all while touring non-stop, they have been keeping up a very ambitious flow of recorded output, releasing the excellent Ashes Grammar just last year, The Nitetime Rainbows EP early this year, and now their second full length in as many years, Autumn, Again (their third LP, overall).  And perhaps the most amazing thing about the band's fast pace is that they have done it thus far without negatively impacting their creative quality.   Some of that consistence is likely due to the fact that most of the post-Ashes Grammar material was actually written around the same time as that record, and is just only now seeing the light of day.  But considering that that would make Nitetime Rainbows and Autumn, Again effectively "also rans," it is actually pretty astounding that they ended up as good as they are.  
And if Nitetime was a clearinghouse for some of the band's intricate, never-fully-formed sonic constructions, Autumn, Again is on the other side of the spectrum with a very polished pop aesthetic.  Sharing some elements in common with School of Seven Bells, Autumn finds ASDIG crafting hook-laden electronic pop melodies, with the twin female vocals of Annie Fredrickson and Jen Goma pushing the sound to gorgeous, if more conventional, new heights.    "Drink, Drank, Drunk" and "How Does Somebody Say When They Like You" are the record's twin standouts, with the ladies chirping out their childlike lyrics over dense, synth heavy swirls of sound.  Guitarist (and chief songwriter) Ben Daniels keeps some of the songs more grounded in rock and roll tradition, however, much like in the Dirty Projectors' case the stage is often stolen by the talented vocalists.      
While Autumn, Again may not quite reach to the ambitious levels of some of ASDIG's more convoluted contortions, it's actually refreshing to hear their tunes when it doesn't sound like they're trying to cram them full of every twist and turn imaginable.   The group will likely turn back to a more experimental sound in the future (their press release for the new album stressed that its sound wasn't "the sound of things to come") but, at least in my mind, they could do worse that to try and maintain some of the more melodious aspects of Autumn, Again.      
     — Jon Behm
Autumn, Again is now available for FREE download here
A Sunny Day In Glasgow:        Site
.