Destroyer: Kaputt Four Takes Review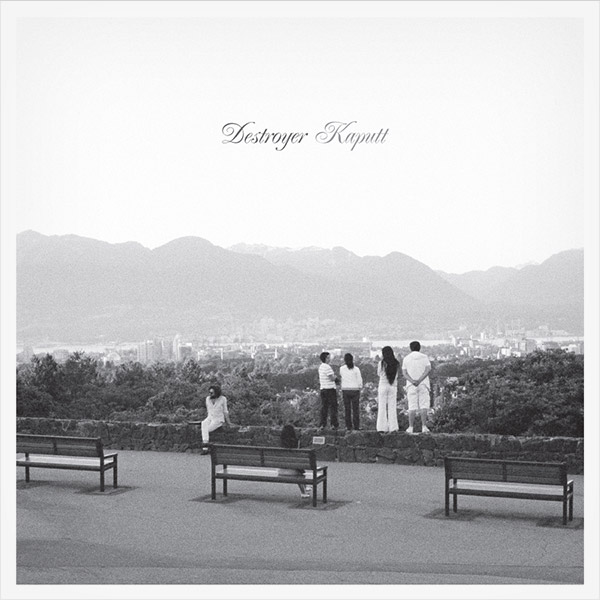 It can be difficult to gain a balanced perspective on an album after reading a single summary of the music. Bias can tilt a review, as can personal taste, history and just about everything else that is unique to the person writing it. So in an effort to offer an expanded perspective in such a medium, here are four reactions, four impressions, Four  Takes on Kaputt by Destroyer.

Matt Helgeson (Game Informer, Unknown Prophets, Maps of Norway)
90/100
First thought: "What the fuck is this?" I knew nothing of Destroyer's Dan Bejar except for the fact he is in the New Pornographers, which did not remotely prepare me for Kaputt, an album that aggressively mines a particular vein of the post-new wave diaspora populated by jangly, effete UK dandies like Talk Talk, Prefab Sprout and Jazz Butcher. Bejar's fake British accent glides over luxurious pads of '80s synths, lite jazz flutes, brittle chorused guitar glissandos, soprano sax. It's so dialed-in to period sonics — this record actually sounds like '80s records in a way that few current revivalists come close to — it takes awhile to notice a malevolent weirdness bubbling underneath the surface.
Like Steely Dan, there's a whole lot of depravity lurking beneath the placid surface. Whether he's "chasing cocaine through the back rooms of the world" or possibly (unless I'm totally mishearing it) calling Prince protege Vanity a "harmless negress", this is a fundamentally bizarre album. In it's own way, it's as aggressive in its aesthetic as any noise record — witness the formless, dreamlike opening to the 10+ minute-long "Bay of Pigs."
Bejar's drowning in his own imaginary 1985, fantasizing about back issues of Melody Maker, trying to pick up girls that look like Ally Sheedy in The Breakfast Club with pickup lines like "I thumbed through the books on your shelf." The record's obsessive attention to detail propels it past the realm of mere pastiche; Bejar fakes it so real he's beyond fake.

Chris Besinger (STNNNG)
78.1/100
 
Not on Neil Young & Crazy Horse's 1991 album Ragged Glory is a song called "Don't Spook the Horse", it appears only on the b-side to "Mansion on the Hill" and it's an eight minute burner typical of the rest of the tunes on the album.  In fact, at the time Young joked that you if didn't want to buy the whole record you could just listen to that song and get the gist.  On Destroyer's new album Kaputt the eleven minute closer "Bay of Pigs" functions in the same manner.  If you want to find out if you are going to like this record skip right to that song.  It opens with a swooning soundscape of synth washes and digital bubbles, before Dan Bejar starts to slur/sing "Listen I've been drinking…", as the tune crawls along Tangerine Dream style Bejar's voice becomes less bleary and more confident.  Then it mutates into some serious Pet Shop Boys-esque pop/funk while Bejar continues to catalog various rises and falls and rises, cramming in as many zings and barbs as possible.  It is the whole record in miniature.  Slinky, 1980's brand cocaine funk, complete with fretless bass and seagull saxophone cries.
But, the record is saved from any sense of retro-pandering or any sort of winking coyness; the tunes feel genuine and honest.  It is fobbish to be sure, but at no point does it ever drift in cutesiness.  And believe me; I was ready to get my knives out after reading a few early reports of the album's plastic soul vibe (not being one with much interest in bands remaking fey Human League albums) however something about the record really hooked me.  Perhaps it was all that synthesizers and saxophone smears give the album a dreamy quality not unlike a later Robert Wyatt record.  Or maybe it was just Bejar's conviction, while listening to the album it makes perfect sense that it should sound the way it does.  The lyrics are clever, which are thankfully never too clever and at times Bejar does a good job of making them feel almost off-the-cuff, he even hurries in spots to finish sentences before the end of measures.  A solid record, maybe a great record even, certainly one might take a few listeners by surprise.

Matt Linden (Reviler)
87/100
Dan Bejar's ninth studio album as Destoyer, Kaputt, begins with the dream-jazz opener "Chinatown" and inevitably sets the tone for the entire record. Over the course of eight records, Bejar has been able to create sounds wholly his own and Kaputt is no exception. Bajar's latest effort is a breath of fresh air. He is able to seemingly fold time and space to create a sound both retro and modern. It's an album indebted to cool soft-rock, brooding, atmospheric 80's synths and Kenny G-influenced smooth jazz horns. And on every one of nine tracks, all these themes are nicely formed around Bajar's unique, hushed vocals and dreamy, nostalgic lyrics. And strangely, Bejar takes these influences to the next level by morphing into his best glam-clad David Bowie. If these descriptions aren't enough to intrigue, Bejar was kind enough to give a short glimpse of the sounds on the Kaputt via a press release:
"Kara Walker, specifically the lyrics she contributed to the song 'Suicide Demo for Kara Walker'… Chinatown, the neighborhood bordering on Bejar's… Baby blue eyes… 80s Miles Davis… 90s Gil Evans… Last Tango in Paris… Nic Bragg, who played lead guitar on every song, again… Fretless bass… The hopelessness of the future of music… The pointlessness of writing songs for today… V-Drums…The superiority of poetry and plays… And what's to become of film?…The Cocaine Addict… American Communism… "
And however bleak a portrait Bejar may paint of his own work, all of these comparisons hold weight.  But he also delivers one of the best albums of his career. The sprawling epic, "Suicide Demo for Kara Walker," is as devastating as it is beautiful. Whereas songs like "Savage Night At the Opera" and "Downtown" play out like gloomy 80's electronic throwbacks. His lyrical content, which he alludes to in his obscure description, centers around a post-apocalyptic view of America – one where art as a whole is compromised and there is no recognizable thread of hope to be found and this outlook couldn't be more apparent on a song like "Song for America." Leadoff track "Chinatown" also speaks of an American that once was but never will be. While standout songs include the title-track "Kaputt" and the radio-friendly "Blue Eyes," there really isn't a bad song on the album. 
Bejar has already established himself as a prolific artist, no matter what genre or nostalgic trend he is trying to chameleon himself to, and Kaputtonly reaffirms that fact. The album drops in Feb of next year, so there is no telling where it will stack-up in the grand scheme of things in 2011, but one thing is certain about his latest outing: it's a hellava way to kick off the New Year and the Kaputt tour will be an absolute must-see.

Jeremy Hovda
80/100
Don't think too hard about the title of Destroyer's latest album, Kaputt. It's taken from a novel by the Italian journalist Curzio Malaparte about the battle between communists and fascists in the Ukraine during World War II, but according to the band's press release, Dan Bejar has never read it.  So, whatever their reasons for choosing the title, this would explain why most of the album's real inspiration seems to have nothing to do with the 1940s, but rather everything to do with the 1980s.
Never averse to stylistic risk-taking, Bejar has tapped what is perhaps the most-untapped of all musical resources:  1980s smooth jazz.   Several songs, including "Chinatown," "Downtown," and title track, "Kaputt," could have easily been worked into an episode of Moonlighting, the groovy bass, synth and tenor sax floating into the night as a trench-coated Bruce Willis (aka David Addison, Jr.) ambles through the trash-strewn streets of LA, steam rising from the manholes.  It's an odd place to go for a contemporary indie band, but somehow the anachronisms work, ironically lending it a kind of freshness. 
The real standout here (which fits somewhat uneasily with the rest of the album) is "Suicide Demo for Kara Walker" to which Walker herself contributed lyrics.  For those who were lucky enough to have seen Walker's first major museum exhibition, "My Complement, My Enemy, My Oppressor, My Love," in Minneapolis at the Walker Arts Center in 2007, know that Walker works primarily in paper silhouettes, doing pastiches of 18th and 19th century portraiture, replacing their pleasant imagery with imagery of slavery, rape and sexual violence.  The lyrics make oblique reference to that work, and the serenity of the instrumentation – wind chimes, acoustic guitar and flute – belies the violence of the story in the same way that the serenity of Walker's medium belies the violence of her images.  
With all of its oddities and eccentricities, Kaputt will not be to everyone's taste, but to Destroyer fans, it will undoubtedly serve as a welcome addition to an already odd, eccentric and impressive catalog.