Charles Bradley: No Time For Dreaming Review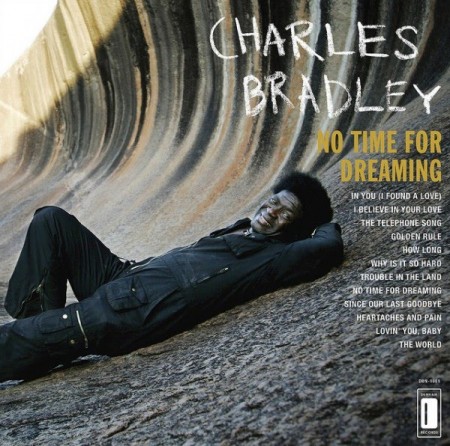 74/100
The first time I heard Charles Bradley I felt like he had to be James Brown's younger brother.  He had the same lingo, the same cadence, even nearly the same howl as the soul legend.  So it came as no surprise that, when looking into his backstory, I discovered that that Bradley grey up mimicking Brown on a broomstick microphone, and later covered his tunes under the pseudonym "Black Velvet" in dinky NYC clubs.  When Bradley sings, he channels the Godfather directly, circa 1955 – 1965.  None of that eighties synthesizer crap.  Bradley has selectively chooses what is (arguably) the highest point of Brown's career as his reference point.  And considering that, it was also no surprise that Bradley eventually made his home at throwback R&B enthusiasts the Daptone Label.
And with his new Daptone partners, the 62 year old Bradley will release his first real solo album, No Time For Dreaming, this January.  And while the shadow of the Godfather hangs over all twelve tracks – the record isn't quite able to also mimic Brown's gift for hit singles.   No Time contains some strong, consistent work, but without its own "Please Please Please," it might be difficult to turn many heads.  The closest the record comes is leadoff tune "The World (Is Going Up In Flames)" which features an infectious piano hook, spot on backup female vocalists, as well as a little scorching trumpet.  In that single, as well as many of the records others, Bradley focuses largely on the ills of the world, political and otherwise.  Whereas his hero generally came off funky and defiant, Bradley sounds beaten down and bluesy.  It could have something to do with the fact that Bradley spent much of his life on the streets, but when he sings tracks like "Trouble In The Land" and "Heartaches and Pain" you get the feeling that he's not just delivering chin music.  Bradley isn't without hope though – title track "No Time For Dreaming" might have come off as a disillusioned ode to bitterly forgetting ones dreams, but in Bradley's hands it is upbeat, even inspiring.  He sings "Aint no time for dreaming / I gotta get up and do my thing," like a Lazarus whose been offered a second chance.
And as far as second chances go, No Time could certainly be a lot worse.  After a lifetime of imitating an icon, Bradley has taken the reigns and crafted a dozen new tracks of his own.  And they certainly stand alone pretty strongly, even if their decade has long since come and gone.   Hopefully this is just the beginning of a strong career for Bradley, even if he has already reached the point in which many musicians hang up their spurs.  As the legendary Mavis Staples proved to us just last year, there is no age limit on making great soul music. 
     — Jon Behm
No Time For Dreamimg will be available on 1/25 via Daptone
Charles Bradley:          Myspace
.