Wunky Zine Interview with The Sex Rays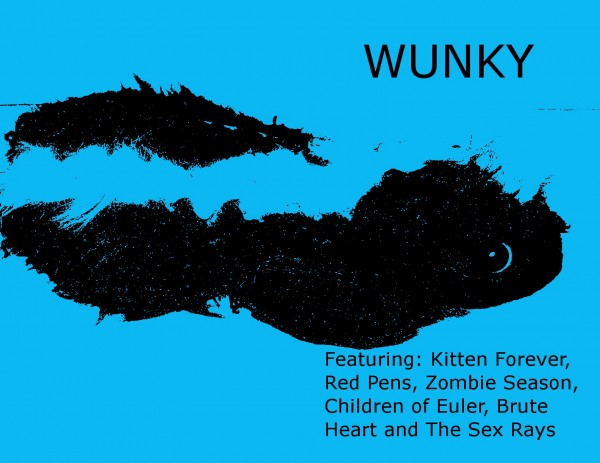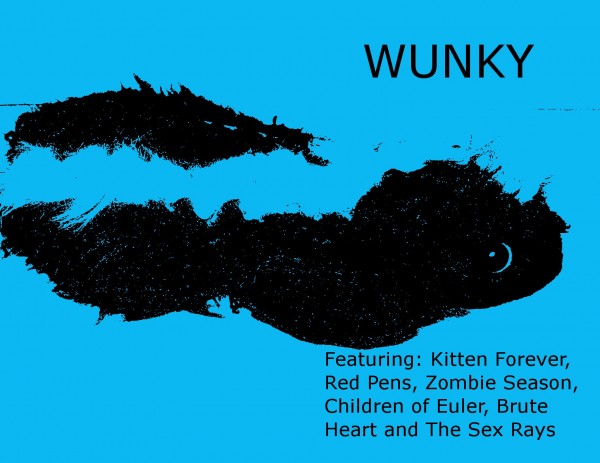 Wunky Zine is a just released local zine that features interviews conducted by former Sharp Teeth frontwomen Erica Krumm with various local bands.  There was a release show recently to celebrate the completion of the Zine and you can now get your very own copy at Treehouse Records and Extreme Noise.  Erica was kind enough to share the interviews with us, so if you enjoy what you read this week as we roll out the interviews, make sure to support our local art scene and pick up a copy. For updates check out the Wunky Zine Facebook Page.  Today we have a chat between Erica and The Sex Rays.
October 24, 2010
On a chilly Sunday night, I got to 7th St. just in time to see The Sex Rays for the first time. Their super high energy show was exactly what everyone in the room that night needed. Later, downstairs, I met up with the dudes, Joe Holland (bass and vocals), Joe Hastings (guitar and vocals), and Ben Crunk (drums and vocals) as well as a lot of the band's friends. These dudes were a hilarious pleasure to talk to!
Erica- So, Sex Rays is a pretty sweet name. Who thought of that?
Hastings- Thank you, Ben Crunk did.
Ben- Actually there was this little cherub who came upon us one time and he was floating around and shit and he busted out a ray gun and put on a helmet and he said, "Sex Rays."
Erica- Was it in a dream?
Ben-  It was completely lucid.
Erica- O.k. this is personal.. What girl was your first kiss and did you ever write a song about it?
Hastings- I have not written a song about it but my very first kiss that I remember.. she kissed me on the bus and then hit me with a book.
Erica- What was her name?
Hastings- Amy
Ben- Yeah, I haven't finished the song yet, no, I swear to god I've been writing it, I'm not kidding on this one. Like, the first real kiss I swear to god I'm still working on that song.
Erica- What was her name?
Ben- Sarah
Holland- I don't want to go there.
Hastings- No comment, huh? First kiss ever?
Holland- I'm gonna say grade four, trailer court.
Erica- What was her name?
Holland- I don't know, it's just too weird to say out loud.
Ben- (laughing) How do you call your teacher by their first name?
Erica- O.k, when you guys go see bands yourselves, what do you look for? What are things that stick out in your mind when you see a band?
Hastings- verve, verve and clout
Holland- I don't know…
Ben- You don't want to ask me this question. (Everyone laughs) What sticks out in my mind? Erections. (laughing)
Hastings- Did you say erections or directions?
Holland- If I could actually answer that question I'd probably die on the spot.
Hastings- You'd be killed.
Holland- Struck by lightning.
Ben- On the serious thing, going to see a good band, It's not about seeing a good band. …..You don't go see a good band, I don't want people to look at us…..
Erica- What do you want?
Ben-  I want people to look at people who are way more attractive than us and make us the soundtrack to their fornication.
Holland- One of our last gigs, you know, that actually happened.
Ben- We had somebody hump in the bathroom.
Holland- At a nondescript venue. They apologized for missing our set because they were busy doing it.
Ben- If you want to have sex while we're playing I totally support it. Just name it "Ray."
Erica- Do you guys fear the doctor or dentist more?
Holland- I fear any real life activities.
Hastings- I actually love them both.
Erica- (laughing)
Ben- I don't fear either one of them.
Erica- What do you fear more, bed bugs or….
Hastings- Yes.
Erica- (laughing) Do you fear bed bugs as much as I do right now? My jacket is touching the floor. I might actually get bed bugs (laughing)
Holland- I hear they live on cement.
Hastings- I understand that paranoia.
Ben- I fear the wrath of an unjust god.
Erica- What was your favorite album in high school?
Ben- Sgt Peppers. Always been…
Hastings- The Police, Synchronicity
Holland- Misfits, Collection One.
Erica- If you were to say in two or three words what your sound is, how would you describe it?
Ben- Uh huh.
Hastings- Fuck, I don't know….
(Everyone yells, "That's four!")
Holland- Party, party, party.
Erica- If you had to pick a spirit animal for the band, what is it? First instinct.
Hastings- Tiger
Holland- Come back to me, I gotta think about that.
Hastings- Joe's spirit animal is a manatee.
(laughing)