Northrop Announces Free Summer Concerts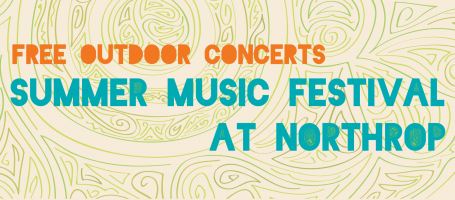 From the website:
The Summer Music Festival at Northrop (SMFN) is finally here! Previously called Summer at Northrop, SMFN is a free, outdoor summer concert series featuring well-known local musicians and DJs, alongside U of M student bands as a way to support our University talent. Northrop Concerts & Lectures staff worked with local musician Grant Cutler, as our guest artistic curator, and an energetic Student Advisory Committee (a team of volunteer, motivated, music and PR savvy U of M students) to curate the series. The line-up is an eclectic taste of everything from hip-hop, dance music, singer-songwriter, folk, Latin, and spoken word.
New Programming Overview:
FRIDAY NIGHT LIVE: Featuring the hottest names in Twin Cities hip hop with Sims from Doomtree and Bight Club.
Fri, July 15, 7:00 – 9:00 pm
Northrop Plaza
Headliner: Sims
Opener: Bight Club
FIRST AVE: TOO MUCH LOVE ON CAMPUS: Featuring beats from DJ Sovietpanda from this popular downtown dance party.
Wed, June 8, noon – 1pm
Wed, June 28, noon – 1pm
Wed, July 13, noon – 1 pm
MOVIES AND MUSIC: The night begins with a concert, and ends with a movie on Coffman Plaza.

Wed, June 15, 7:00 – 8:30 pm (concert) 9:00 pm (movie):
Headliner: Lucy Michelle & The Velvet Lapelles
Opener: U of M band Ryan Flannery & The Night Owls
Movie: Superbad
Wed, July 20, 7:00 – 8:30 pm (concert) 9:00 pm (movie):
Headliner: Kill the Vultures
Opener: U of M band Peregrine Perspective
Movie: Jurassic Park
Wed, Aug 3, 7:00 – 8:30 pm (concert) 9:00 pm (movie):
Headliner: A. Wolf & Her Claws
Opener: Absolute Grüv
Movie: Rango
.