Lighted: Lighted & Queendom Review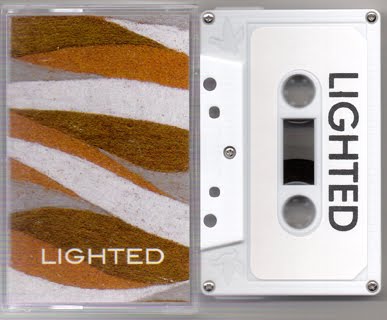 Lighted 76/100 Queendom 83/100
Lighted are a new-ish Minneapolis based three piece featuring scene vets John Marks, Jason Millard and Patrick Benjamin who create kaleidoscope, kraut based synth jams. The group have been around long enough to have two releases, their self titled debut on Centuries of Decay and a new album titled Queendom on Lighten Up Sounds, both released exclusively on tape.
Lighted, their first tape and some of the earliest sounds from the group, is the more introspective and restrained of the two. The songs plod along like a psychedelic mudslide, with the drums and synth snaking around each other in a tangled mess of noise, with guitar stabs noodling around the edges. The songs have a more zoned out, improvised feel, which surely comes from a band looking to find and refine their sound. After seeing the group live, the tape seemed to really highlight the softer, more zonked out side of the band. Queendom is the more striking, aggressive and assertive of the two tapes. With thick synths and chugging guitars joined by loose and propulsive drumming, Queendom is the record I thought I was going to hear after seeing the band live. The tape has more of a punch, with sharper production adding depth to their sound and really highlighting the tight interplay between the instruments, where their s/t tape is more of a headphone trip that the listener feels like they are experiencing fresh alongside of the band.
Both tapes are good at what they do, but Queendom especially is a engrossing collection of tracks, the kind that both trip you out and get your head bobbing. It is the sound of a band that, while still venturing into the ambient beyond, is really coming together as a poweful unit. Combined with their excellent live show, these two tapes have me excited to hear more from Lighted and add yet another shining example of the great music percolating in our scene right now.
-Josh