Thirteen Ways of Listening to an Ylvisaker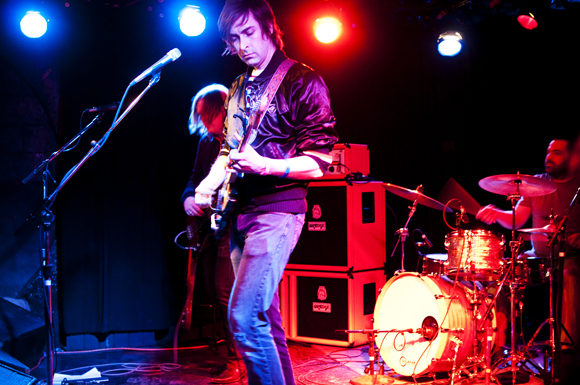 Multi-instrumentalist Jeremy Ylvisaker opened Ghostband's release of Desolations with a set of improvised solo guitar. This is a review of Ylvisaker's performance in the style of "Thirteen Ways of Looking at a Blackbird" by Wallace Stevens, perhaps the most renowned cubist and imagist poet.
I
Among twenty wintry harmonics,
The only levitating thing
Was the pedal of the Ylvisaker.
II
I was of seven minds,
Like an ensemble
In which there are seven Ylvisakers.
III
The Ylvisaker chilled despite December swelter.
It was a small part of the transfiguration.
IV
A whiskey-clink and a guitar strap
Are one.
A whiskey-clink and a guitar strap and an Ylvisaker
Are one.
V
I do not know which to prefer,
The madness of improvisation
Or the madness of silence,
The Ylvisaker riffing
Or just after.
VI
Synthesizers filled the dark stage
Like barbaric furniture.
The cables of the Ylvisaker
Crossed it, to and fro.
The mood
Spackled in pink Christmas light glow
An indelible luminosity.
VII
O thin beer-swillers of Hennepin,
Why do you imagine golden children?
Do you not see how the Ylvisaker
Glides around the boasts
Of the ambitious about you?
VIII
I know noble accents
And lurid, kaleidoscopic rhythms;
But I know, too,
That the Ylvisaker is involved
In what I know.
IX
When the Ylvisaker slunk out of sight,
It marked the page
Of one of many chapters.
X
At the sight of the Ylvisaker
Slaying in a half-light,
Even the chroniclers of euphony
Would cry out sharply.
XI
He rode over Mississippi
On an aluminum Bianchi.
Once, a hope passed him,
In that he mistook
The shadow of his equipage
For an Ylvisaker.
XII
The melody is collapsing.
The Ylvisaker must be en route.
XIII
It was morning all evening.
It was melting
And it was going to melt.
The Ylvisaker knelt
In a bosom of feedback.
—Will Wlizlo (@willwlizlo)
Image by Jon Behm.