Schoolboy Q: Habits & Contradictions Review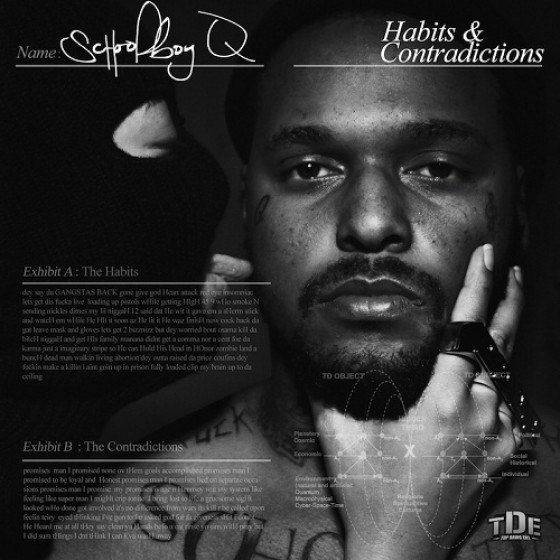 The New West is now christened; lead by Kendrick Lamar and Schoolboy's lyrical assaults that go beyond the obvious crime and drug-rattled narratives, focusing on good times with their new crew Black Hippy (Schoolboy Q, Kendrick Lamar, Ab Soul & Jay Rock). Schoolboy Q was born Quincy Matthew Hanley on a military base in Frankfurt, Germany, and then raised in South Central, Los Angeles. After attending a few community colleges, he gave the rap game a curious look and found himself immersed. By 2009, he had released two mixtapes with Turned Hustla (2008) and Gangsta & Soul (2009). In 2011, Schoolboy released his debut, Setbacks, and started to generate a buzz. He appeared on the critically praised Kendrick Lamar debut Section 80 and ASAP Rocky's heavy buzzing mixtape Live Love A$AP, building expectations before he released his sophomore long-player Habits & Contradictions in 2012.
While Schoolboy Q and Lamar are new school, and likely most of their friends maybe be gang-affiliated, Schoolboy himself a former Hoover Crip who spends tales as their lives unfold. Both document life through the playfulness of Souls Of Mischief cemented by the 'fuck everything" ethos of N.W.A. and the cockiness of a young Kanye West. Schoolboy Q says "Biggie, Nas and 50 Cent are my biggest influences". At the same time, he is emotional and drugged out on everything with pockets full of oxycontin, mushrooms, weed, liquor and condoms. It is a soundtrack of street life, a sincere view of America through a darker lens, where Obama's election changes nothing on the ground.
Habits & Contradictions opens with the mournful "Sacrilegious", which offers "gloomy hoodies and weaponry…marinating in Satan water". Schoolboy knows he must answer for his ills "They say clean your hands before you eat, rest your sins with pray/But I've done did some things I don't think I could ever wash away." On his certified banger "Hands On The Wheel" with Harlem's ASAP Rocky, Schoolboy re-imagines Kid Cudi's "Pursuit Of Happiness". The drug-fueled "Oxy Music" delivers on its title. The darkness of the Odd Future is referenced on "Raymond 1969", as it rides a sample of Portishead "but they worried about Osama, blood and crip niggas, Jeffery Damers" as Schoolboy gets crunk all over the track. On "Nightmare On Figg St he states "better hope our star poppin'/Before I start robbin' the re-up with OxyContin". "Grooveline Pt. 1" gets soulful with assist from Dom Kennedy and Currensy. On his "look at me" song "Gangsta In Designer (No Concept)" Schoolboy quips "my foreign hoe gangeroon, always rocking shit I never know" juxtaposed with "burner on my lap, nigga motherfuck the cops" over a bouncy melody. "My Homies" addresses on the meaning of loyalty and "real nigga addictions" produced by Alchemist. There's also the plenty of panty dropping tales of "Sex Drive", "Druggys Wit Hoes Again" and "Sexting" in a more typical topics. The albums emotional jewel is the keeper "Blessed" with comrade Kendrick Lamar. The cryptic "Nightmare On Frigg St." name drops "Niggas In Paris" for no apparent reason as he indulges in Gravediggers scary movie creepiness over a RZA sounding production.
Hardcore hip-hop goes druggie and gets the hallucinogenic treatment, along with tales of sex parties and robberies. Despite all the tough talk he finds a way to mention his love for daughter as being his greatest affection. Standout tracks include the explosive "Hands On The Wheel", and the introspective "Blessed"; finally, the witty lyricism of "Gangsta In Designer ( No Concept)" proves Schoolboy Q is competitor. Alongside newer artists like Danny Brown, ASAP Rocky and Currensy, Schoolboy Q has found his lane, braggadocios pimp shit, pill popping', oxy talking, weed celebrating, reflective and woman exploring, about that live in the moment shit, staying strapped, always remember to protect your neck. Habits & Contradictions is already being talked about as a breakout record, its richness in detail while it zing-zags across various styles and flows politically incorrect at every turn is a celebration of dark joyfulness.
by jon jon scott (Sound Verite)