Nas: Life is Good (Three Takes)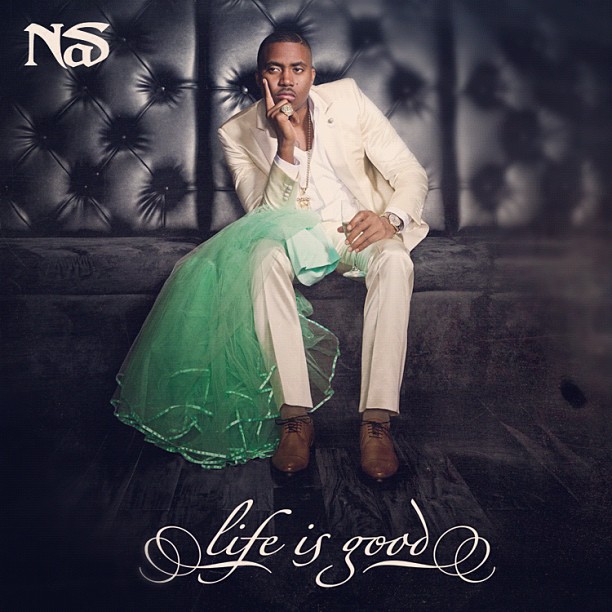 It can be difficult to gain a balanced perspective on an album after reading a single summary of the music. Bias can tilt a review, as can personal taste, history and just about everything else that is unique to the person writing it. So in an effort to offer an expanded perspective in such a medium, here are three reactions, three impressions, three Takes on Life Is Good by Nas.
Jon Jon Scott(Sound Verite)
90/100
In 1994 Queensbridge, NYC legend Nasir Jones, aka Nas, arrived with his fascinating, efficient and well-executed debut Illmatic, a true hip-hop classic. Although he has always been a strong lyricist, Nas has struggled to make another thorough, authentic, hip-hop record. It's always his R&B joints that drive Nas purists crazy, because they always want him to return to the visionary style of his debut. His last record, 2008's Untitled was originally called N*gga, which sparked some controversy, and the record was difficult, misunderstood and didn't produce many memorable moments. In 2010, Nas collaborated with Damian Marley for Distant Relatives and traded verses full of righteousness over heavy reggae based production. On his 10th record Nas looks back to that kid of his debut for inspiration and continues another chapter with Life Is Good. After his breakup with songstress Kelis, Nas gets personal about their relationship, his daughter's coming of age, hip-hop's roots, Black Nationalism, lifestyle choices, excuses for failure, black urban youths and their unique struggles and celebrations.
Opening with the stunning salvo "No Introduction" where Nas reflects "Remember talking' to Biggie inside his Lex truck, says stay fly when your by me, keep your pajamas Armani, hood forever, I just act like I'm civilized, really what's in my mind is organizing a billion black motherfuckers to take over JP and Morgan, Goldman and Sacks, and teach the world facts to give Saudi their oil back", over a thunderous Justice League production. He brings along Illmatic producer Large Professor on the nostalgic "Loco Motive" , over sparse stripped down drums with Large Professor on the ad-libs as Nas declares this is "For my trapped in the '90s niggas." Every Nas record has a tribute to his birthplace in the Queensbridge projects, and here it is "Queens Story". The brilliant emotional center is the jewel "Daughters"; Life Is Good's most personal, defining moment as he reflects on his daughter's upbringing and her growing pains. Another excellent flashback is "Back When" as Nas calls out folks who blame others for their situation: "You blame your own shortcomings on section, race, the mafia, homosexuals and all the Jews, It's hogwash point of views, stereotypical, anti-Semitic like the foul words Gibson spewed, and it's pathetic". The reggae influenced banger "The Don" keeps it grimy describing his city "New York is like an Island, a big Rikers Island, The cops be out wildin, all I hear is sirens, It's all about surviving same old two step, tryna stay alive when, they be out robbin, I been out rhyming, since born knowledge like prophet Muhammad, say the ink from a scholar, worth more than the blood of a martyr". The throwback "Nasty" is a retro winner. Contemporary guest Rick Ross appears on "Accidental Murders" and actually sounds cool; then Nas finishes the song with strong conviction.
There are a couple of tracks the record could have done without: "Reach Out" with Mary J. Blige feels forced, a easy throwaway. Also underwhelming, although lyrically ambitious, is the easy going "You Wouldn't Understand". On the other hand the reflective ghetto narrative "World's An Addiction" with soul man Anthony Hamilton works. The first impression of Swizz Beatz on anything is not a good sign yet here he delivers the potential radio jump with the spirited "Summer On Smash". It is a cultural flashpoint as Nas shouts out the ladies of "black, Asian, Boriqua, Italian, mixed chicks, Middle Eastern, Eritrean, Ethiopian". On the romantic side there's the jazzy horns of "Stay" and the sultry, playful "Cherry Wine" co-anchored by the vocals of Amy Winehouse. The quartet of bonus tracks prove how motivated Nas was with the retro leanings of "The Black Bond", "Roses", "Where's The Love" and "Trust".
While Life Is Good clearly doesn't have the hunger or direct vision of Nas' debut Illmatic, it may be Nas most complete record since 2002's God's Son. With standout tracks like "No Introduction", "Daughters", "The Don", "Loco-Motive", "Back When" and "Nasty" he prevails in capturing the spirit of that kid from Illmatic. Also nice are "Accident Murderers", "World's An Addiction", "Stay" and "Black Bond". Often pulled in various directions, Nas has handed the sonics to two of his veteran producers No.ID (Common, Kanye West, Nas) and Salaam Remi (The Fugees, Nas, Amy Winehouse) who provide the musical backdrop to help keep Nas relevant in the current landscape while staying true to his origins. Life Is Good, Nas has reclaimed himself.

Ali Elabbady (Background Noise Crew, Egypto Knuckles)
96/100
It has been quite a ride for Nas, so much of one, that one would be surprised to find out that Life Is Good, his 10th album as an artist and the third one for Def Jam.  But regardless of those facts, many have found a shit-ton to lament about Nas's faults rather than his strengths as one of the most prolific and profound writers in music today.  Any doubt or uncertainty with all the leaks from the album have put to rest those critics, as they will find very little to complain about in Life Is Good, largely because this album is anything but, with the situations facing Nas.  He's nearing his 40s, he just went through a divorce, and his daughter is now 17.  But he uses those experiences and manages to deliver another great album in his discography.  For everyone who might hate "Summer on Smash", that's made up for in such tunes as "Daughters" where he examines himself as a father for the world to see, and brings to light the trials and tribulations he faces as a father, and "Bye Baby" is nothing more than a goodbye more or less to his wife Kelis.  A bulk of the credit goes to No I.D. and Salaam Remi, who produce 11 of the 17 album tracks, and know what to give Nas beats wise to keep Life Is Good being error free for the majority of the album.  With the album already in the top 10 of Billboard, and critics being wooed by a consistent and great effort by Nas, Life Is Good manages to live up to that title.

Nas as late-period Sinatra, reclined in a leather booth in the VIP, ruminating over cigars and bottles of champagne that cost more than your rent. The open track, "No Introduction" is Vegas-era Nas, overblown, with the Don reminiscing about Queensbridge hard times with Celine Dion's band.
On "Loco-Motive," the still brilliant Large Professor flips a bassline similar to Jay's "The Takeover" into a complex subterranean banger. Nas: "They ask how he disappear and reappear on top/They say Nas must have naked pictures of God."
Elsewhere, on "Daughters" a guy that's been a total asshole to women for years suddenly wonders why his daughter's tweeting sexy pictures of herself. "Accident Muderers" is widescreen noir with a showstopping cameo by Rick Ross, who manages to upstage the legend on at his own party. Nas gets his swagger back on "The Don" and "Nasty" flip minimalist, golden-era beats and find Mr. Jones sounding as vital as he's been since "Made You Look."
Aside from the ill-fitting attempt as a club hit, the Swizz Beats-produced "Summer on Smash," it's a whole lot of Nas in introspective, lion-in-winter mode. It's a good deal more satisfying than his last, self-titled album's clumsy mix of pop aspirations and muddled political song – the man's back to rapping about his one great theme: himself.