Interview with Nyteowl + Stream new LP "Life"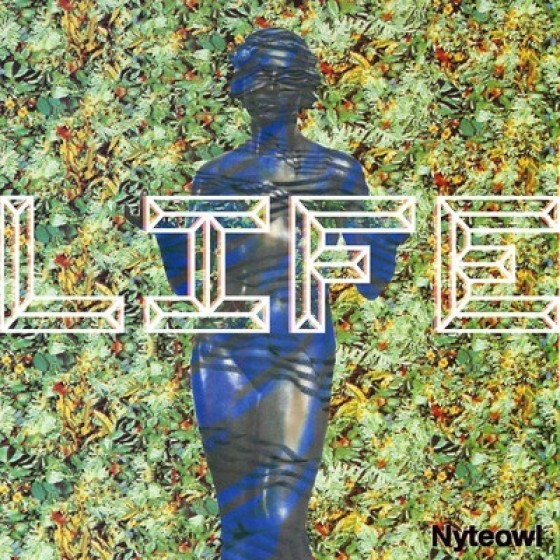 Local artist/producer Nyteowl has been doing cool work for a while now, venturing into different areas of the electronic world in consistently interesting ways, and now he is using that flexiblity in how he is releasing his latest album.  He recently put a new album, LIFE, on his soundcloud page and is taking a slightly different approach to eventually having it released in a physical format.  Read below about the album, the record industry and finding your sound.
Reviler: You are releasing your album for free in hopes of getting label attention. What drove that decision? There are other models (Kickstarter,Bandcamp, sending demo tapes to PR, etc), why not use those options?
Nyteowl: I really like how the album turned out. Even in the demo stage I was happy with it and would have been happy "releasing" it for free. However, we actually received "label attention" from a few fronts already and just had a vinyl release on Juno Records which is why I'm only posting it out there for the moment. I have no grand schemes for who – except for the fact that people contacted me are now a viable option. In fact, it might be a few variations of release with more than one label. There's a chance there will be three releases for this album right now. One being are mix on local electronic music producer Dirty Mckenzie's label, which is a definite.
A good example is Love of mine. I released this on my label, Juno re-released worldwide with remixes and as a single, and now there's a German label that wants to release another remix of it. There are many markets for the music we make.
So, for me I didn't take the time to have it mastered even. Chris "mastered" but not in a proper way like I usually have Huntley Miller do. It's not because I'm lazy or don't care – it's just the core sound I was happy with on the record is most important, and felt if someone else didn't release it with some type of marketing or improved distribution / cool format (vinyl), then I would give it away. To clarify, it's not really free at the moment, but my plan is to give it away to people if they email me and maybe at a later date a more "mass" free download. I just finished it last Friday though, so my first priority was just to get it out there! I want people to hear it because I really like how it turned out.
Reviler: You have a record label (Nytetraxx/EverlivingSound). Why not release the new LP there? What has been your experience running a label?
Nyteowl: Running a label is difficult. I'm not very good at it but I'm sure I'll keep doing it to support artists. The only reason I started NyteTraxx was to release my stuff – but I found that there are other artists I enjoyed so I of course got sidetracked. I started Everliving Sound because I wanted to specifically support artists in Minneapolis I felt were not getting enough attention. I can't guarantee artists on the label (primarily Bollywood but also side projects at the moment) the world, but I try to use any of my contacts, resources, and my digi distribution to help them in any way possible. It's also about connecting with friends who are like minded artistically/culturally. Finally, it's just a basic gratifying feeling to have a proper release when you're starting out and this gives some resolution for artists who have spent some time working on a piece they believe in so much. I think this step is important for an artist to move onto more music/works.
Reviler: You stated to me that the record is a mix of "beats/cosmic grooves/rave hits/soul/ gospel love." Did you purposely make a record with an eclectic sound? When making an album like this, do you ever think that having a more streamlined, easily identifiable sound would make getting attention easier?
Nyteowl: I gotta tell you the only way you will get attention is to be yourself. I scaled everything back and really found myself when I did the single "love of mine". That song is who I am. A white dude who loves lo fi 80's RnB/Synths/and the essence of beat/house/techno music. When I "found" myself as an artist with that single,everything was much more fun and good things happened. Our new album LIFE even goes further. I was making so much music this year – I didn't expect to make a Nyteowl album w/ beats! It just happened in the fray. I used to make breakbeat music under "Mumra" alias and go to first ave when I was 16 listening to acid/house/techno. It's getting back to the prime essence of who I was when I started listening to and making music with a pop angle that I love. That's how an eclectic sound comes into being. It can develop over years and then suddenly happen.
Reviler: Who are the influences for the record? Any particular artists, sound or albums that you were hoping to reference?
Nyteowl: I don't think I really succeeded but I really love Ariel Pink and Air – and how they record. So just that mindset. Also, Dam Funk just the core of what he does is very inspiring. I don't sit down and thing "I'm gonna make a dam funk type of song today" I just more so think in my heart how much I love that sound and I think the influence stems from that.
Reviler: We in the Twin Cities are quick to pat ourselves on theback for our music "scene." How is the "scene" from your vantage point? My theory has been that there is a blind spot towards more electronic music from the people who decide who gets the local media muscle behind them. Thoughts?
Nyteowl:  I have commented on this before in another article so it's not that I don't find the topic interesting, but I don't have much to say on it. I don't think electronic music is supported as much – there's no question about it. I feel it's due to a genuine lack of interest, so it's hard to fault the media I guess. I don't care for the latest folky/country music and if I had an electronic music station I wouldn't play that. So, I'll just say Nyteowl concentrates our promotional efforts to places where people want to hear it and cover it. Still, I think the Current should ask someone like Gigamesh to do a guest DJ mix series.
You can listen to the new Nyteowl LP below and, if you like it, keep an eye towards the Nyteowl website for a chance to grab the record in some physical capacity in the near future.