The Best Of 2012: Local Albums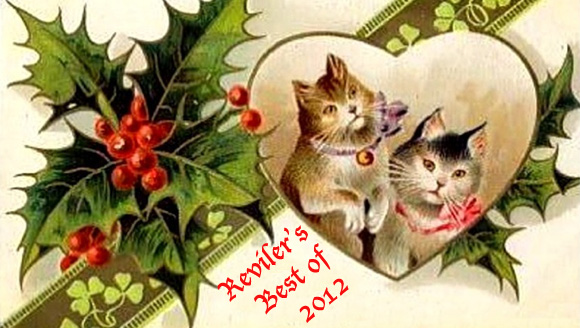 It is that time of year again, folks.  Eggnog, people cutting down trees and putting them in their living rooms, people pretending the sweater they have worn a million times is now ironic and "ugly"—– and lists.  Beautiful, beautiful lists.  We here at Reviler would be remiss to pass up and opportunity to rank, order, catalog and otherwise pontificate numerically our choices for what we thought was the "best" of 2012.  We even invited some of our BFF's to join the party.  Think we are wrong?  After you hit "send" on the email death threat to us, leave you choices as to why we so wildly missed the mark in the comment section and we can debate things 21st century style.  Over the internet and in our underwear. Mazel tov.
BEST LOCAL ALBUMS

Zach McCormick (Radio K)
TC Funk and Soul Compilation
Greg Grease-Conrbread,Pearl & G
Mally & The Sundance Kid-The Last Great
I Self Devine-The Sound of Low Class Amerika
POS-We Don't Even Live Here
Brother Ali-Mourning in America…
Night Moves-Colored Emotions
Frozen Teens-S/T
Teenage Moods-Grow
Howler-America Give Up

Ali (Egypto Knuckles, Background Noise Crew)
1.  (tie) TTxBC "Space" / Big Cats! "For My Mother" / Guante & Big Cats! "You Better Weaponize"
2.  I Self Devine "The Sounds of Low Class Amerika"
3.  Polica "Give You The Ghost"
4.  MaLLy & The Sundance Kid "The Last Great…"
5.  P.O.S "We Don't Even Live Here"
6.  Brother Ali "Mourning In America & Dreaming In Color"
7.  Kison "Part Hero, Part Woman"
8.  The Chalice "We Are The Chalice – EP"
9.  Big Quarters "Somos No Joke"
10.  Audio Perm "We Out Chea"
Adam (Reviler)
(unranked alphabetical list)
Awkward Bodies – s/t cassette
Claps – Glory Glory
Ex-Nuns – Piss / Shit Mountain EP
False – split w/ Barghest
Leisure Birds – Globe Master
Littlefoot – Symbol of Love
Mother of Fire- Feral Children
Nightosaur – Spaceaxers
Pony Trash – s/t EP
Self-Evident – We Built A Fortress On Short Notice


Steve Skavnak (@steveskavnak)
1. P.O.S. – We Don't Even Live Here
2. Bloodnstuff – Bloodnstuff
3. Mally – The Last Great…
4. Wiping Out Thousands – This Came First
5. John Mark Nelson – Waiting And Waiting

Josh (Reviler)
1. Food Pyramid- Mango Sunrise, Arp Navigator (w/Roy Orb D.M.T) & Live/Dead
2. Guante and Big Cats!- You Better Weaponize
3. Leisure Birds- Globe Master
4. Robust Worlds- Emotional Planet
5. Greg Grease- Cornbread, Pearl & G
6. Big Cats!- For My Mother
7. Twin Cities Funk and Soul comp
8. Brother Ali- Mourning in America and Dreaming in Color
9. Gay Witch Abortion- Opportunistic Smokescreen Behavior
10. Skoal Kodiak- Kryptonym Bodliak
11. Favorite reissue Mr Hide- Gettin Hide
(Honorable Mention- , Mother of Fire- Feral Child, Tender Meat- Rippers World, Flavor Crystals- III, Mally- The Last Great, Miami Dolphins- Capri Sun, Learning Curve Records- A Butchers Waltz, I Self Divine- The Sound of Low Class Amerika, Anonymous Choir cover Leonard Cohen)  (Special shout out to the awesome kind-of-local Dead Luke- God Takes LSD)

Jon (Reviler)
1.Brother Ali – Mourning in America…
Possibly the best album yet from the always-strong Brother Ali
2.Tender Meat – Ripper's World
Perennially underrated locals – the new cassette is simply an amazing electronic assault
3.Food Pyramid – Mango Sunrise
No surprise here – Food Pyramid continues to explore new sonic territory and challenge themselves. Frankly I am surprised they haven't blown up nationally yet.
4.Guante & Big Cats! – You Better Weaponize
Both Guante and Big Cats! had an excellent year – and their joint record is perhaps the twin Cities most underrated rap album this year
5.Polica – Give You the Ghost
You love them. I love them. And for good reason: they are great.
6.Leisure Birds – Globe
A radical new direction for Leisure Birds this year and it really works
7.Big Cats! – For My Mother
The reason why Big Cats! is one of the best beat makers in the game – and the fact that the proceeds went to breast cancer research makes this one a must-have
8.Is/Is – III
This album came out such a long time ago that it seems like last year, but any year end list that doesn't contain this album is simply misinformed
9.Father You See Queen – 47
It was no big surprise to me that I loved this album – considering its makers were heavily influenced by one of my all time favorite bands, Broadcast.
10.MaLLy and the Sundance Kid – The Last Great
Plenty of great hip hop came out of the TC this year, but MaLLy's gritty, no-nonsense style stands above most.
Jon Jon Scott (Sound Verite)
I Self Devine – The Sounds Of Low Class Amerikkka
Chaka Mkali, otherwise known as I Self Devine, is a steady, consistent MC with a strong desire to educate and inform his audience through his lyrics. He is often described as "conscious" MC; while that's true, I Self Devine is more of a realist, painting narratives that even in showcases the failures and how to work within and outside the system in today's society.
Polica – Give You The Ghost
Minneapolis goes down tempo, bringing the beats to indie rock.
Meta – Meta May/ Happy I'm Present
With a sprawling song a day during the month of May and Happy I'm Present prove MC Meta marked his space as an ace lyricist.
Brother Ali -Mourning in America And Dreaming In Color.
Hip-Hop's everyman who's insights into family, religion, life, world views and treatment of indigenious people show his respected command and attention to detail.
Crimes -Good Hope
Beautiful melodies soaked mysterious in a Midwestern sincerity.
Mally – The Last Great
Rookie goes in becomes official.
Night Moves -Colored Emotions
Bringing the good old twangy psychedelic tunes like "Country Queen" and the sweeping beauty of their hit "Headlights" to the indie kids.
Mike The Matryr – Lake Street Store: Over The Counter
Stacked with heavy guest Slug, I Self Devine, A.G. (DITC), Triple Seis, Muja Messiah…
P.O.S. – We Don't Even Live Here
Musical innovator, good dude with creativity pouring through his veins and massive supporter of local artist, thank god he calls Minneapolis home.
Solid Gold – Eat Your Own
Hometown heroes make like Pet Shop Boys.
Mankwe -Science and Spirits
Atmosphere vocalist/artist make like India Irie.
Villa Rosa – Exotic Paraphenalia EP
Maria Isa and Muja Messiah'e summer time ep included the weed blazer "Rocketship" and their brilliant take on Eminem's "Renegade".
BdotCroc – Hear Forever
With an impressive mixtape, sharpening her skills as she gets assist from Brother Ali and Rocky Diamonds and is full of new school swagger check her track "Pressure".
BNLX – LP
Polished Anglo-file goes new school techies.