The Best Of 2012: Shows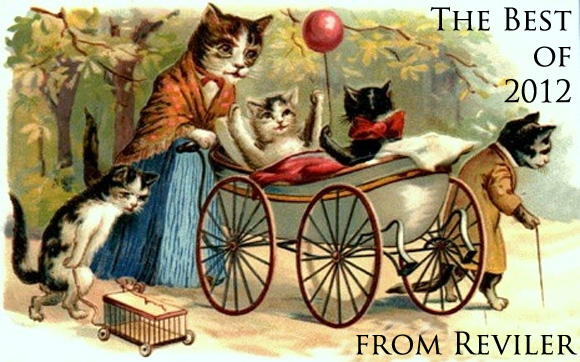 It is that time of year again, folks.  Eggnog, people cutting down trees and putting them in their living rooms, people pretending the sweater they have worn a million times is now ironic and "ugly"—– and lists.  Beautiful, beautiful lists.  We here at Reviler would be remiss to pass up and opportunity to rank, order, catalog and otherwise pontificate numerically our choices for what we thought was the "best" of 2012.  We even invited some of our BFF's to join the party.  Think we are wrong?  After you hit "send" on the email death threat to us, leave you choices as to why we so wildly missed the mark in the comment section and we can debate things 21st century style.  Over the internet and in our underwear. Mazel tov.
BEST CONCERTS OF 2012

Jon (Reviler)
1. The Dirty Three at the Cedar Cultural Center (photos)
One of my favorite all-time bands containing one of my all-time favorite people (Warren Ellis), the Dirty Three have stayed away from the Twin Cities for far too long.  It was worth the wait, however, since when they finally returned it was to one of the most amazing shows I have ever seen.
2. Seun Kuti and the Egypt 80 at the Cedar Cultural Center
The next best thing to seeing Fela Kuti lead his legendary band is to see his son do it – and whatever magic Fela had in his veins is readily apparent in his son's DNA.
3. Jandek at the Elias J. Halling Recital Hall (photos)
It was really the circumstances that led this to be such a memorable show. I got to shake Jandek's hand! In Mankato of all places. This is a man who I wasn't 100% sure actually existed until I saw him with my own eyes.
4. Jon Spencer Blues Explosion at the Triple Rock (photos)
BLUES EXPLOSION
5. Shabazz Palaces at the Whole Music Club (photos / review)
I kind of expected the duo to put on a half-assed performance, considering they were playing at a tiny, poorly lit club with relatively small, subdued crowd in attendance. Shabazz Apalaces surprised me though by acting like it was the last show they were going to play on earth.
Runners Up: Andrew WK at First Ave, Soundset, Heliotrope, The Magnetic Fields at First Avenue, Schoolboy Q at the Varsity, cass McCombs at the 7th St. Entry.
Kyle Matteson (@solace)
1. Afghan Whigs / Wussy – Varsity Theater, 10/28/12 (
review
)
2. Father John Misty / Har Mar Superstar / Fort Wilson Riot – 7th Street Entry, 5/11/12
3. Bruce Springsteen – Xcel Energy Center, 11/12/12
4. Patrick Watson – Cedar Cultural Center, 6/2/12
5. Death Grips – 7th Street Entry, 11/21/12 (
photos
)
6. Japandroids – 7th Street Entry, 6/3/12
7. Jeff Mangum – State Theater, 2/4/12
8.  The Walkmen – First Avenue, 6/30/12
9. First Aid Kit – Cedar Cultural Center, 4/7/12
10. Glen Hansard – First Avenue, 9/29/12

Josh (Reviler)
1. Shabazz Palaces- The Whole (photos / review)
Playing material off on of my favorite album of 2011 in a venue that can eat artists whole (pun intended),  the space rap duo amazed the sold out crowd with a spirited, energetic and unforgettable performance.
2. Seun Kuti- The Cedar
It isn't easy when you dad is a music legend, but Seun proved up to the challenge with this sweaty, high octane performance that had the Cedar moving in ways that would have made Fela proud.
3. Public Image Limited- Mill City Nights (review)
Was this show necessarily the third "best" show of 2012?  Probably not, but it was Public fucking Image Limited!  John Lydon! Hearing "Albatross" live was one of those moments that was on my musical bucket list, and it was awesome.
4. Big Cats!- The Cedar
Playing one of my favorite local records from front to back, this show was as emotionally poignant tribute to Spencer Wirth-Davis's mother, who was the focus of his spellbinding instrumental LP For My Mother.  I am not sure it will be done again, and if that is so, I am glad I made it to this unique and wonderful show.
5. Ty Segall- 7th Street Entry
This show, featuring sets by White Fence, Ty Segall Band and the group together (as Hair), was a high octane, sharp elbowed take on psyched out garage rock.  Things got a little rough on the floor, but from my perch up the ramp is was a gloriously destructive show, highlighting one of my favorite artists right now along with really upping my appreciation for White Fence.
HM- Afghan Whigs @ The Varsity, Brute Heart- Walker Art Center, Outer Minds @ Turf Club, Mark Lanegan @ Cedar, How to Dress Well- 7th Street, 

Steve Skavnak (@steveskavnak)
1. Japandroids @ the 7th Street Entry
You know it's a good show when Kyle Matteson (@solace) dumps an entire bottle of Budweiser on his head midway through the set. And I'm pretty sure I may have moshed.
2. Jeff Mangum @ the State Theatre
I never thought I'd get the chance to see & hear the Neutral Milk Hotel frontman perform his songs live, and frankly, I don't think I'll have that opportunity again. Unforgettable and surreal.
3. Glen Hansard @ First Avenue
2+ hours of brilliance from one of my favorite songwriters. If it weren't for the formerly restrictive Too Much Love curfew, I think he could've gone all night.
4. The Joy Formidable @ The Fine Line
Ritzy Bryan threw her guitar at a gigantic gong at the end of their set. Nothing more needs to be said.
5. P.O.S. @ First Avenue
Just a week after his announcement that he's in need of a kidney transplant, Stef expended every ounce of energy he had celebrating the release of his excellent 'We Don't Even Live Here.' The fact that he could only perform at one of the three recent Blowout shows made this performance all the more special.

Adam (Reviler)
1. Heliotrope 9 (photos day 1, 2, 3)
This year's annual 3 day celebration of what's new, weird and interesting in town hit a high mark once again with hours of stellar performances and a rare appearance of the legendary TVBC.
2. Gilead Media Fest (Oshkosh, WI) (photos day 1, 2)
A weekend roadtrip to Wisconsin for a two day festival of some of the most dark, intensely blackened metal from around the country might not be everyone's idea of a good time but a great community and stellar performances made this a memorable weekend for Gilead Media's first (and probably last) fest.
3. Death Grips @ the 7th Street Entry (photos)
One of this year's most hyped acts actually turned out to live up to the hype.
4. Afghan Whigs @ the Varsity Theater (review)
After a few disappointing reunions of 90s superstars (The Jesus & Mary Chain in particular), the Afghan Whigs made me forget about any doubts I might have had about band reunions.
5. Tortoise + MPLS Jazz Allstars @ the Walker Art Center (photos)
A one time memorable collaboration hit all the marks it should have and more
Honorable Mentions: El-P / Killer Mike @ the Fine Line, Twerps @ the Turf Club, Earth @ the Triple Rock, Saint Vitus @ the Triple Rock. Ghost @ Station 4, Thee Majesty @ Nick & Eddie Warehouse

Zack McCormick (Radio K)
1. Heiruspecs @ The Stone Arch Festival
2. Birthday Suits @ Radio K Gigawatt X
3. Mos Def/ Toki Wright @ The Guthrie
4. Free Energy @ The 400 Bar
5. The Slackers @ The Triple Rock