Scene Swap: Post-Boss Asbury Park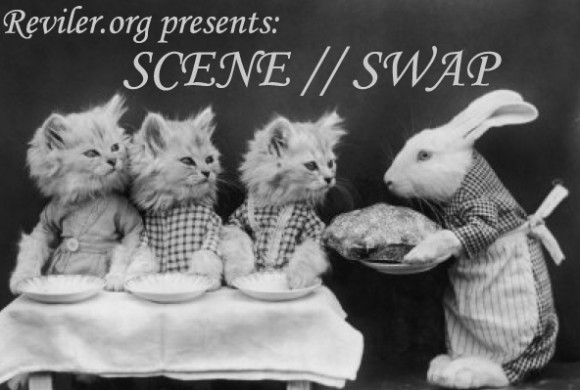 Scene Swap is an exciting new feature in which we partner with artists and fans across the country to exchange musical recommendations in order to shine the spotlight on those bands who haven't yet broken out beyond the confines of their own local scene.  In this installment Nicole Atkins (who hails from Springsteen haunt Asbury Park, New Jersey)  tells us a bit about who is currently keeping the city's musical legacy alive. Atkins will be performing at the Turf Club on February 25th.
You can stream Atkins new single "Girl You Look Amazing" off of her recent album Slow Phaser here.
Nicole Atkins:
I live in Asbury Park NJ. A little rock n roll beachtown right in-between New York City and Philadelphia. Asbury Park, as you probably know, is famous for being the springboard town for one of the biggest and best rock legends, Mr. Bruce Springsteen. A big part of me believes that he's a big reason there are so many bands in this area. Growing up, it seemed perfectly normal to most of our parents that being a rockstar was a perfectly cool and normal aspiration. They saw many people from the area attain that. So music was always supported, nurtured and respected around these parts. Damn sushi places even have "the Bruce Springroll" on their menus. But before and well after Bruce, Asbury has always been a hotbed of surf bands, metal, garage and progressive rock. Prog and Garage rock were the cornerstones of the "Asbury Sound."
The last couple of years Asbury has seen a really nice revival in its heavier Psychedelic, Blues and Garage genres with a crop of new bands. The scene here was overridden with a lot of generic blues and 80's rock for a while but thankfully that's died down. With the artist revolution happening in town, the youngins are moving in and they are making some good shit. Here are some of my current favorites. Wreaths is a soulful psych drone band that are always great to see live, sometimes there's 5 members, sometimes 10. They also throw really great happenings and pop up shows in town usually making for the best nights out. They create a lot of space in their songs which is something to strive for.
The Glycerine Queens are four ultra badass teenage shredders that play awesome Stoner Bummer Punk. Ranging in ages 17-19, they've been a band for a few years now and are really finding their sound. I'm actually producing a full length for them and here's one of the tracks. They also cover Tame Impala's "Elephant," which is a doozy. I can't wait to see what these girls shows are gonna be like when they get legal. haha
Ruby the Hatchet is a powerful dark and heavy Psych Metal band led by a Cosmic Goddess, Jillian Taylor. Part time in Philly and part time in Asbury, they're one of us. They remind me of a mix of the Melvins, Black Sabbath and a forest sex witch fairy howling into a tidal wave. They're working on a new record now. And apparently they are breeding snakes. gross. I head local Garage rockers Ba Babes when I first moved back here after a long hiatus. They played on the boardwalk with the Growlers and it was definitely the spark of a new generation of cool music happening in Asbury. James Ba Babes is a total character. He commands the stage like a crazed psycho with spitfire riffs and rants. Sweet Joey, our local silver toothed sweetheart and owner of the coolest clothing shop in town, aptly named "sweet joey's," rounds it out on drums, usually standing up and on the verge of a total madman breakdown. Their shows, along with so many others around here make me really proud to live here.
Stream BaBa Babes' Hate the Beach
 EP.
Once again, Nicole Atkins will be performing next Tues (2/25) at the Turf Club. Tickets are available in advance here