Video: A Tribe Called Red – R.E.D. Ft. Yasiin Bey, Narcy & Black Bear / Show Tuesday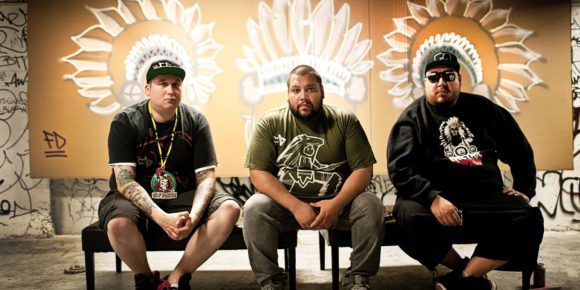 It's been a couple years since we last caught A Tribe Called Red in the Twin Cities. Next week the DJ trio returns, headlining a show at the Skyway theater (12/6). The date couldn't be more timely. With the ongoing protest of the Dakota Access Pipeline at Standing Rock, Tribal politics are very much at the forefront of our national consciousness (though they have recently been overshadowed by the ongoing clownshow that is the Trump presidency planning).
For those of you who aren't familiar, ATCR mix ancient powwow music with club beats and rapping, resulting in a modernized tribal sound. And the group isn't shy about its radical politics – their songs are bolstered by messages of native pride and social justice. Their most recent LP (their third) is called We Are the Halluci Nation which they released via The Radicalized Records imprint. You can stream a track from it, "R.E.D.," below, which features rapper Yasiin Bey (nee Mos Def) Canadian-Iraqi MC Narcy, and Black Bear (a group of drummers from the Manawan Atikamekw Nation in Quebec). Check it out and if you dig it you can pick up tickets for the show (which should be terrific) here.
— Jon