Interview: Eliot from Clashed Attitudes about their January Thursday residency at the Triple Rock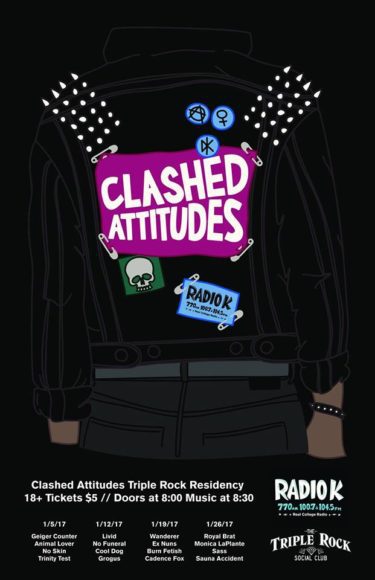 Clashed Attitudes is a great show on our favorite local radio station, Radio K. They pulled together a January residency at the Triple Rock every Thursday this month featuring punk, noise, garage and other destructive sounds that will warm you up during our arctic freeze. You can see all of the bands playing each night and RSVP via the Facebook event HERE (bands and deets also listed on the flyer above). All of the nights are intimate half-room shows, 18+, start at 8:30 and are a steal at just five american dollars. Below we did a quick check in with Eliot from Clashed Attitudes about how the shows came to be and what you can expect if you are able to make it to one. Check out the interview and support local bands, radio and concerts all in one place every Thursday this month.
Q: For readers who may not be familiar, what has been the spirit and focus of Clashed Attitudes show on Radio K?
A: Clashed Attitudes is the punk rock show on Radio K. We try to curate an inclusive and diverse palette of music reflective of the complex history of punk, but we especially focus on promoting local talent on-air. I tend to play more grindcore and power violence and Sylvia, my co-host, tends to play a lot of emo and riot grrrl. Minneapolis maintains one of the most eclectic and interesting punk scenes in the country, Clashed Attitudes is Radio K's latest attempt to pay tribute to this tradition.
Q: With this residency, is there an overarching theme? Or a week-to-week theme?
A: We didn't book the residency with a particular overarching theme in mind, we just wanted to support some of our favorite bands from the cities. We did try to keep each show stylistically consistent, though. We wanted each bill to feel like a unified concert.
Q: Why did you decide to do a local music residency? Any particular reason for doing it now?
A: Sylvia and I chose almost all local artists for these shows for practical and personal reasons. It's fun to work with artists you have a personal rapport with; however, we also wanted to make a point to support local artists. Minneapolis has one of the best music scenes in the country, it would be a waste to not use these shows to support all of these great bands.
Q: What band are you most excited to see? Any sleeper bands that you think may stand out?
A: I'm really excited to see Cool Dog.
Mr. Dad
is hard hitting and grimy, but it still manages to be hilarious. I've heard lots of great things about Cool Dog's live shows, but I haven't been able to see them until now. I'm also excited to see the out-of-town band we booked for
January 19
, Cadence Fox. Sylvia knows the guys in the band and has been a longtime fan of theirs. I haven't listened to much of their music, but what I have heard is crazy–lots of twisting and wild post-punk riffs.
Q: It's going to be a cold and dreary month, what would you say to someone one the fence about one (or all) of these shows about why they should come to the Triple Rock and check it out?
A: Half-room shows are a great opportunity to see bands in an intense, intimate setting: you get the energy of a house show but don't need to worry about finding the address. This residency is a cool opportunity to support some talented local artists in a unique setting.