Interview: Blackthorne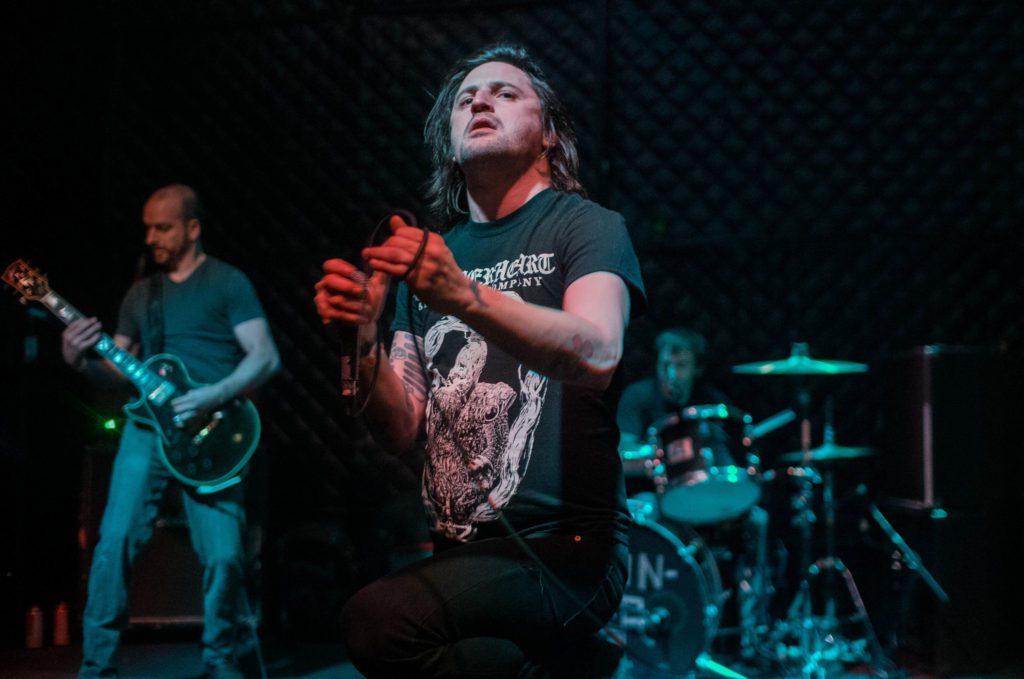 It was chilly for a Saturday, but quite warm for March. Take what you can get; it's the little things in life that make it worth living, after all.
Yes, the little things: finding a t-shirt you thought you lost; receiving an extra fast food item you did not order; new Blackthorne music. While anyone would hope for caprice to favor them with a surprise Cheesy Gordita Crunch, I was at the Reverie Cafe+Bar that chilly March weekend for the last reason. Saturday, March 25th, Blackthorne dug themselves out of their Northeast Minneapolis practice space and brought a vicious EP of new music with them. It was loud, it was hard. It was all over within sixteen minutes.
All monsters have an origin story, but only the best monsters survive the sequels to refine their craft, becoming less a menace and more of a force of nature. Like any monster worth its salt, Blackthorne never really go away, they just hang back in the darkness biding their time, growing larger and more dangerous. 2016 saw them sprout another limb in second guitarist Mickey Kahleck. Kahleck has made a name for himself in the Twin Cities music scene as a one-man Rainbow Six, trading thunderbolts with Blackthorne guitarist Steve Brooks as comfortably as drumming for the Chambermaids, or wearing every possible hat at once at the helm of his own numerous personal music projects.
I got a chance to speak with Blackthorne in their present form about their self-released cassette EP 002. As we were stepping outside, vocalist Travis Bos, guitarists Steve Brooks and Mickey Kahleck, and drummer Matt Seitzinger were joined by bassist Bob Eisenbise, who propitiously stepped out of a black SUV and into our conversation.
Adam Johnson: You've all been involved with one another in past musical projects. What brought you to Blackthorne, specifically?
Blackthorne: Late nights at Bob's!
Travis Bos: I was just back from [living in] Toronto, and Steve and I were up late and hashed out the idea of playing in a band again. Super fast, short songs – that was about it. Let's just make this fun.
Bob Eisenbise: We always wanted to be in a band that was like, 'Why don't we play more metal music, but not doom? Let's be fast, campy, and have fun.'
Adam Johnson: How do these new songs sit in your catalog?
Steve Brooks: I like them! I like some flourishing; it's a natural growth, I think, for us as a band. Adding Mickey kind of helped out with some dynamics, some stuff that we always wanted to do. I think it's working out.
Bob Eisenbise: It's my favorite band I've ever been in, honestly.
Travis Bos: It's funny – there were, like, these test tapes that Mickey did for us just to check the audio, and I was listening, and there were a few leftovers from our first demo from five years ago. So this newer EP is a liiiiiitle shorter than the demo. So, as soon as it's done playing, it quickly went back to the first demo and I was like 'Hooooooly shit!' because I haven't heard those first songs since around then. It was like, 'Wow – that's what we sounded like five years ago!'
Steve Brooks: Almost like doom notes.
Travis Bos: Some hardcore shit, just more straight forward.
Steve Brooks & Travis Bos: Yeah.
Adam Johnson: What was the composing process for y'all with this new music?
Mickey Kahleck: [They] had a couple of the songs rough when I joined in May [2016], so I added my guitar parts to a couple of them. And then the rest of the tracks–we're going to be playing a bunch of new stuff, too, tonight that isn't recorded yet–we just wrote them as a group, just kind of throwing around ideas in practice.
Matt Seitzinger: And we wrote most of them probably in about a month of having Mickey – two months, something like that?
Travis Bos: Like a whole EP's worth.
Mickey Kahleck: Yeah! We were out of comission for a few months; during our down time we didn't really do too much. But once we got back going again, we ripped out three or four new ones in the last month or two.
Bob Eisenbise: It's funny how time does that.
Matt Seitzinger: It was good to get back and start writing again.
Mickey Kahleck: It's just all about keeping the train fucking moving forward.
Travis Bos: Even if the rest of us are, 'I have no idea what the fuck to play', Matt will just warm it up with something and we're like [right here he makes a bewildered face and gives a mighty thumbs up] 'Keep playing THAT!'
Steve Brooks: That's the same for anybody – 'Keep playing that'. And he'll mess with it.
Mickey Kahleck: Jump on an idea that somebody's got and just kind of tear into with our own thing. It works out pretty well. We've all been playing together for such a long time. Even before I was in Blackthorne, I've been in bands with everybody except for Matt, but I've known Matt forever. I've been playing with Steve for over 25 years; I've been playing with Bob for almost 15.
Travis Bos: [Matt and I] were from the same town, Sioux City, IA, and I used to go see his bands play when I was high school, a freshman and junior.
Matt Seitzinger: We've known each other for-ever.
Adam Johnson: Well that just makes the process easier and more satisfying when everyone is familiar.
Mickey Kahleck: It's easier, and we don't have to second-guess anything.
Travis Bos: There aren't any egos.
Bob Eisenbise: If someone's like, 'Hey, could you not play that?' We're like, 'Hey – no'.
Mickey Kahleck: We can chill each other out.
Matt Seitzinger: We try to see the bright side of things now.
Steve Brooks: Maybe that's more about turning 40.
Little did we know that the conversation would continue into the evening, put on unconscious respite until the appropriate time. After New Primals and Aziza brought in the good people from the warm March evening, hardcore four-piece No Skin reminded everyone just how cool it is to have a kid.
Ben Crew took a few moments toward the end of the set to consummate an audience member into the rock-and-roll union. Five-year-old Leo Kahleck screamed at the crowd for approximately two minutes and it was awesome.
A scene that plays together stays together.
-Adam Johnson
Adam Johnson lives in Minneapolis with his wife, cats, and guitars.