Tape Tuesday: "Treading Water" from Nona Invie's ambient project IN/VIA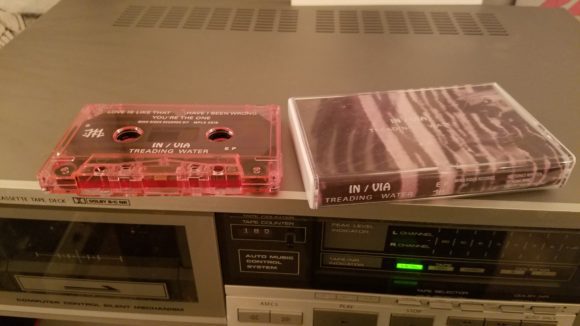 Nona Invie is still probably best known for her rustic folk group Dark Dark Dark, but she has certainly done enough over the last few years to prove she is more than just a remnant of her (I think defunct?) band. One of things she has worked on that I've really enjoyed is the ambient project IN/VIA, where she is joined by Fletcher Barnhill on bass guitar and production. The duo use minimal noise and piano, along with Invie's striking and powerful vocals, to create sonic tapestries that should appeal to fans of Grouper. There are even some SURVIVE-esqe synth adventures midway through the record that give a foreboding wink and nod to the legend John Carpenter.
The short, five song CS is heady without feeling sterile, lush without being cheesy. It is minimal but still feels like it pours into your headphones with a weighty seriousness. This isn't elevator music, but it does hew towards a more mystic, unstructured world that allows you to get lost in thought while listening. This is a collection of songs that will sparkle late at night with a candle flickering in the corner of the room.
You can purchase and stream the album below from the IN/VIA bandcamp, where you should also grab a copy of the cassette. It is the 2nd full release from the band, but you'll find a bunch of odds and ends on their bandcamp page that are all worth exploring.