We Went There: Altin Gün At The Varsity Theater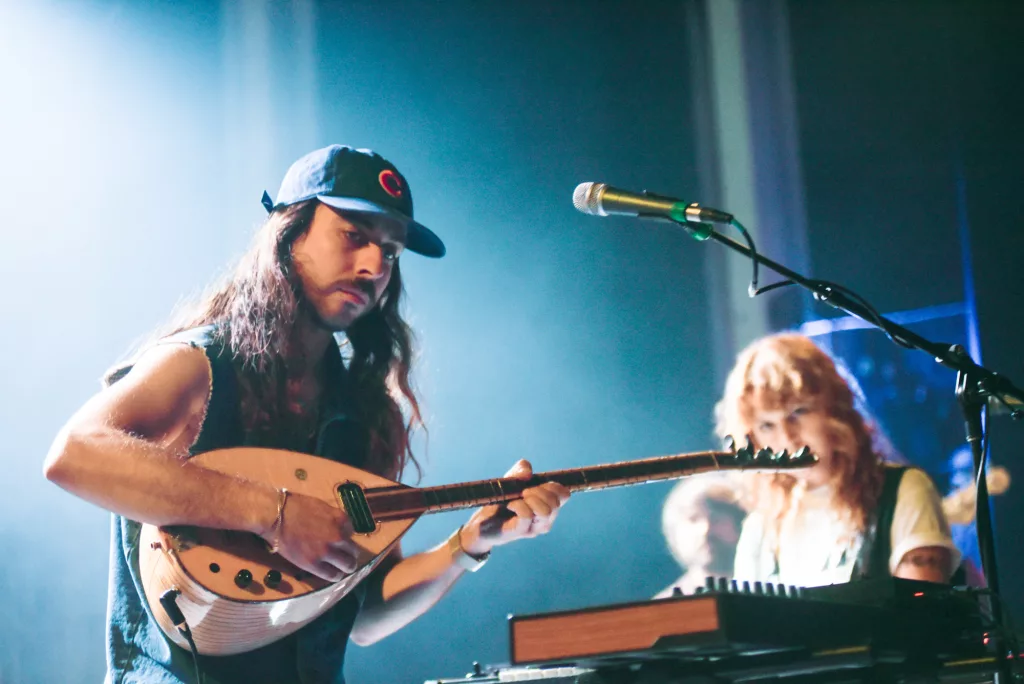 (See Jon's whole photo set from the show HERE)
There is a technical aspect to appreciating the band Altin Gün that would be a fine and reasonable basis of any review of the band. You could marvel at the blend of musical styles, the Turkish Pysch/Funk that blends East and West instruments and genres into a unique, globe-trotting concoction that clearly has resonated with fans and critics across the world. But I would argue their superpower if the unbridled joy their music brings.
Seeing them live, as I have a few times now with the most recent time Tuesday night at the Varsity Theater, drives home the point that maybe the sum is greater than even the admittedly awesome parts.
Their music, especially on their early albums that I love a lot, have a sweeping mix of funk, soulful pysch and lots of enchanting bağlama playing. The band took a more synth-y vibe on their latest album Ask, which they are touring behind, but they started off the show, and littered their nearly 90 minute set with, some of the great tracks from their pre-COVID albums On, Gene and Yol. The band sounded tight and the Varsity was quite full of fans of all ages who seemed ready to dance and sing along. There was even a moment in the middle where they did a prog rock breakdown that built and built into an explosion of new-wavy dancing that sent the crowd into a rapture. Their music just breaks through live in a way that few bands do.
It helps having co-frontpeople like Merve Daşdemir and Erdinç Ecevit Yıldız, who traded vocals as usual throughout the set, thoughtfully changing pace and style at all the right moments. Ecevit Yıldız provides the detached, brooding rock start (with a Cubs baseball cap, natch) and Daşdemir bounded around the stage with a tambourine, always keeping the crowd engaged.
It was an early show (sorry to the openers…the Reviler team showed up at 8pm and barley made it into the venue before the headliners were on stage!) on a beautiful summer night, but the band kept the crowd wrapped around their fingers through what for other bands would be a really long set. Their songs have something about them that goes beyond funky and, as mentioned above, just seems to point to joy. They played for 90 minutes and didn't seem to lose the energy from the crowd one bit.
It was joyful. I know it's an unquantifiable feeling, but even after seeing them multiple times over the years I still felt that spark when watching them perform Tuesday night in a venue that can feel like a sterile prom center. I hope as Altin Gün continue to grow and play bigger rooms that feeling remains.