Free Energy + Foreign Born Live Review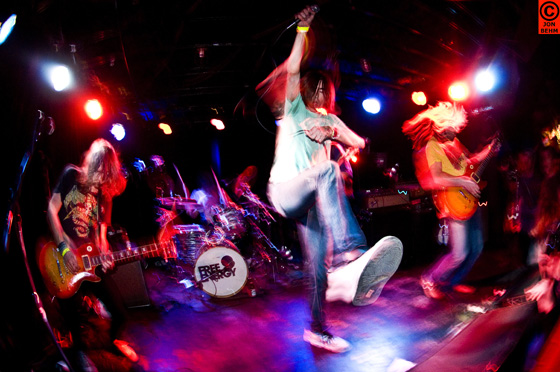 At most shows, it is a pretty safe assumption that the majority of the crowd is there to see the headliner. When this isn't the case, it can provide the awkward early crescendo to a show that leaves the headliner in the undesirable position of playing to a crowd that has already busted their collective music listening load. The unlucky band that found themselves in this position Wednesday night was Foreign Born, who didn't get the attention they deserved after a barnstorming set by glam rockers Free Energy.
Foreign Born played a strong set Wednesday night at the 7th Street Entry, but unfortunately about half the crowd had already started their journey home.  The 45 minute set, which was too short for my taste, mainly comprising of tracks from their underrated 2009 album Person to Person. The group, running 6 deep, sounded great playing their world music influenced rock and roll. The band shares members with Fool's Gold, and both groups clearly take influences from many of the same arenas.  It was a shame that more people didn't stick around, because Foreign Born proved live, like they have on record, to be an exciting and diverse sounding band.
Even with a solid set by Foreign Born, the undisputed highlight of the evening was the rollicking set by Free Energy. Playing a good portion of their debut record, along with a new B-Side and the excellent "Something in Common" from their debut EP, the band tore through a spirited and wildly fun 40 minute set. The crowd sang, danced and clapped along as the group played one of the more enjoyable sets I have seen in quite a while. The songs were more loose and organic than on the James Murphy produced album, and the band was clearly having as much fun as the audience. The band clearly proved to be a big draw in their old hometown (to the detriment of Foreign Born, unfortunately), and I expect to see them back in a much bigger venue in the very near future, and I would highly suggest you make sure to see them.  I would challenge you to leave without a smile splashed across your face.  Hopefully for their tour mates, the next time they come to town they can make sure the other bands get the attention they deserve by making sure to play after them, not before.
     -Words and Videos by Josh Keller
Photo above by Jon Behm.  Find all of his photos from the night HERE.