Joanna Newsom: Have One on Me Review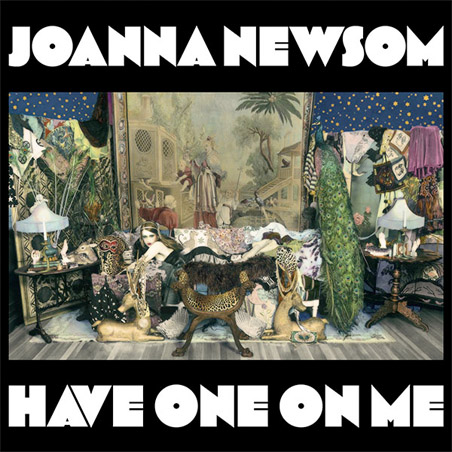 83/100 
We try to keep our reviews to a manageable length here at Reviler, mostly because we realize people don't want to spend their whole day trying to find out what we thought about a record. The hard part about this self imposed limit is when you run across a record like Have One on Me, the epic new three LP record from Joanna Newsom. Newsom is an artist that clearly doesn't value restraint in the same manner that we do here, but I have to say that this is a good thing, because she is writing and creating music that is so unique and at such a high level that I wouldn't want any less from her.
Seemingly finding the middle ground between her more concise debut The Milk-Eyed Mender and her stunning sophomore record Ys, Have One of Me somehow feels restrained even as it clocks in at over two hours. Her wavering voice is still spellbinding and seems to magically wrap its way around her complex but engaging musical arrangements. The songs seem to unpack themselves more easily than the dense mania on Ys, in so much as 7 minute songs played on the harp can.  The record is best consumed as a whole, with each song skipping buoyantly towards the next.  Not surprisingly, an artist who makes 7 minute knotty pop songs on the harp isn't in the business of pushing their latest single. 
When the best starting point for a band is a 120+ minute, 3 disc set of new music, it speaks volumes to the type of performer they are.  Joanna Newsom clearly is working at her own pace with her own rules.  In a strange twist, the release of her album was met with a write up in the New York Times magazine, an article the all but calls her fans a cult and throws around the term "elfin" when describing Newsom.  I imagine the fame is not what Newsom imagined when she first started putting her cracking falsetto against her classically trained harp music, but it is a crazy world.  For all of the easy distractions Newsom provides, in the end the music on Have One On Me shows an artist consistently taking chances and seemingly moving from strength to strength. Her latest album is her strongest effort yet, which is no small feat when you look at her amazing output this far in her career.  Have One On Me is one of the most entertaining albums released this year and makes me excited to see where she takes her staggering talent next.
     -Josh