Best of 2015: Concerts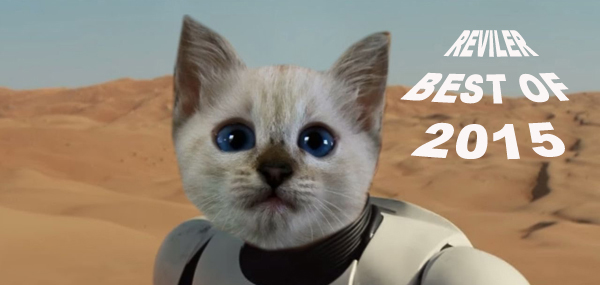 It's that time of year. Lists. You know the drill. Today we look back at our favorite concerts of 2015.


Jon, Reviler
1. The Soft Moon/Noveller at the Entry (Photos)
2. Colin Stetson at the Cedar (Photos)
3. Circuit Des Yeux and Marisa Anderson at the Entry (Photos)
4. AmRep 15 at Grumpy's (Photos) (Review)
5. VietCong at the Entry (Photos) (Review)
6. Kraftwerk at the Northrup (Photos) (Review)
7. Tinariwen at the Cedar (Photos)
8. Peaches at First Ave (Photos)
9. Olivia Chaney/Jacob Pavek at Northrup (Photos)
10. Seun Kuti/Babes in Toyland at RTG (Photos Part 1) (Liveblog)
10.5. Ibeyi at the Cedar (Photos)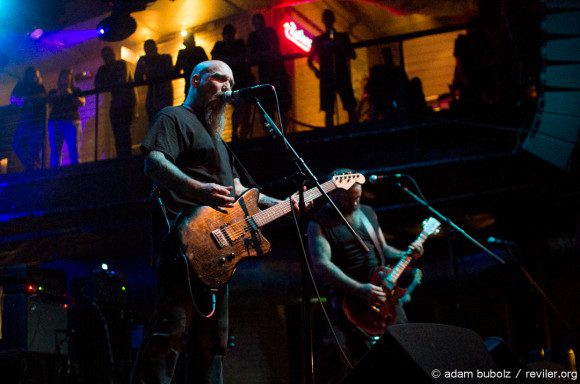 Adam, Reviler
1. Neurosis at Mill City Nights (8/1) (Photos)
2. FFS at First Avenue (10/9) (photos)
3. Electric Wizard at Mill City Nights (4/8)
4. Blind Shake & Swami John Reis at the Turf Club (2/19) (photos)
5. Earl Sweatshirt and Vince Staples at Mill City Nights (3/27) (photos)
6. Chelsea Wolfe at the Triple Rock (8/31) (photos)
7. King Gizzard & The Lizard Wizard at the 7th Street Entry (9/5) (photos)
8. Dead Moon at the Empty Bottle Chicago (7/10)
9. Soundset at Canterbury Park (5/24) (photos)
10. King Khan & BBQ Show at the Turf Club (3/9) (photos)

Michael Cyrs, @mjcyrs
1. Sufjan Stevens @ Eaux Claires Music Festival 7/18 (Festival Review)
Although Sufjan played full, peppy arrangements of "Come On! Feel the Illinoise!" and "Chicago" toward the end of his set, it was impossible to shake the void of heartbreak that "Casimir Pulaski Day" had generated before them. Since the set did end with him and his friend, one Bryce Dessner, singing along as friends would, I felt drawn closer to the ones I was with as we migrated over to Bon Iver. When we arrived, it was not Justin Vernon's chilling voice, but the new memory of Sufjan's that had me openly weeping on a friend's chest. I felt friendship, pain, loss, and love all at once. This remains the only concert I have ever wept for.
2. Titus Andronicus @ Triple Rock Social Club 10/9
It was unseasonably chilly on the West Bank when Titus unleashed a brutal two-hour set. By the time I left the club, I was drenched in sweat and my voice was about to give out with its newfound rasp. I sang along to every single word in the "No Future" series, and pushed and shoved my fellow fans in punk rock ecstasy. For a while, I had completely forgotten who I had even come with. Although my light rail trip home was frozen and mildly painful, I grinned from ear to ear knowing that Patrick Stickles' poetry and rock energy exist; and that he and his band would be putting it onstage again the following night.
3. Joanna Newsom @ The Fitzgerald Theater 12/17
This concert was a just a handful of days ago. I have not yet stopped humming, whistling, and glowing with the reserve energy that Newsom and her band created in that little theater. Divers is a gift to me and to music, and the performance was an extension of that gift. Like receiving coffee after you've already had cake, the depth of creativity and storytelling she continues to deliver still takes my breath away as Ys did back in 2006.
4. Death Grips @ First Avenue Mainroom 6/27 (Photos)
Up there in the front row, all bug-eyed and cramped, a weight was lifted from me during Death Grips' 23-song set. I barely remember it actually happening (except yelling the lyrics to "Anne Bonny" at a complete stranger). What I do remember is what happened afterward. I felt my body at its most spent. MC Ride and company had turned me into a blank slate, and they didn't even need an opener. Bless them.
5. Deerhoof @ First Avenue Mainroom 3/15
If you have to ask what a Deerhoof show is like, I just feel bad for you. Go see one.
6. Battles @ First Avenue Mainroom 10/3 (Photos)
This concert made me suddenly aware of my extremities. In particular, I could feel the muscles of my neck, and how they far they could stretch and bob beyond my shoulders. I'll never forget the visible sweat on drummer John Stanier's face and clothing; or the flawless transition from undecipherable groove into "Atlas:" a song that was rendered more viscerally and flawlessly than I could have ever expected.
7. Viet Cong @ 7th Street Entry 3/12 (Photos) (Review)
I was that guy in the front row, doing full body head-bobs for the entirety of "Death." They opened with two songs from the "Cassette" EP, an album that I have cherished for years. It felt like they had been waiting for me to be there to perform. Also, Women were an amazing band, so it was as if Viet Cong were fulfilling some long forgotten promises with that group's remaining vestiges.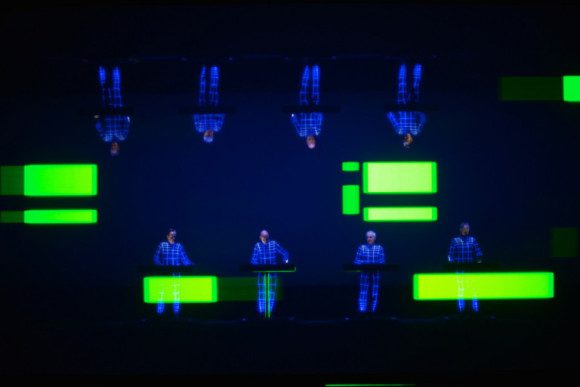 Josh
1.Stevie Wonder at Target Center
2.Kraftwerk at Northrup Auditorium (Photos) (Review)
3.Swani John Reis and The Blind Shake at the Turf Club (photos)
4.Viet Cong at the Entry (Photos) (Review)
5.Holly Herndon at the Walker Art Center (Photos)
6.Shabazz Palaces + Zuluzuluu at Fine Line (Photos) (Review)
7.Amp Rep 15 at Grumpys (Photos) (Review)
8.Naïve Sense at Nicollet + Uranium Club at Turf Club (same night different shows, combined because I went to both)
9.Jon Spencer Blues Explosion at the Turf Club (Photos)
10.Moon Duo at 7th Street Entry (Photos) (Liveblog)
Honorable Mention: Drone Not Drones II (Photos) (Liveblog)