Live Review: Gayngs at First Avenue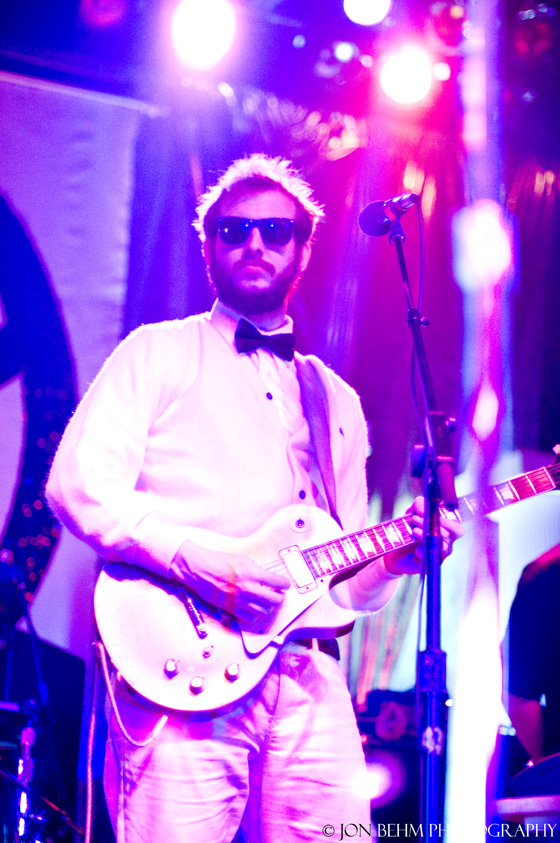 In Europe, they differentiate between a holiday and a vacation, the big difference being one is more laid back and the other involves frantically seeing all of the sites. There isn't a right or wrong way to do it, but if you want to get up and see the sites at 7am and I want to hit the Euro-trash clubs until 5am, we probably are going to not see eye to eye. I think there should be such distinctions between concerts and events. In my view, a concert is where you go to see music being played. An event is where you go to be seen and to be part of an experience, quite possible with some live music throw in. The Gayngs show at First Avenue Friday night most definitely fell into the later category, which was a shame considering how much talent congregated on First Avenue.
With the band using the final song, "Last Prom on Earth," from their debut album Relayted as a theme, the well lubricated crowd was more than willing to doll themselves up to see and be seen. The problem with this is that it only served to bring many people among the sold of mass of prom attired people who were more than willing to talk throughout the show. Unfortunately the band didn't really do too much to counter their desire to talk about their outfits or how stylish the men and women in the band looked. With 24 people making appearances at various moments, the show unsurprisingly uneven. The main band featured Gayngs architect Ryan Olson along with members of Bon Iver, Ivan from the Rosebuds, Sold Gold and Megafaun serving as backups. The group sounded loose (almost to excess) and funky throughout the set and made the evening seem like one big sexed up jam session. One of the unquestionable highlights was the sexy funk of "No Sweat," which featured Stef Alexander of P.O.S and Dessa of Doomtree, which found the band focused and tight and really showed how great they could sound.
The whole show was pretty good and was definitely an experience. While this obviously was what many of the people in attendance were looking for, I will admit being more than a little let down but the whole event. Having so many talented musicians on stage seemed like a once in a lifetime opportunity, but the whole shtick of the evening wore thin quickly and ended up making me feel like I was watching a missed opportunity surrounded by people who were in the same building as me, but for much different reasons.
     – Words and Video by Josh Keller, Photos from Jon Behm (Full Photo Set HERE)