The Smoking Rolo Sideshow: Rocket Silence Review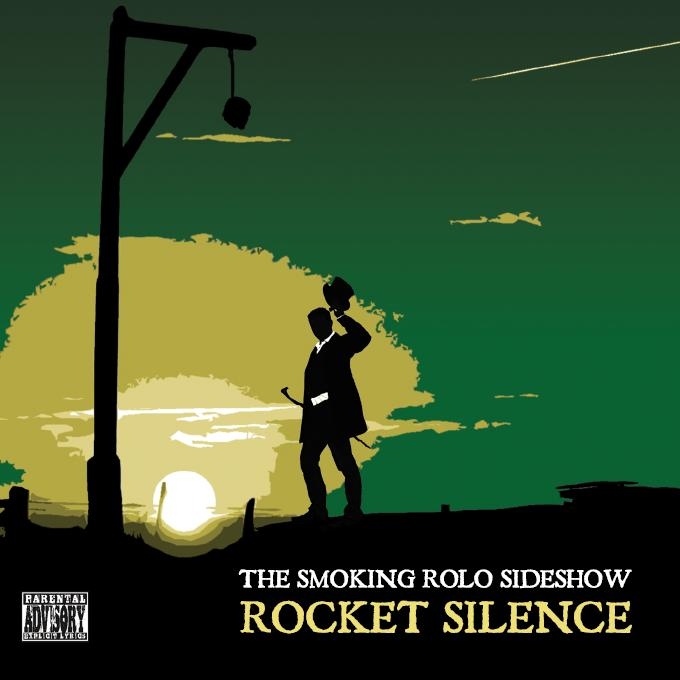 78/100
The Smoking Rolo Sideshow are a British band that are adept at mixing high brow, tongue in cheek lyrical and musical stylings with some good old fashioned rock and roll.  While this paring could come across as trite or overtly scattered in some hands, the collection of musicians in the group, led by Ben Greener, never let that happen.  On their latest album, Rocket Silence, the group continues where their debut album, Mucho Mojo Baby, left off in meshing together Queens of the Stones age like riff rock with some more abstract, wide eyed acoustic jaunts.
The album starts with the serene track "The Protagonist Reflects on Day of Zero Cool Amidst Foreign Shore," a track that represent the gentler side of the album. The next two tracks are album highlights "Courage Being Merely Action Regardless of Circumstance," which features the sweet, charming vocals of Zita Frith and "My Strange and Beautiful Escape," which sounds like the best of the 90's rock packed into just over four minutes of charging guitars and driving rhythms.  Other highlights include the pummeling guitars of "A Human Pyramid of Potential" and "Un Bolo De Ganare El Mundo," the bass driven "Dig" and the album closer, the Zeppelin III like folk driven stomper "Go."
The songs on Rocket Silence bob and weave among many different genres and sounds, but are all held together by a unifying theme of having of good songwriting, which is always tough with multiple songwriters and band members. With so many bands creating a strict sound and not deviating from it, albums like Rocket Silence, which traverse such a wide range of influences, allow for a unique experience. No matter if you don't like any given song, the album is diverse enough that you will surely find the next song will fit you better.  Where many bands fail despite their lack of risk taking, one of the reasons Rocket Silence is such a success is that it is unafraid to take chances, with excellent results.
The Smoking Rolo Sideshow- Courage Being Merely Action Regardless of Circumstance
     -Josh