Pitchfork Music Festival Day 2: Josh's Take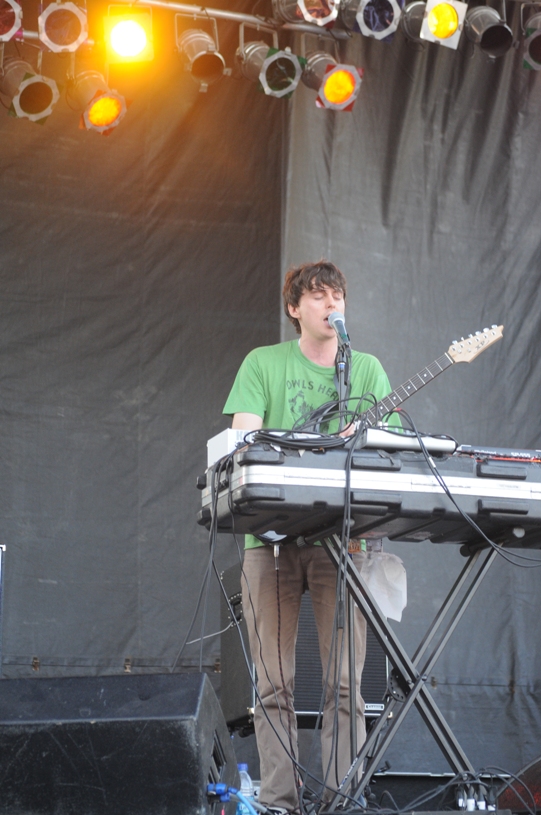 Day two at Pitchfork started off much better than day one for one simple reason….the alarm didn't go off at 4:30 am. It also didn't hurt that the day featured a great mix of new artists I hadn't seen and some of my favorite acts currently performing.
The day began right at 1pm in the blistering midday sun, shortly before the crowds really started packing Union Park. The first group I saw was Netherfriends, a Chicago group that played anthem, almost Animal Collective tinged indie rock. Their songs were bright and their vocals were nicely polished and they were a good way to start the day. They also represented the last time my T-Shirt wasn't soaked through with sweat for the subsequent 10 hours, but that is neither here nor there. Playing at the same time as Netherfriends were former Minneapolis dudes Free Energy, who have that sound that seems tailor made for a festival. The tracks from their debut record record Stuck on Nothing were well represented throughout their upbeat set, with a new song and the excellent B-Side "Something in Common" thrown in. The best part about their set was that you could tell that the people who hadn't heard the band before were digging the band right alongside the older fans.
Up next was Real Estate, a band that I have been wanting to see for a really long time. Their breezy, reverb drenched chill rock sounded great, even if their songs about pools and beaches weren't able to compensate for the brutal fucking heat that was beating down on the crowd. I took a quick break to the side stage to see Sonny and the Sunsets and their rustic rock and soul sounded pretty good, but I really didn't want to miss to much of Real Estate. Next up on the main stage was the Spain based dance rock Delorean, whose tried really hard to pump up the crowd, but at least around me the people seemed a little underwhelmed. I heard the song I wanted to hear from Delorean ("Stay Close"), so I headed over to catch a little of the freaked out classic rock of Kurt Vile. I was more than a little surprised when I first saw the woman playing harp up on stage. Songs like "Freak Train" sounded a little thin with the harp replacing another guitar, but Vile is always pretty fun to see live. He had his usual hair over his face, churning guitars and spaced out vocals going, so even though it wasn't the best set I have seen by him, it still was pretty good.
After Kurt Vile, Titus Andronicus spent the next hour or so melting the faces of the pretty big crowd gathered by the C stage. They played a lot of the material from their excellent new album the Moniter, including the great track "No Future Part Three," which featured the chanted chorus of "You will always be a loser," which was one of the most captivating moments of the day.  Their manic energy and great roots-y punk songs helped to make their set one of the very best of the day.
After the emotion whirlwind of Titus Andronicus, I caught a little bit of both Dam-Funk and Raekwon, both of whom were OK and seemed to get their respective crowds going (especially Raekown, whose hypeman didn't miss a chance to hype the Wu Tang Clan). Chicago was actually pretty well represented this weekend, and so far by none better than the young dudes in The Smith Westerns. Their garage rock meets glam sounded a little brittle live, but you could hear and see the potential. Starting off with "Imagine Pt. 3," the 4 piece tore through a fun and spirited set that included future hits "Be My Girl" and "Girl In Love." The old timers of the day were represented well by the old Jon Spencer Blues Explosion (now without the Jon Spencer). The three piece was energetic, wild, guttural and raw and really tore through their excellent set. I was in and out watching it, but the grizzled vets tore through their blues rock set of classics with the kind of reckless abandon that some of the other bands on the bill could learn from.
After all of this, there was the trinity of indie bands I love that closed out the night. For the price of admission, I would have been perfectly content with a Wolf Parade-Panda Bear-LCD Soundsystem bill. These three bands have put out some of my favorite records of the last few years, and their live shows proved to be the highlights of the day. Wolf Parade, with Spencer Krug's manic keyboard driven songs and Dan Boeckner's more direct guitar anthems, played a rollicking 60 minute set, which culminated with a take on their epic track "Kissing the Beehive." Panda Bear is one of my favorite artists, but even I would be lying if I said he was especially engaging in the live setting. It didn't help that he was playing almost all new material from his upcoming Tomboy LP. While it all sounded great (and was nicely accompanied by some tripped out videos), I think it lost some context in the live setting. That was not the case with LCD Soundsystem. The crowd for the headliners was large and boisterous, and the band did not disappoint. Starting off with "Us v Them," the group played a stirring 80 minute set that had the crowd dancing and singing along throughout. "All My Friends," "Daft Punk is Playing at My House" "I Can Change," "Tribulations," "Losing My Edge," set closer "New York I Love You"….actually, every song was great. Shows like their set Saturday night make me hope that James Murphy isn't being honest about retiring LCD Soundsystem.  While there were more than a few people who were such incredible dicks that it almost defied logic, once the songs started going it was one of those experiences where the whole crowd seemed to take in energy from the band and the band seemed to take in energy from the crowd.  I can only hope Pavement is as awesome.