The Tribe & Big Cats: Forward Thinkers Movers Shakers Track By Track Breakdown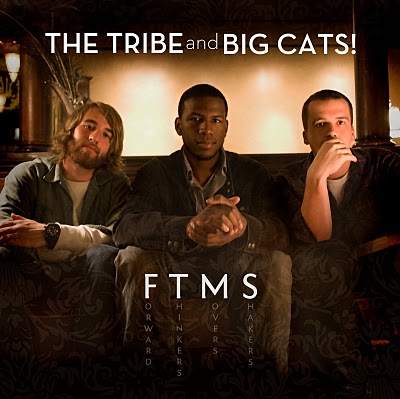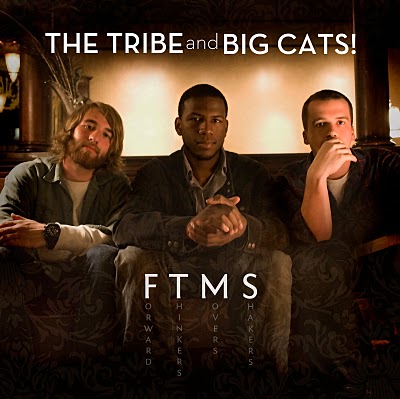 The Tribe & Big Cats consist of DJ Pete, Big Cats! and Truth Be Told.  This early in the year, they have put together one of the most cohesive and well spoken recorded documents in the local scene with their new record, "Forward Thinkers Movers Shakers".  Here in this interview, Truth be Told, DJ Pete and Big Cats! break down the record piece by piece.  Thanks again to all the homies for their help in piecing this interview.  Read on!
     –Ali Elabbady (Background Noise Crew, Egypto Knuckles)
 1) Breakin' Down The Walls
Spencer: That beat is all MicroKorg, except for the drums. We had been stuck on trying to find an intro track for the album for a while. I sat down and started remixing a Lil Scrappy song one day, and about half way through it, I realized "hey this beat is dope. We need an intro for the album. We don't really need a Lil Scrappy remix". Oh kay kay kay! We also filmed a music video with Isaac Gale for this track. There are girls in bikinis, lumberjacks, box Chevys and more. You should check it out.
Pete: When we were deciding on which track would be best for our debut video it was between this song and I Came I Saw. We eventually came to the agreement on this track and filmed an insane video with Isaac. During the filming, Chris swung an axe into his foot, i got punched in the face at the bar (not apart of the video) and Spencer electrocuted himself on accident. We are apprehensive to film a second video.
Chris: I wanted to start the album out with a song that would make people either hate us or love us instantly. After hearing Spencer's LIl Scrappy remix i knew this beat would be perfect. I wrote the first verse at home in the bathroom drinking peace tea, the second verse at Waterbury Studio, and the hook right before i recorded the song… after all that Blam! you get a dope track.
2) Early Morning Part II
Spencer: This is the only beat on the album that Pete and I made together. Pete was at my place, we were bored and decided to filp a sample that sounded like it could have been from Megaman. Two producers, couple energy drinks, maybe some donuts. Make heat. Chris wrote a couple of my favorite verses to it.
Pete: Like Spencer said, this is the only beat on the record we made together, in the same room. At the time i was listening to the Drake song "Miss Me" and thought that the snare pattern was dope. I showed the track to Spencer and he agreed, so we decided to use a similar drum pattern and pitched up the sample. Chris came real correct on the verses and a banger was made.
Chris: Pete gave me the idea of naming the song "Early Morning Part II". It felt like a darker continuation of "Early Morning", which was on our Supply and Demand EP…. free download so go get it. Anyways this was Probably the hardest song for me to write. Around the time i lost one of my good friends, and i know Spencer and Pete were dealing with loses of their own. I wanted to write a tasteful song in remembrance, and i think i did a pretty good job with this one.
3) Empire States
Spencer: In case you didn't know, Sundance Kid is a beast. Right after Chris and I met him, we were lucky enough to have first pick of his beats. Obviously, we took this one off his hands. I reworked it a little, adding the lead synth and some sub bass. One of my favorite tracks to play live.
Pete: When i heard this beat by Sundance Kid i was absolutely amazed and inspired, i almost broke my neck when the verse dropped. He's been a welcome addition the The Tribe & Big Cats! camp, get familiar.
Chris: I met Cliby (Sundance Kid) at a party in uptown. He came up to me and told me that he made beats. I quickly looked at him and thought, this lame dude doesn't make beats. Now he's like my little brother and his style is crazy good. As for the song, It took me about and hour to write both verses and I randomly came up with the hook while I was standing in the recording booth. This song kicks you in the face and spits on your new shoes… very straight forward, "Shit goes hard"
4) I Came I Saw
Spencer: Mostly MPC and MicroKorg on the beat. This is a sample that I originally chopped up for the LRB production set at Soundset this summer. We ended up not using it, so I hoarded it for myself. The first time the drums kick in is the dopest 2 seconds on the record. Hands down.
Pete: I came I saw is one of my favorite songs on the record, and also one of my favorite beats from Spencer. I feel like this one draws a connection from his Sleep Tapes record to his style of production now. This is also one of my favorite songs that Chris has written as well, I can hear his progression from his earliest recordings until now. For me this is a very reflective track, and I'm proud of my band mates.
Chris: This song is like an autobiography of my life. A truthful story that also makes you want to dance. For some reason this beat reminded me of people dancing in a Soul Train line. How dope would it be if someone was rapping in a Soul Train line… Its a cool idea for a 3rd music video… maybe?
5) Bangin Ya Head
Spencer: Aye Yo Pete on the beat. I just added some more bass, haha. Funny story about this track: We hit up Planet Asia to feature on the record and he chose this beat. He then proceeded to write a 12 bar verse to it. I guess Cali weed really is better, haha. The 12 bars he had were so dope that we didn't want him to rewrite it. Instead we just edited out 4 bars from the first verse.
DJ Name on the cuts.
Pete: When i made this beat i wasn't feeling it originally, but Chris really liked it so i tossed it up to Spencer to see if he had any ideas. He added a much harder kick and made the verses more melodic, it totally changed the vibe of the track and made it a banger. I contacted PA and Phil about contributing to the album and both dudes were loving the track and put down super nice verses, they go "harder than double algebra."
Chris: When this album is released and goes triple platinum the first month, The Tribe and Big Cats! will franchise an expansion basketball team called "The Oakland Jungle Family". This song will be the teams theme song and warm up music.
6) FTMS
Spencer: This is the very first track that we did for the record. Aye Yo Pete on the original beat. I came through and reworked it, added the melody on the chorus, etc. Made the drums sound like someone banging on a garage door. Ab killed the hook, and his verse.
Pete: This song was made back in early 09, before we had even recorded the "Let's Be Professional" Mixtape. FTMS almost landed on that project as a matter of fact, but we held onto it because we thought it was album material. I think Ab's verses and hook are befitting of the title track, plus he is one of the nicest people to work with.
Chris: We wanted to make an album that would speak to all types of people. Forward Thinkers being college kids, movers being the working class, and shakers being the people on the streets getting money however they could. I felt like this song did a good job at bringing that all together, plus Ab Rude came correct with the verse.
7) Roll Out!
Spencer: Fun fact: I originally made this beat for Ice Rod when I was 20. He didn't like it, haha. 3 years later, I remade it and blaow! it's on our album.
Pete: When i heard the hook i laughed out loud because i was so happy that Chris finally embraced his inner DMX. If you ever get a chance and are willing to buy him a drink in exchange; ask him to do his DMX impression, you won't be disappointed. I love this song.
Chris: This song should offend a few people… and if it doesn't I should have made it more fun! The chorus on this is by far my favorite on the album..
8) Young Bold and Brown
Spencer: Brandon Allday, adlib king. This song was one of the earlier ones written for the album. Pete on the beat. Nice simple banger with plenty of room for Chris to tell it like it is. I really like how Brandon's parts turned out. I think he really tied the whole song together. He makes a couple of secret guest appearances on other songs. 10 points if you find them.
Pete: This beat was originally made for the Fresh Daily "Video Gamin" remix contest, but didn't get chosen. I think that dude is super nice and hope that we can work together in the near future. Anyways, I feel that this song is some of the more serious material on the record, it tackles some important issues with the scene playfully. Also i can't say enough nice things about Brandon and Big Quarters, i hope anyone that supports our music also supports theirs. They are a great inspiration to us.
Chris: For those who know me, I am a very opinionated person. Sometimes it comes off to make me sound like I'm shit talking. I wrote this song when I was pissed at how the Minneapolis rap scene was molding itself. Plenty of black rappers with a great deal of talent that get overshadowed by more "household friendly" rappers. This song expressed how I feel without offending too many people. On a lighter note, it is impossible for Brandon Allday to sound bad on any song.
9) Blunt Raps
Spencer: This is one of my favorite beats that Pete has ever made. It fits Phil perfectly too. I'm very happy this found a place on the record. Pete on the sample, drums and general arrangement. I did bass and keys.
Pete: This song has my favorite chorus on the record. Spencer arranged the beat for it, and Chris wrote it. I think it is one of the more progressive sounding hooks we have ever done. Phil Da Agony has also been an important part of the process for this record. He has been down since i first contacted him. There may also be a project in the future involving Phil and The Tribe and Big Cats!.
Chris: If you are a rapper and you dabble in the occasional usage of marijuana, you should have a weed song on your album. I never expected this song to turnout like it did. When we started recording songs for the album Pete really wanted to have a song called "Blunt Raps". After hearing Phil's verse, i knew this song would fit that title. It took me about 30 seconds to write the hook, and there you have it…
P.S: Shout outs to Peace Tea, Zig-Zags, and donuts
10) TacosNetflixHuluWater
Spencer: Just some lighter, funnier stuff before the last few tracks. Ladies: the views expressed by TruthBeTold do not necessarily reflect those of The Tribe & Big Cats! as a whole. Big Cats! is not responsible for anyone offended by this song. "She want that Gucci, Fendi, Bently, Prada. She gets tacos, Netlix, Hulu and water". Man, I can't even explain how hard I laughed the first time I heard that line. Chris was recording his verse, and we were both in the control room, because the vocal booth wasn't finished yet. I messed up his whole take because I burst out laughing when I heard that line.
Pete: All I have to say is Tacos, Netflix, Hulu, Water. Best line ever.
Chris: Spencer showed me the Remix to that Beamer, Benz, or Bentley track by Lloyd Banks. I really wanted to make a remix to that song. Yes a remix to the remix, on some R.Kelly type ish… but anyways. I came up with that Tacos, Netflix, Hulu, Water line and went on from there. To any female that has hung out with me expecting a little bit more then hanging out and ended up with Netflix or Hulu movies, late night runs to taco bell or water instead of some lovin, this is for you… Enjoy!
11) Brick In The Wall
Spencer: When I'm putting together the final track order for an album, I like to think of parts of the album as song suites. These last three songs are like that on this record. Up to this point the album has been fairly upbeat, in your face, equal parts serious and fun. Starting with this song, it takes a turn towards a more laid back, contemplative feel, without losing the energy of the earlier songs. It was a blessing to have Toki and Mally get down on this one. Toki drops some serious wisdom in his verse.
Pete: Spencer broke down this beat for me in the studio and i encourage that everyone pay close attention to the drum tracks, they are nuts. I was in the studio when we asked Mally to put a verse on this song. He recorded it in one take and laid his ad-libs in one take, absolutely amazing, everyone needs to be up on him. Between Mally, Chris, and Toki, i can't pick a favorite verse.
Chris: I recorded my verse around the time we recorded "Let's Be Professional". We must have recorded 3 or 4 different versions of a hook and they were all horrible, so i said fuck it! we had a dope beat and three amazing rappers. we already had a hit, lets not make it anymore complicated.
12) Take Me Home
Spencer: To me, the second to last song on a record is more important than the last one. It needs to wrap everything up and sort of resolve everything mood and content wise. It also needs to set you up for the last song. I think of the final song as more of an end credits type of thing. Alicia Steele put it down on the chorus. That lady's incredible. Amazing voice, dope person. She brought the whole song up a level.
Pete: This ended up being one of my favorite songs on the record, because of the bass line that Big Cats! added, Alicia's beautiful voice and Chris's carefully considered verses. This was also one of the first songs we finished for the record. 
Chris: This song never gets old. i was super excited because originally i sang the hook. I am by no means a singer but i love doing it. Spencer and Pete then had the amazing idea of getting a real singer to outshine me. Alicia Steele really made this song complete. her voice is amazing and this is probably one of the better songs i have ever written.
13) Get It Movin'
Spencer: This song made the album as a last minute addition. I was over at Chris' spot one day and he was like "Cliby (Sundance Kid) gave me this beat. I think it should be the last song on our record." He played it for me, and I was immediately on board. I felt like it was missing something though. I brought it over to the studio and basically started remaking the beat. I kept Cliby's chops and drum patterns but redid the bass, played guitar, played keys. Eric Blomquist (our engineer) played saxophone, our friend Haley Fleming played violin, Mike Ries from Dragons Power Up! added some live drums, the homie Ben Peterson (Sing It Loud, Epitaph) sang the hook, Claire Taubenhaus and Chris Tures (Dragons Power Up!) sang some backing vocals. There's also a track of Chris singing the hook in there. We auto tuned it and pitched it up an octave. It might just be because it's the newest, but I think this is my favorite track on the record.
Pete: I've been going to school at UW-Stout and living in Menomonie, Wisconsin for the last 4 years. In those for years I've meet a lot of amazing people, but not more than Ben Peterson. For the past three years he has been playing keys for the band Sing It Loud. Since we met and became close friends he has helped push The Tribe & Big Cats! with any outlet available to him, he is a true friend to me and to us. We were stoked to finally have a song together and i sincerely hope that you all enjoy it and support him and Sing It Loud. Thank you to everyone involved with this song and this album, we love ya.
Chris:This song was a perfect way for us to wrap up the album. We got all of our friends together to contribute, from singers in different groups to vulgar talking saxophone players, and hippy violinist. FTMS to us has been way more then an album title. We want to make music that brings people together, and we felt the song "Get It Movin" was a perfect portrayal of that.
And there you have it, the album… go listen to it over and over. Tell your friends,  The Tribe & Big Cats!
Check out The Tribe and Big Cats!' record release party tomorrow (1/21) at Cause
The Tribe & Big Cats!:           Site
.