Tim Hecker: Ravedeath, 1972 Review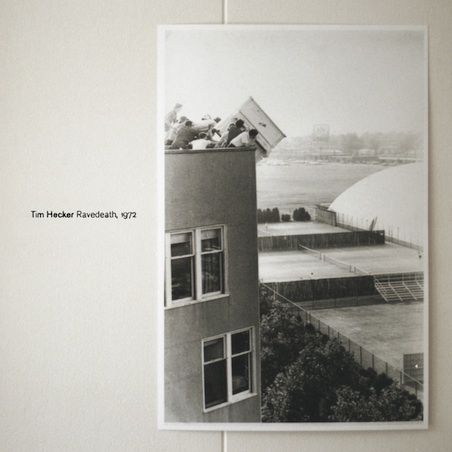 85/100
In 1972, a group of students pushed an upright piano off the roof of Baker House, a dormitory at the Massachusetts Institute of Technology, more commonly know as MIT. The 500-pound instrument plummeted six stories before crashing into the pavement below. The destruction commemorated a periodic benchmark every assertive student intuitively celebrates: the drop date, the last day one's able to withdraw from classes. When the MIT students perched the piano on the edge of Baker's roof, they were unintentionally demonstrating a scientific principle every freshman physics student–assuming they didn't drop out–has grappled with. Potential energy. When an object is poised to fall or volley unexpectedly, it possess a high amount of energy just waiting to be unleashed, despite its calm appearance. Such is the case with the dronescapes of Quebec-based sound artist Tim Hecker, who begins his sixth and latest album, Ravedeath, 1972, with an artful, floating piece of ambience named after the annual MIT piano drop.
Like the interminable instant during which the piano was between states of rest, Hecker's cathedralesque electronic drones exist in between moments, unfolding in achingly slow motion. Using organ-like tones, generous helpings of dissonance, and unobtrusive elements of modern classical, the songs mutate from one nameless form to another.
Experimentalism is no stranger to formal ambiguity, but Hecker takes the sentiment to its extreme. Rhythms are farcical or misleading. Ravedeath, 1972 has one–and only one–percussive beat and it comes during "Hatred of Music," about halfway through the album. He's equally noncommittal to ideas of melody. Often starting enthusiastically, with crisp piano tones or undulating synths, the notes collapse like deflated, joyless balloons. Hecker's most consistent methodology, perhaps the only element that binds the music to itself, is an exploratory juxtaposition between guttural bass hums and high tones. This is best rendered on the three-part outro, "In the Air," which features fellow sound artist Ben Frost on piano. Frost subtly and emotionally punctuates the bed of hissing static and pseudo-choral embellishment.
This is a patient album for patient people. It will writhe, fold, and uncoil itself as long as you let it, and leave you without answers. Ravedeath, 1972 is a good album for when you aren't sure if you should fall down or fall up, or just stay put forever.
Will Wlizlo (Utne Reader)
Tim Hecker:          Site
.