Wunky Zine Interview with Red Pens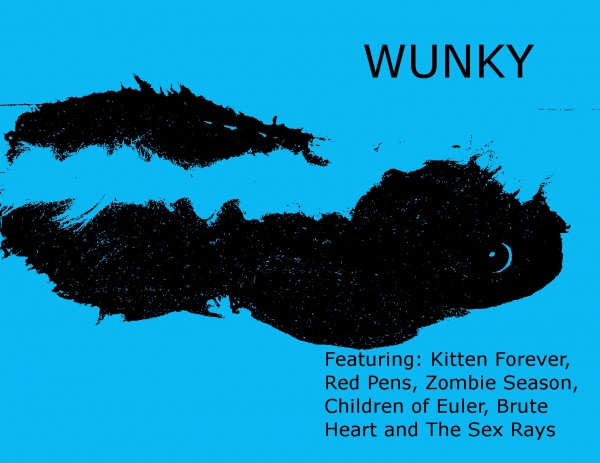 Wunky Zine is a just released local zine that features interviews conducted by former Sharp Teeth frontwomen Erica Krumm with various local bands.  There was a release show recently to celebrate the completion of the Zine and you can now get your very own copy at Treehouse Records and Extreme Noise.  Erica was kind enough to share the interviews with us, so if you enjoy what you read this week as we roll out the interviews, make sure to support our local art scene and pick up a copy. For updates check out the Wunky Zine Facebook Page.  Today we have a chat between Erica and Red Pens.
July 5, 2010
A hot summer night. Met up with Laura (drums) and Howard (guitar and vocals) of the Red Pens at their cool  and cozy, art filled Minneapolis home. Always very hospitable, we sipped cold beers in their vinyl kitchen booth and talked about music, good luck charms, and advice for new bands.
Erica- What are the biggest advantages to being in the Minneapolis scene?
Howard- I think it's a really small city, it's a good place, easy to get gigs. If you were in NY City it would be really hard to get a gig. This town has had millions of indie bands over the years, there's tons of practice spaces, gear stores, companies…
Laura- There's definitely a plethora of venues for all kinds of music styles and bands. It's easy to meet people, anywhere you turn there's a venue, a music shop, a place to practice.
Erica- How do you guys feel that the music scene has changed?
Laura- I guess I see more people getting comfortable, and not just us, but you know, some people are going solo and if they can't find a drummer they get a kick ass drum machine or a two-piece, three piece, four piece where they all change instruments. I see people really trying to find a way to make it work even if they have to tape the car together for a night to drive to a gig. It's really cool to see how seriously people take it.
Howard- I think I saw, ten years ago, a surge of bands that were more using backing tracks or not very guitar oriented, and it seems like there's been a lot more guitar oriented bands. Ive noticed a lot of older people trying to make a comeback.
Erica- What bands do you listen to, to get in the mood to play a show or go to band practice?
Laura- There's a lot, but lately, for quite a while, gotta say The Fall or Guided By Voices, and well, there's a lot of things that Howard has introduced to me, um, Tame…
Howard- Tame Impala?
Laura- Yeah, like things Howard introduced to me recently, where I was just like, "O.k. wow,  thought Ive heard everything I love and so I'm adding that to the list of things." We'll see how many songs we can listen to in the car on the way to practice but if we run out of time, I'm just like, "Can you play The Fall?"
Howard- I listen to Gang of Four, Entertainment. I'm gonna listen to that right now!
Laura- Yeah, the last time he made fajitas he was blasting that. I like when Howard cooks. He blasts music from the kitchen and then I'm out here doing funny dances.
Erica- If you had to choose, would you rather play a wedding or prom?
Laura- High school prom for sure.
Howard- Yeah.
Laura- There's a lot of kids grabbing instruments and learning. Just going to fair grounds and things where you see kids 10-15, the way they watch a band, it's fascinating. Weddings scare me in general.
Howard- Weddings scare both of us.
Erica- Sometimes they are scary!
Laura- I would kind of feel really bad if I was trying to get the parents of the bride or groom to dance to something that was breaking their champagne glasses.
Erica- Do you have any good luck charms, superstitions, things you have to always do before a show?
Laura- I try to stretch out to stay limber. I always have a bottle of water with me, but I carry certain things with me for good luck charms. I have my dad's sweater… It's inside the kick drum since we started playing. I was looking for things to put inside the drum to mute it and I was like, this is a good luck charm, It's my dad's sweater, he loved music, he introduced me to a lot of music that got me into music. Like Roy Orbison, and The Rolling Stones, and CCR. I don't have a lot of his stuff left over and I was like, "Hmmmm I think he'd want to be in this."
….I usually have this lucky pen in my purse and that's about it for me. Howard?
Howard- I have a million things. I have some stuff in my guitar case, that has to be there, like little trinkety things that kind of have to be there.
Erica- Are they guitar related or…
Howard- There's a big crystal in there. I've played the guitar with it before but I try to take it out to make room cuz it's kinda big.
Erica- It's a gigantic boulder?
Howard- Yeah, Yeah. I have to put it back in there.
Laura- I really want him to take it out so I can have it.
Howard- I feel really weird when I re-arrange stuff that's in my cases, try to take stuff out, I always end up putting it back in there.
Erica- What advice would you give to a new band just starting out?
Laura- Be very patient for a long time. Take everything you can get that's on the threshold of driving you nuts, try to take it…Save your money, find as much reliable sound gear you can, before it falls apart. (Laughs) Just talking about my experience. Practice and play as much as you can because that's the stuff that makes your playing better. Even if it's not what you want to do at the time. The more you keep at it, you'll get rewards coming back to you in many forms. You won't even know it until it happens. Stick to it. Don't stop.
Howard- I think my advice would be, if you are starting a new band and you didn't know anybody and you were young or something, just start going to the exact places where you plan on playing and see a lot of new bands that are just starting out, so when your ready to play out, those bands that you saw when you were getting ready to play out, are moved up a little bit, and make friends with them. So your not asking random strangers to play with them. People will send me e-mails or something and say, "How do you get press?" We don't really have an answer ever, and they are really surprised that we don't have an answer, and you know, I think that if you can really get behind what you're doing, then it should come totally naturally. So my advice is that if you're not really able to get behind what you're doing and you don't even know if it's good yourself, then you're not going to have any luck. You gotta be…
Laura- But you want to still be involved, it's still in you, then find where it is. It's somewhere. If you want it so bad. I thought just when I wanted something so bad, I felt like, I guess I could be discouraged right now, but I just knew it was a little bit longer of a trip to find it, and I was like, "Ahhh, here it is!" It took a long time. So my advice is, if you don't have it by the time you're seventeen or twenty one, it's like, life first started like between twenty five to thirty five for me, so just when I thought I kind of tried everything, you get this whole new motivation… even like yesterday.
Howard- If someone asks, "How do you get shows or get press," I would just say, you make a really good record that you believe in. If you can't do that, if you can't say, "Our record is really good," if it's just a documentation of your band, then it's only as good as you think it is.
Erica- What is your spirit animal as a band?
Laura- It's funny, we can't decide on what animal.. if we could own one we always have a totally different sort of dog we'd want.
Howard- I'd say our spirit animal as a band would probably be a squirrel and if it was an individual spirit animal situation, I would definitely be an owl and she would definitely be a raccoon, I think.
Laura- Awww, I want to be a dog, but yeah, raccoon is pretty accurate.
Howard- When we get together we sort of form a squirrel.
Laura- Yeah. A squirrel is always like, "I know what I want, oh there it is." Survival instincts. It annoys people at times, it's kind of where it shouldn't be at all times, might wreck your siding on your house.