Explosions in the Sky: Take Care Take Care Take Care Review (Three Takes)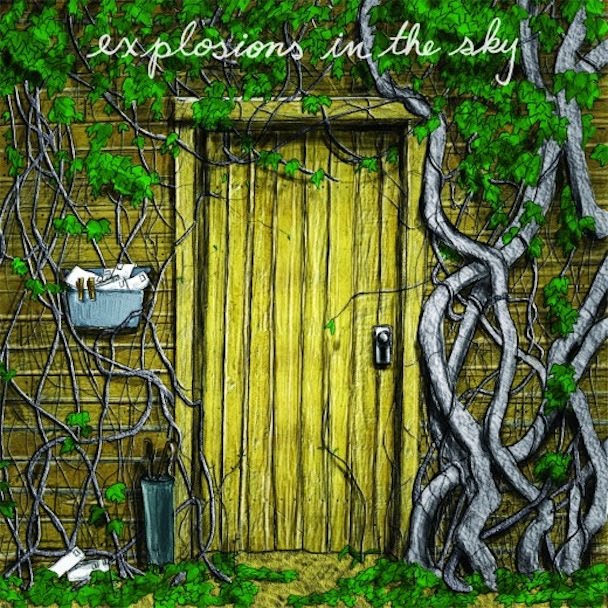 It can be difficult to gain a balanced perspective on an album after reading a single summary of the music. Bias can tilt a review, as can personal taste, history and just about everything else that is unique to the person writing it. So in an effort to offer an expanded perspective in such a medium, here are three reactions, three impressions, Three Takes on the Take Care Take Care Take Care by Explosions in the Sky.

Will Wlizlo (Utne Reader)
88/100
Although I expected the forthcoming Explosions in the Sky album, Take Care, Take Care, Take Care, to be an hour of thundering mediocrity and predictable crescendos, I was instead treated to six tracks of meticulous craftsmanship, lushly cultivated atmospheres, surprising instrumentation, and (I suppose) a few predictable crescendos. For a band that I had thought had passed on to a cold dead place, Explosions' sixth album (if you don't count the Friday Night Lights soundtrack) throbs with the rosy-cheeked conviction and impassioned artistry of a blossoming new band.
The change is noticeable almost immediately. Take Care opens with string loops and an eerie vocal sample and progresses with the loose swagger of a spaced-out jam session—totally uncharacteristic for a group that cut its teeth on staunch instrumentalism and tight, clean, highly structured compositions. Later, clarion bell peals, drum tracks, and toy box grooves round out the blitzing guitars and automaton percussion you'd expect on a post-rock album.
My favorite track by far is the borderline rhapsodic "Postcard from 1952." Punchy drums and jubilant piano collide with guitars that sparkle like a swarm of fireflies—the impact catalyzes a soul-wrenching climax. The strength of the song, however, isn't the band's pure output of noise, but rather the thoughtful presentation of many simple melodies in concert. In other words, the band does what it does best: sublimate the mundane.
The first time I heard Take Care, I was using it as a soundtrack to Alone in the Wilderness, a vintage DIY-documentary about a rugged old man who builds his own log cabin by hand in the Alaskan mountains. He hews lumber, shovels out a foundation, forages for berries, and fashions tools with nothing more than his cunning and wiry biceps. Although I didn't connect them at the time, I think the man's small acts of abandonment—of convention, of modernity, of complacent living—perfectly correlate with Take Care: Explosions in the Sky have crafted an album that forsakes knee-jerk post-rock, employs a more diverse toolkit, and channels grace through austerity.
Jon Behm (Reviler)
72/100
Based on my knowledge of the Explosions in the Sky (which admittedly is not expert) the overall impression I get from the band's new record is "yep, that pretty much sounds like them." Take Care X 3 has the cathartic climaxes, the loud/soft dynamics, and the narrative feel of a film score.  In short it's everything we have come to expect from Explosions and very little else.  It is well done, articulately scored, and consists of instruments played by very talented hands.   Why then is it not great? Well, the short answer would be that it just doesn't contain many surprises.  It's like hearing an exquisitely crafted, well-wrought story again that you have already heard a thousand times.  Is it nice to hear? Sure.  Could you walk out halfway through without regret? Sure – because you have in fact already heard it many times before.  It would make a good introduction to someone who had never heard the band – but if you have already heard the band at their best (2000 – 2003) well then there really isn't a whole lot of need for you spend a lot of time with this.

82/100
The last Explosions in the Sky album, All of the Sudden I Miss Everyone, looms pretty large in my music listening conscious.  The excellent full length from the Texas instrumental group is, to me, a seminal album and a culmination of a group that had already laid a very strong foundation with their first few records and assorted EP's and CD-R's.  While I don't know yet if it will be able to fill the enormous shoes that All of the Sudden I Miss Everyone, the band's latest released Take Care Take Care Take Care at least isn't a resounding disappointment.
There are no sea changes in the general structure of the songs, but I am not sure if we would want to hear a big change from the band, especially after 4 years.  "Trembling Hands" is a melodic, focused song that sounds at time like it could be an Arcade Fire instrumental.  Outside of the bombastic "Last Known Surroundings" the album is a quieter, less grandiose affair.  While there is still the simmering tension of the duel guitars and the loud/quiet/loud that they helped make so prominent in post-rock, the distinctions are more subtle on Take Care Take Care Take Care.  Some tracks, like "Be Comfortable, Creature" and "Human Qualities," are about as minimalistic as the group gets, and are quiet, restrained tracks are more meditative hymns than their usual blistering fury.  Although after the first few spins it doesn't knock me out as hard as All of the Sudden…., Take Care Take Care Take Care is a success that only serves to solidify the band as one of the very best making the type of music that they make.
Explosions in the Sky- Trembling Hands