Gary Lucas & Gods And Monsters: The Ordeal Of Civility Review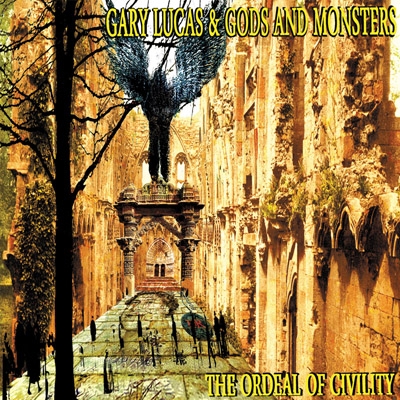 73/100
Gary Lucas might not jump out to you as a household name, so you might be surprised that he's probably been all over many legendary rock moments. From his early days as a copywriter in the offices of Columbia records, where he wrote the famous Clash slogan "The only band that matters," to his guitar playing in Captain Beefheart's band to his collaborations with Jeff Buckley yielding such songs as "Grace," Lucas has been around in more places than you might know. Besides all of this, Lucas has made over a dozen of his own records, the latest being with his band Gods And Monsters, which contain such punk rock notables as Billy Ficca (Television, Blondie) and Ernie Brooks (The Modern Lovers).
Lucas' game is throwing curves, and he does a fine job of it all over The Ordeal Of Civility. Musically album bounces all over, from the gospel trumpets of "Climb The Highest Mountain" to the instrumental funk of "Hot And Cold Everything", from the finger-picked folk of "Lady Of Shalott" to the horn-driven rocker "Peep Show Bible" the albums never really settles in one place. The third track, "Swamp T'ing" is the first place that finally cuts loose, with Lucas' guitar showing a little of what brought him recognition by playing some of Captain Beefheart's supposedly unplayable pieces. The song becomes a battle of synths, saxophone and guitar fighting over the band. The album hits its best point towards the end with a pair of very different songs; the hyper country stomp of "Whirlygig" is one of the finest guitar workouts on the album while its followup "Depression" is the one track to bring the players of his band's original bands together, fusing the Modern Lovers and Television into a Richard Hell-esque punk tune. The album closes out with the over six minutes almost spot on Pink Floyd "Jedwabne"
With all of the places Lucas has gone in his career, it's no surprise that The Ordeal Of Civility never hits a focused path. However, it's no surprise that he manages to pull off whatever he attempts. My only real complaint with the album is that Lucas tends to hold back too much for my taste, tending to channel his work with Jeff Buckley instead of his work with Captain Beefheart. The Ordeal Of Civility, however, is full of expert playing and songwriting and is another solid album from a somewhat unknown legend of rock music.
-Adam
Writer / photographer / Reviler co-founder