Big Troubles: Romantic Comedy Review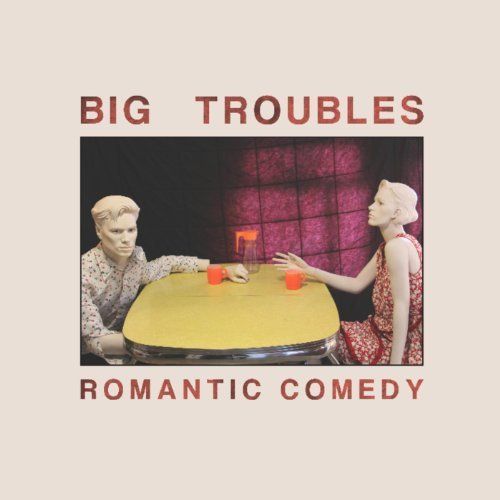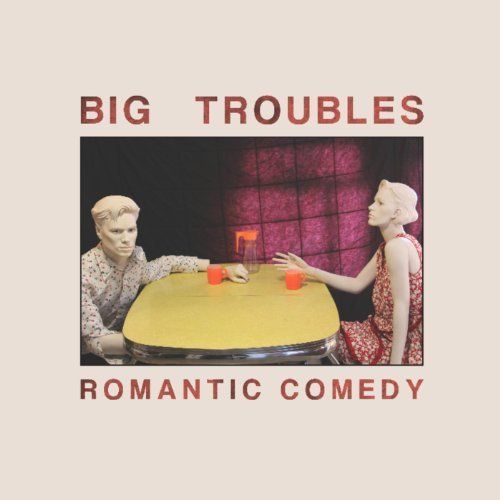 Big Troubles really caught me off guard at the end of 2010 with their Olde English Spelling Bee released debut album Worry, a sharp blast of shoegaze leaning pop songs that hit all of the right spots for me.  The melodies were strong and simple, but the delayed fuzz added enough of a contrarian edge to the tracks that a critical scrooge like myself was able to really get lost in the album.  Despite not entering my radar until late in the cycle, it cracked my year end top 10 and actually has gotten more constant spins in the subsequent year than most of the albums that landed in higher spots. All of this led to my great anticipation for their Slumberland released sophomore LP Romantic Comedy, and probably also played a part in my gigantic disappointment.
Leaving aside the fact that the fuzz bombs on Worry were (and still are) awesome and were going to be hard to top, Romantic Comedy is about as exciting, and deep, as the type of movie the album title references.   When I heard the first song leaked from the record, "Misery," I was worried that it was leading to a cleaner, less scuzzy sound.  Little did I know.  There are some tracks, like "Time Bomb," which come close to the wall of sound, broken-speaker pop of Worry, but most of the songs are so far away it is hard to even believe it is the same band.   While songs like "She Smiles for Pictures" are going for the lovelorn, 80's pop referencing Slumberland sound, they sound more like the soft rock on Ambien of bands like Voxtrot.  "Minor Keys" sounds like a low key version of the Smashing Pumpkins, and anyone who knows me knows that is most definitely not a compliment when it comes from me.  I have listened through the album multiple times and I keep thinking that the next song will be the one that brings them back to the great stuff they did on Worry, but it has become clear that the group has gone a different, and less interesting, direction.  I do think that this sound will open up opportunities to expand their fan base as their glossy pop sound could easily get them on more people radar, but to me it is a disappointing capitulation towards the soft middle of pop music.
Looking back, I shouldn't be that surprised about this change of heart from the band.  I first heard them was doing really simple and easy going pop songs on two guitars in a bathroom.  I actually was very surprised by the sound they forged on Worry and was convinced that the fuzzy, shoegaze pop was the real epicenter of the bands sound.  Now I am thinking the inoffensive, clean and glossy sounding pop of Romantic Comedy is more likely where the band really are coming from. Either way, Romantic Comedy is a disappointing follow up to an album that has consistently blown me away for the last year and a record that even without those high expectations falls squarely on its face with its by the numbers formula and flat delivery.  One can only hope that LP3 is a return to the sound on Worry, otherwise it will start looking like their debut was just an exciting anomaly for the band.
-Josh
Despite my pessimism over the record, I am very excited to see the group tonight (11/1) with Real Estate at the 400 Bar in what should be a very good show. Here is to hoping they play a lot of songs from Worry.